When John Watson leads a fitness class, he lights up. As he puts students through their paces, his energy is palpable. And the athletes in front of him respond in kind, often breaking into cheers.
But what sets his classes apart are the students he teaches: All of them have intellectual and developmental disabilities, ranging from Down syndrome to cerebral palsy to autism.
Helping this population discover the physical, emotional, and social benefits of exercise is the mission of Watson's nonprofit, Bloom Fitness. Since 2016, he and his team have helped more than 900 people with cognitive disabilities grow stronger, achieve goals, and feel a sense of community.
"Wellness and movement – for this population, that's critical," said Watson, whose 26-year-old daughter, Emma, has cerebral palsy.
Individuals with these disabilities are more likely to have higher levels of obesity than the general population and face a much greater risk of cardiovascular disease and diabetes.
But helping them get fit isn't Watson's only goal. He wants to connect with the adults in his classes on an emotional level.
"We all want to be a part of something. They just don't get the opportunity that often," he said.
"We create a sense of pride, belonging and love. … When we (do that), they'll show up to exercise."
Bloom Fitness partners with programs that serve people with intellectual disabilities, like adult daycare centers or residential homes, where Watson's trained, volunteer instructors lead classes like cycling, yoga, Pilates and dance. Classes are free to the athletes, many of whom are low-income, and they're designed to be accessible to anyone.
"There's a wide range of abilities of people with intellectual and developmental disabilities. … We serve that whole range," Watson said. "And we call everyone an athlete, no matter what your ability is."
The work doesn't end when class is over. Afterwards, the athletes gather at a large wall chart, known as 'The Champions Board,' where they put a sticker next to their name – a public record of their attendance and hard work.
"Many of these folks are visual learners," Watson said. "They see their name on the board. … And we say, 'Look how many stickers! Look how many classes you've gone to!'"
It's also an incentive system. Athletes earn gear – water bottles, t-shirts, hats – based on their attendance and as well as different titles, like 'coach.' Every few months, athletes are recognized at a celebration.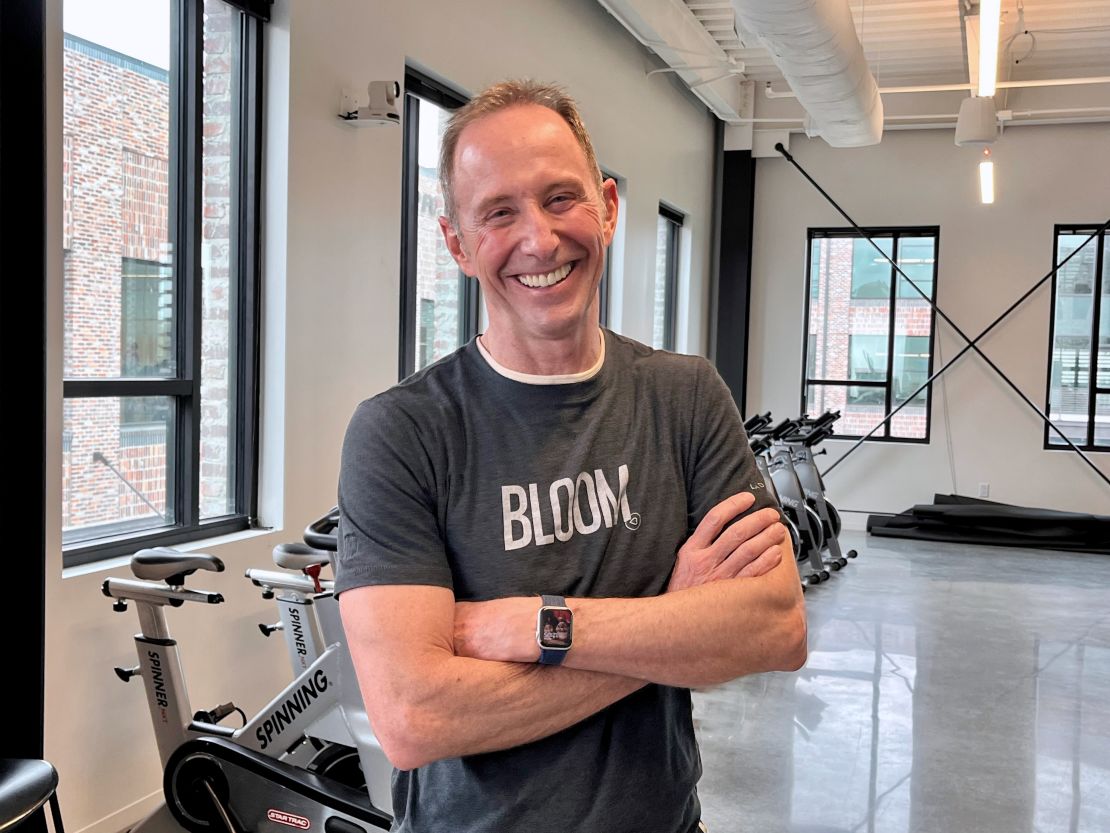 "When they walk up and they get their award, they get cheered for. That's where that pride sticks in. They know they've earned it," Watson said.
The system works. Bloom claims its retention rate for participants is more than 90% and in surveys, most report that the program has helped them lose weight, gain strength, and feel less lonely.
Amy Crane, 42, is prone to heart problems because of her Down syndrome. She had open-heart surgery when she was 10 and still sees a cardiologist. But since doing Watson's very first Bloom class in 2016, she's become an advocate for healthy living. She said she's lost more than 25% of her body weight through diet and exercise and is now a proud leader in her class, having earned the rank of 'captain.'
Watson delights in the progress of his athletes. But for him, it's about much more than pounds lost or weight lifted.
"We want to lead people to a lifetime of fitness … and for them to want to do it," Watson said. "We want them to just be everything they can be."
CNN's Kathleen Toner spoke with Watson about his work. Below is an edited version of their conversation.
CNN: How did you get the idea for Bloom Fitness?
John Watson: A child with special needs, when they get out of high school, there are not a lot of programs for them. They sit home. So, I retired from my industry because Emma was getting left in the dust and I was looking for services for Emma and ways to help other parents.
My original idea was to try to get employers to want to hire folks with intellectual disabilities. I was working with an organization, walking around one of their places and they had a room with broken-down fitness equipment. And I said, "Hey guys, what happens here?' and they said, "Nothing happens here." And even when I had a real job, I was a fitness instructor a night or two a week, just because I got a kick out of it. So, I said, "Do you mind if I buy some bikes?' And so that's where it started.
CNN: How did the pandemic impact your work?
Watson: For a population that feels isolated already, you put the pandemic on top of it, people were getting depressed. And so we said, "Well, how about we try a virtual class?" We didn't even know if anybody would dial in, but the first time we had 50 people! And I'm just like, "Oh my goodness. They want this!"
We also learned that if we can do things virtually, as well as in person, we can reach more people, so it drove us to create a digital platform. Now we have Bloom Live, which is our virtual class, with a live instructor on the other end. There's interaction – you can see the athletes waving to each other. It's so important. But it also pushed us into creating a library of videos that you can view on the app. So, we now have 24 locations in Texas and North Carolina, but this gives us a glimpse of what we can do going forward.
CNN: What role does Emma play in your work?
Watson: Being a parent of a child with special needs, sometimes you panic. You worry. And then you move on. It's easy with Emma to focus on the good parts. But people come up to me all the time, "Oh, you're doing this for Emma." And I go, "No, but she led us here."
Without Emma, I wouldn't know the beauty of this population. And what they do for me, I can't bring words to it. It's a gift to me.
Want to get involved? Check out the Bloom Fitness website and see how to help.
To donate to Bloom Fitness via GoFundMe, click here