After a rash of violent storms killed 26 people in the South, some of the same areas will get hammered again by a new round of storms Sunday.
"A few strong tornadoes and very large hail may occur with the most intense storms, particularly from central Louisiana across central/southern portions of Mississippi and Alabama this afternoon and evening," the National Weather Service's Storm Prediction Center said.
Already, a "large and extremely dangerous tornado" struck Sunday morning south of LaGrange, Georgia, the weather service in Atlanta said.
No fatalities were immediately reported, but at least three people were injured in the storm, officials said.
"It was awful … a lot of homes were destroyed," LaGrange Mayor-elect Willie T. Edmondson told CNN affiliate WSB.
As many as 100 homes were damaged, with 30 to 40 "completely destroyed," Troup County Emergency Management Director Zachary Steele said in a news conference Sunday.
Georgia Gov. Brian Kemp issued a state of emergency order "following the severe storms and tornadoes that struck this morning," Kemp tweeted. "As we continue to monitor the weather and work with local partners to address damage throughout the day, I ask all Georgians to join us in praying for those impacted."
Across the South and Southeast, more than 30 million people are at risk of severe storms Sunday from Houston all the way to the coasts of the Carolinas.
Threats include the possibility of strong tornadoes, hail the size of tennis balls and damaging wind gusts up to 70 mph, the Storm Prediction Center said.
A tornado watch is in effect until 11 p.m. local time for eastern Louisiana and central and southern Mississippi, including the cities of Jackson, Meridian and Hattiesburg.
"Large hail and damaging winds will be the main threats initially, but the tornado potential should increase toward and after sunset, when low-level shear will considerably increase." the Storm Prediction Center said. "This includes the potential for long-lived supercells and strong tornadoes (EF2+)."
A tornado watch is also in effect until 1 a.m. local time in much of central and southern Alabama, including Birmingham and Montgomery.
10 tornadoes in one night
President Joe Biden approved a disaster declaration Sunday for parts of Mississippi after tornado-spawning storms shredded homes over the weekend. At least 25 people in Mississippi were killed, along with another victim in Alabama.
At least 10 confirmed tornadoes struck Mississippi, Alabama and Tennessee Friday night, according to several weather service offices.
The presidential declaration allows federal aid to help recovery efforts in Mississippi counties "affected by severe storms, straight-line winds, and tornadoes" Friday and Saturday, the White House said in a statement.
"Assistance can include grants for temporary housing and home repairs, low-cost loans to cover uninsured property losses, and other programs to help individuals and business owners recover from the effects of the disaster," the White House said.
A 'city is gone' after a catastrophic tornado hits Mississippi
An EF-4 tornado flattened much of Rolling Fork, which endured maximum wind gusts of 170 miles per hour, weather service meteorologist Bill Parker said.
EF-4 and EF-5 tornadoes are considered violent and extremely rare, and make up only about 1% of all tornadoes, according to the National Oceanic and Atmospheric Administration.
The storms nearly leveled some neighborhoods and knocked power out for thousands, officials said.
Drone footage showed homes reduced to piles of wood, vehicles tossed around and trees shredded and splintered in the town of about 2,000 people.
The "city is gone," Rolling Fork Mayor Eldridge Walker said.
US Rep. Bennie Thompson came to a similar conclusion.
"The police department is destroyed. City Hall is destroyed," Thompson said. "The county courthouse is damaged. The fire department is devastated. There's no grocery store that's operable in the community."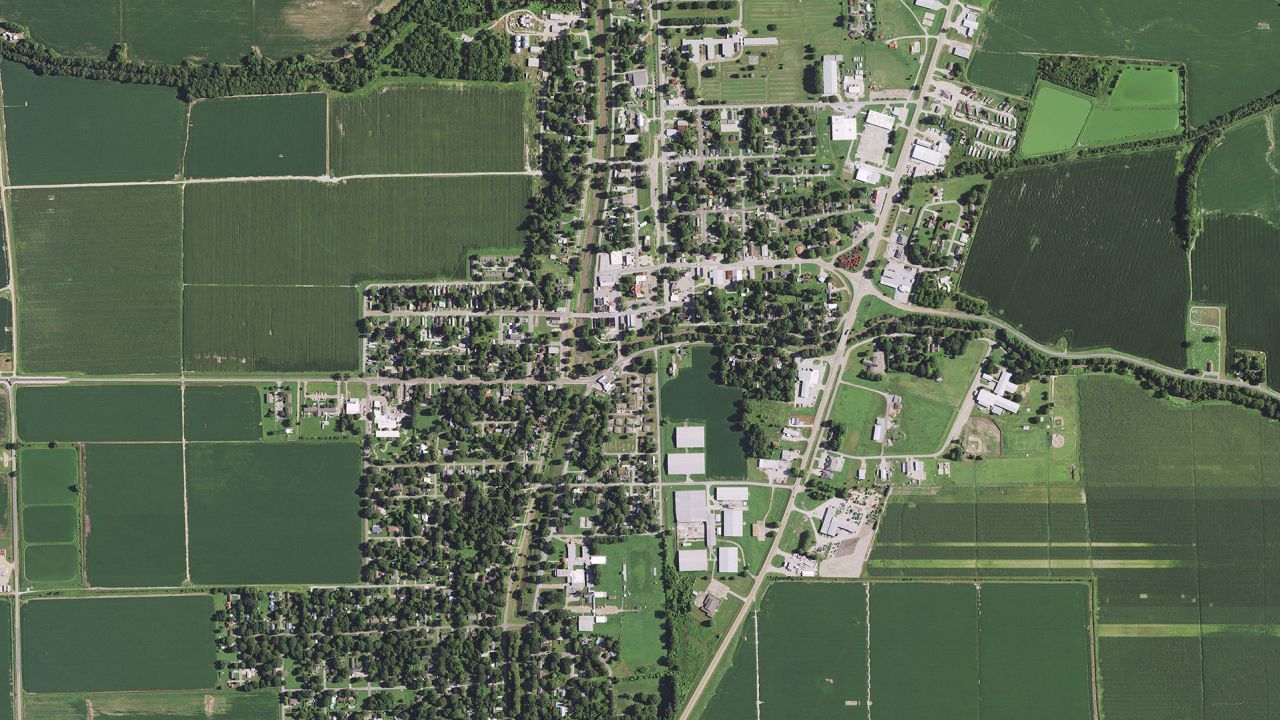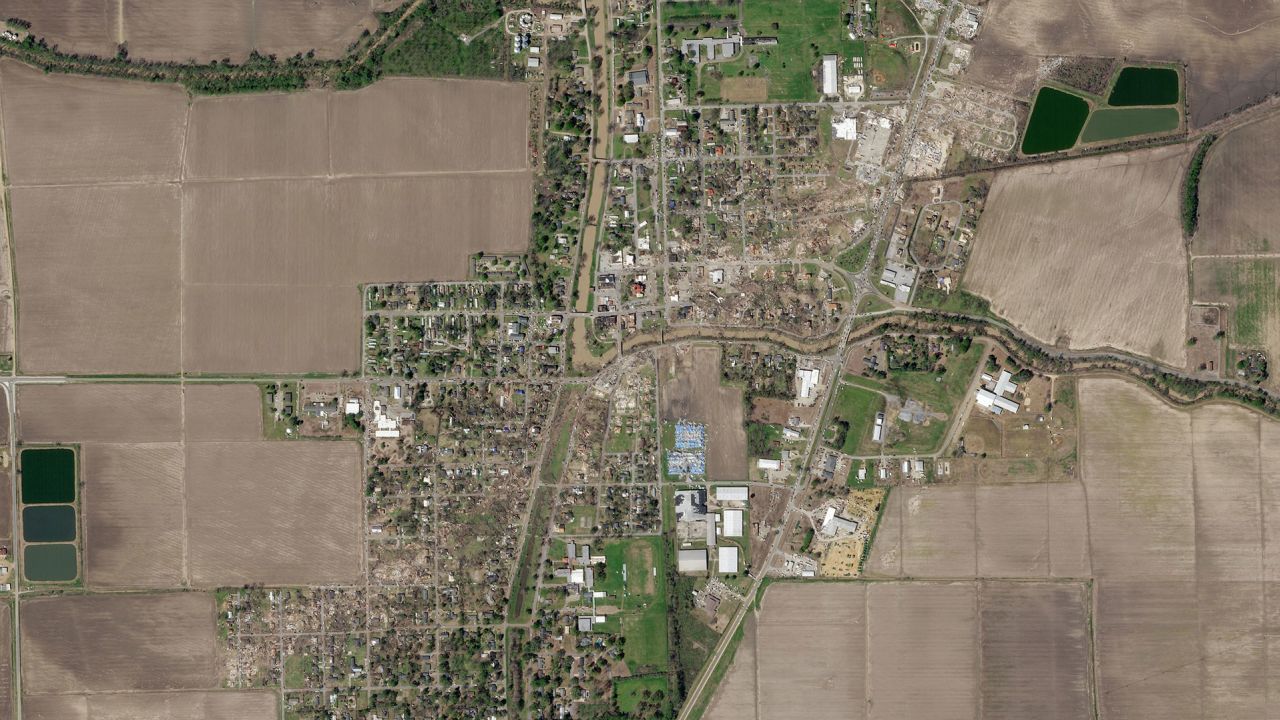 The tornado also took out any early-warning system Rolling Fork's county had, Sharkey County District 1 Supervisor Bill Newsome told CNN's Jim Acosta.
With another storm possibly on its way, there is "not any immediate shelter anywhere," he said.
The area is still largely without electricity, and people are depending on local media reports and weather alerts as well as just watching what is going on outside, Newsome said.
As search-and-rescue efforts continued, the community's only hospital was offline Saturday. Those injured were taken to the nearest hospital over 50 miles away, Thompson said.
"We have been finding several casualties," said Sharkey County Supervisor Jessie Mason. "It's just an ongoing process and it's gonna be a long road ahead."
Rolling Fork Vice Mayor LaDonna Sias said residents took cover in closets, in tubs and under pillows as the storm roared outside.
"It seemed like forever until that noise stopped," Sias recalled. Her own home was destroyed in the tornado.
Be prepared for severe weather and tornadoes
"It was just totally devastating," she said. "Even though we lost everything, this stuff can be replaced. Material things can be replaced, but to lose a loved one – it was just heart-wrenching."
Some of the mayor's friends were among the victims, Walker said.
"I'm not only just the mayor of this community, but I've lost personal friends," Walker said Sunday during a news conference with Gov. Tate Reeves. "I'm also the local funeral director. Now, I'm having to meet my families, those who have lost loved ones and help them make it through this traumatic time."
Despite the tragic loss to his community, Walker said he's "thankful for what everybody is doing to help us in this devastating time."
"This is a Bible belt," he said. "And we were all taught that a family that prays together, stays together. This is a family, a family of unity, a family of strength, and this is what we need to make this community come back once again."
How to give or receive help after the Mississippi tornado
The storm carved a wide path of destruction. About 200 miles northeast of Rolling Fork, the school district in Amory, Mississippi, suffered significant damage.
"Most of our athletic facilities were completely destroyed while our main High School building mainly received roof damage," school district IT director Sam Strickland said Sunday.
"School has been canceled all week while we wait for power to be restored."
An EF-3 tornado turned deadly
Another Mississippi tornado – which tore through Carroll County and Montgomery County over the weekend – received a preliminary EF-3 rating, the weather service in Jackson said. An EF-3 tornado can carry wind gusts of up to 165 mph.
In Carroll County, three people died in one home, coroner Mark Stiles told CNN. Stiles said it appears they were killed in a tornado.
The head of the Federal Emergency Management Agency told CNN the agency has sent a team to the state to help with immediate needs and plan for long-term recovery.
"We want to make sure that the state has everything that they need as we work to make sure that no additional lives are lost," FEMA Administrator Deanne said Criswell said.
Residents of Carroll, Humphreys, Monroe and Sharkey counties can start the disaster assistance process through FEMA by visiting disasterassistance.gov or calling 800-621-FEMA.
Parts of northern Alabama and south-central Tennessee were also pummeled by severe storms this weekend.
At least three tornadoes struck northern Alabama, the weather service's Huntsville office said.
One man was killed in Morgan County after he was trapped inside his mobile home, said Brandy Davis, director with Morgan County Emergency Management.
An EF-2 tornado touched down near Fayetteville, Tennessee, just north of the Tennessee-Alabama border. Additional storm surveys will be conducted over the next few days.
CNN's Brandon Miller, Allison Chinchar, Raja Razek, Isabel Rosales, Jaide Timm-Garcia, Rebekah Riess, Andy Rose, Chloe Liu, Tina Burnside, Keith Allen and Michelle Watson contributed to this report.