South Carolina's march to the national championship title seemed all but assured – the defending champion and No.1 seed was on a 42-straight game win streak, spanning 389 days and dating back to last season's national title run.
It would take one of the great NCAA performances to topple the Gamecocks, and that is exactly what Caitlin Clark produced on Friday as she led second-seed Iowa to a stunning 77-73 victory in the Final Four over the undefeated defending champion at the American Airlines Center in Dallas, Texas.
All in all, Clark scored 41 points – a women's Final Four record – in front of a raucous 19,000-plus fans, following up her 41-point triple-double in the Elite Eight.
The newly crowned AP Player of the Year also added eight assists and six rebounds, as well as the last 13 points for the Hawkeyes in the fourth quarter, propelling them to their first NCAA title game in program history.
"All we did is believe in each other," Clark said on the ESPN broadcast after the game. "You know we might not be the tallest, we knew they were going to beat us on the glass but all we had to do is have some heart and some belief and you know we came through when we needed big plays and I'm just so proud of this group."
South Carolina guard Zia Cooke tallied 24 points and eight rebounds, while star forward Aliyah Boston struggled in the loss, scoring eight points on 2-of-9 shooting from the field.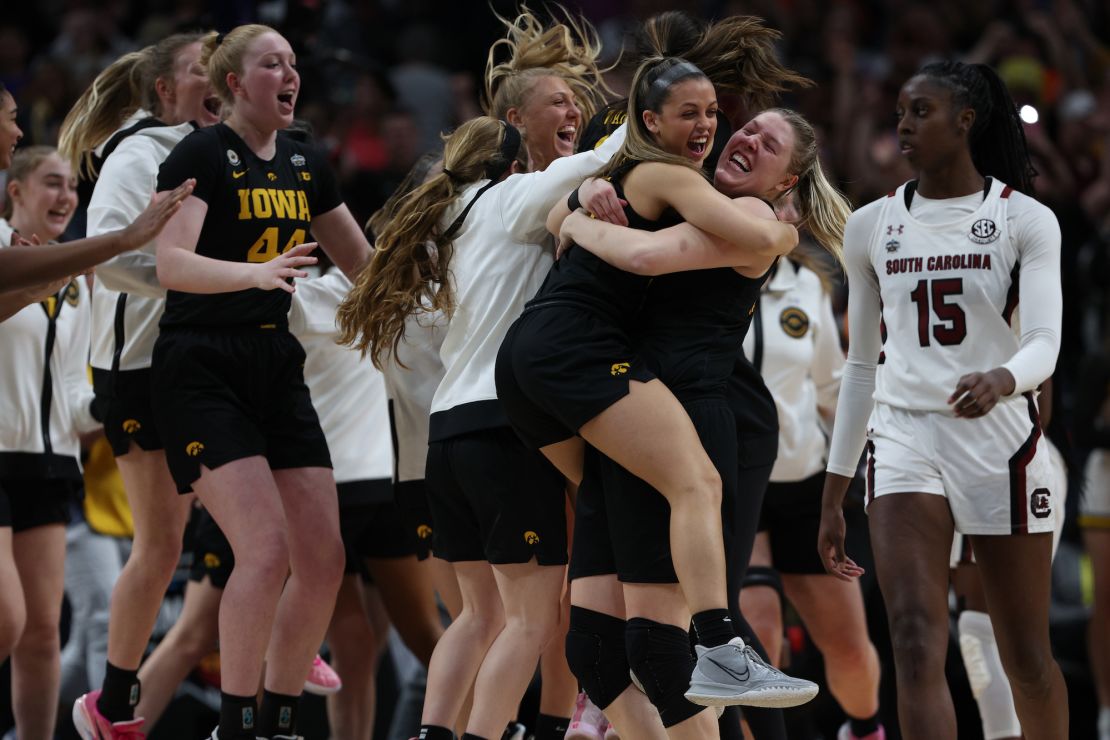 Meanwhile, No. 3 seed LSU mounted an epic fourth quarter comeback to edge past No. 1 seed Virginia Tech, 79-72 and advance to its first national title game in program history, meaning that a new women's NCAA national champion will be crowned on Sunday.
The Tigers trailed by nine points entering the fourth quarter but went on a 22-3 run, took a 72-62 double digit lead with three minutes remaining, and held on for a memorable victory.
LSU guard Alexis Morris scored a game-high 27 points, and star forward Angel Reese added 24 points and 12 rebounds, including a combined 20 of LSU's 29 points in the fourth quarter.
"It's like a dream. It still hasn't hit me that I'm at the Final Four, I'm just not even believing this right now," Reese said after the game. "It's just crazy how much my life has changed in one year. How much I've grown on and off the court and then to be with this amazing program, LSU and then to be with my amazing teammates and amazing coaches. I just don't even know how to feel right now."
LSU women's head coach Kim Mulkey, a three-time national championship coach at Baylor, in 2005, 2012 and 2019, became the second coach to lead two different programs to the national championship game.
"I'm blessed," Mulkey said on reaching the title game. "I came home for lots of reasons. One to someday hang a championship banner in the PMAC. Never, ever do you think you're going to do something like this in two years.
"You think about all the men's players that have played at LSU, you think about all the women's players that have played. When they told me that none had ever played for a national championship, I was kind of surprised, so that's an accomplishment. That's a step in the right direction," Mulkey added.
Iowa and LSU will face eachother on Sunday, April 2 for the women's national championship.