First lady Jill Biden appeared to walk back suggestions that the White House might invite both LSU and Iowa's women's basketball teams after Tigers star Angel Reese called it "A JOKE" on Monday.
Speaking on Monday, Biden congratulated both teams on their performance in Sunday's national championship game, as well as specifically highlighting Iowa's sportsmanship.
"Last night, I attended the NCAA women's basketball championship," said Biden, while speaking at an event at the Colorado State Capitol in Denver.
"So I know we'll have the champions come to the White House, we always do. So, we hope LSU will come but, you know, I'm going to tell Joe [Biden] I think Iowa should come, too, because they played such a good game."
It is traditional for the national champions to be invited to the White House, but not for the runners-up. Reese tweeted a link to the story which included Biden's comments, calling it "A JOKE" along with three rolling-on-floor-laughing emojis.
In a comment on an Instagram post from 'The Shade Room' which included Reese's tweet, the recently crowned NCAA champion said: "WE NOT COMING. period."
Press secretary to the first lady Vanessa Valdivia sought to clarify Biden's comments on Tuesday, saying in a tweet that they "were intended to applaud the historic game and all women athletes. She looks forward to celebrating the LSU Tigers on their championship win at the White House."
The 20-year-old Reese played a key role in the Tigers' 102-85 victory over the Hawkeyes to win the first national title in program history on Sunday. She was named the women's NCAA tournament's Most Outstanding Player as a result of her standout performances.
Before Valdivia's clarification, ESPN host Stephen A. Smith had echoed Reese's sentiment, replying to her tweet saying: "I mean absolutely zero disrespect to the First Lady, but you are 1000% correct.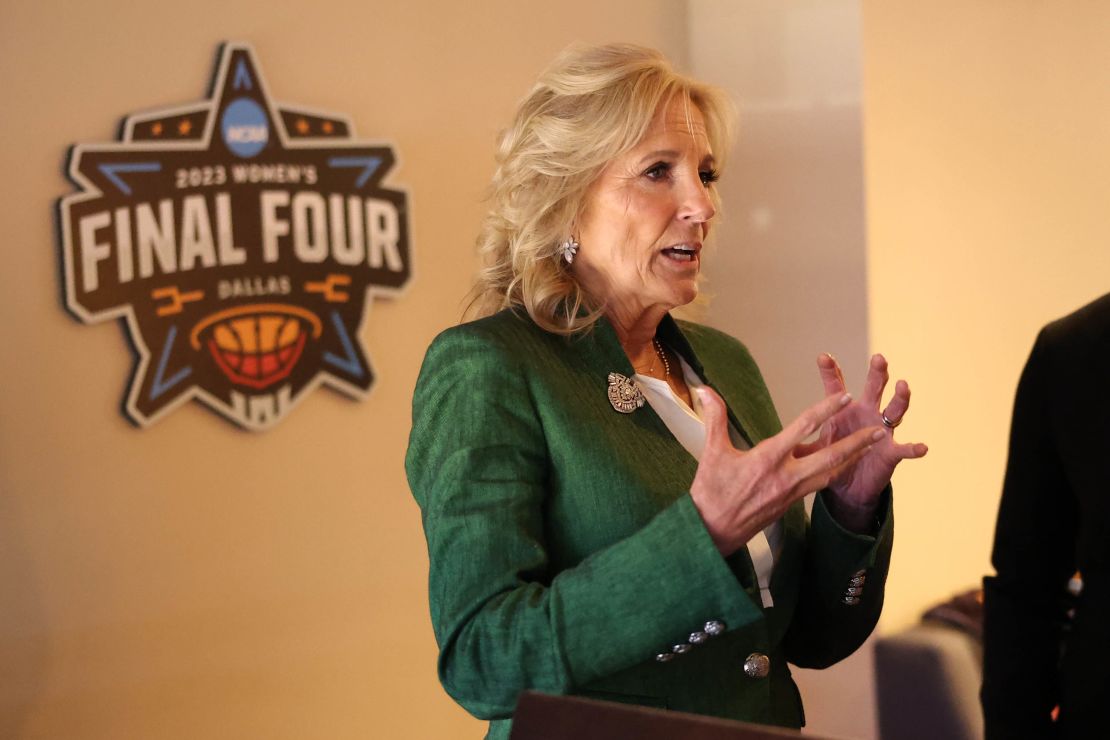 "That is a bad suggestion. Runner-ups don't get invited to the White House. Why are we trying to change it now? I completely agree with you, Angel."
Rep. Troy Carter, a Louisiana Democrat, chimed in, agreeing with Reese.
"To The Most Honorable (President Biden) and (First Lady Biden)," Carter said. "LSU has won their first NCAA women's Basketball Championship Title with a record-breaking score of 102-85.
"With no disrespect to the outstanding players of the Iowa women's team … they did not win!
"LSU's Women's Basketball is the indisputable winner of the 2023 NCAA Championship and should enjoy this historic victory singularly."
Reese's teammate Alexis Morris asked if they could celebrate elsewhere, specifically at a former first lady's house. "Michelle OBAMA can we (LSU NATIONAL CHAMPS) come celebrate our win at your house?" Reese replied to Morris' tweet saying: "THAT'S THE TWEET."
After LSU's victory on Sunday, head coach Kim Mulkey said she would go to the White House if the team was invited.
'I'm too ghetto'
Sunday's national championship drew a record-breaking average of 9.9 million viewers, according to sports broadcaster ESPN. The game, which peaked at 12.6 million viewers, was the most-viewed NCAA Division I women's college basketball game on record across all networks.
Reese has been in the headlines following LSU's victory, in particular as she called out the double standard in the reaction to her gesture towards Iowa guard Caitlin Clark.
Reese could be seen approaching Clark before moving her open hand in front of her face – popularized by WWE star John Cena to mean "you can't see me" – before pointing to her ring finger in a gesture some interpreted as a reference to the place her newly-acquired championship ring might sit.
Clark made a similar gesture to another player earlier in the tournament.
The gesture sparked much debate, especially on social media. Some criticized Reese, while others defended her actions, highlighting how there was no public outrage in response to Clark's gesture earlier in the tournament.
In the press conference after the victory, Reese referenced the difference in reaction she received as a result of her gesture as compared to the one Clark received.
"All year, I was critiqued for who I was. I don't fit the narrative," Reese said. "I don't fit the box that y'all want me to be in. I'm too hood. I'm too ghetto. Y'all told me that all year. But when other people do it, and y'all don't say nothing.
"So this is for the girls that look like me. For those that want to speak up for what they believe in. It's unapologetically you. And that's what I did it for tonight. It was bigger than me tonight. And Twitter is going to go into a rage every time."