Environmental lawyer and anti-vaccine activist Robert F. Kennedy Jr. has filed paperwork with the Federal Election Commission to run for president in 2024 as a Democrat.
The filing was confirmed Wednesday by his campaign treasurer, John E. Sullivan. Kennedy will officially announce his candidacy on April 19 in Boston, his campaign said.
The 69-year-old is the son of former New York senator, US attorney general and assassinated 1968 presidential candidate Robert F. Kennedy and the nephew of the late President John F. Kennedy.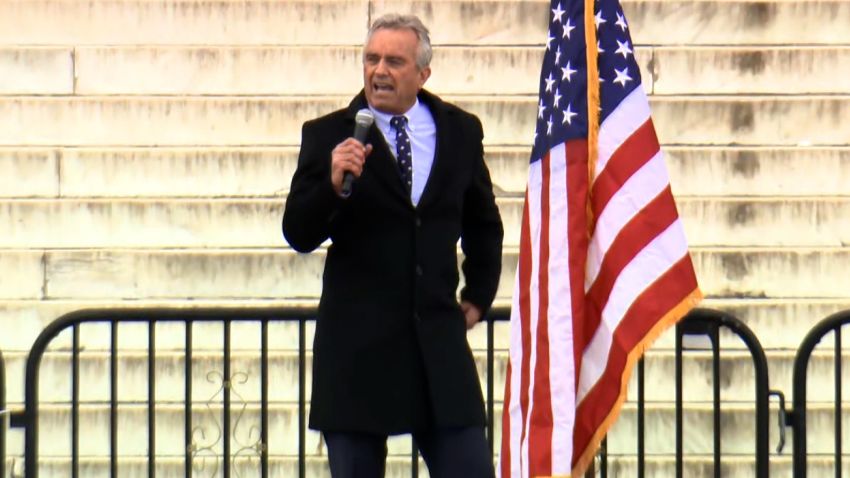 Hear what the son of an American political icon says about vaccine mandates
Kennedy Jr. is a longtime vaccine skeptic. He has promoted discredited claims linking vaccines and autism and founded the anti-vaccine organization Children's Health Defense. He has also railed against the coronavirus vaccine and has criticized the federal government's handling of the pandemic.
In 2019, three members of his family – his sister Kathleen Kennedy Townsend, brother Joseph P. Kennedy II and niece Maeve Kennedy McKean – forcefully denounced his anti-vaccine views in a Politico Magazine op-ed, arguing that he was "part of a misinformation campaign that's having heartbreaking – and deadly – consequences."
In 2022, Kennedy Jr. invoked Nazi Germany in an anti-vaccine speech at the Lincoln Memorial in Washington, DC. The previous year, Instagram took down his account "for repeatedly sharing debunked claims about the coronavirus or vaccines."
Kennedy had tweeted last month that he was considering a presidential run.
"If it looks like I can raise the money and mobilize enough people to win, I'll jump in the race," he said.
His tweet also pointed supporters to his website: "Let Bobby know you want to see his leadership in the White House," the site says while asking for donations.
As an environmental lawyer, Kennedy worked with a group that led the Hudson River cleanup. He also worked for the Natural Resources Defense Council and co-founded an environmental law firm.
Should he go through with his presidential bid, Kennedy would be the latest in a long line of family members to enter politics.
His sister Kathleen served as the lieutenant governor of Maryland from 1995 to 2003. His brother Joseph was a congressman from Massachusetts from 1987 to 1999. And more recently, his brother Chris Kennedy was an unsuccessful candidate for governor of Illinois in 2018.
The last Kennedy to hold elected office was his nephew former Massachusetts Rep. Joe Kennedy III, who lost a Democratic Senate primary in 2020. (He is now the US special envoy for Northern Ireland.) Caroline Kennedy, the daughter of former President Kennedy, is currently the US ambassador to Australia.
The 2024 Democratic presidential race is only beginning to take shape, with President Joe Biden expected to announce his bid for a second term. Author Marianne Williamson launched a second long-shot campaign for the Democratic presidential nomination last month.
On the Republican side, former President Donald Trump jump-started the race for the party nomination, announcing his third bid for the White House last year. Former United Nations Ambassador Nikki Haley, former Arkansas Gov. Asa Hutchinson and entrepreneur Vivek Ramaswamy are also in the race, while other well-known contenders, including Florida Gov. Ron DeSantis and former Vice President Mike Pence, are weighing bids of their own.
This story has been updated with additional information.