A group of 31 Ukrainian children have been reunited with their families months after they were taken from their homes and moved to Russian-occupied territories.
A CNN team on the ground in Kyiv watched as the last of the children climbed off a bus on Saturday to embrace waiting family members, many unable to hold back the tears as months of separation came to an end.
"We went to the summer camp for two weeks but we got stuck there for six months," one of the homecoming teenagers, Bogdan, 13, said as he hugged his mother. "I cried when I saw my mom from the bus. I'm very happy to be back."
Bogdan's mother, Iryna, 51, said she had received very little information about her son in the six months they were apart.
"There was no phone connection. I was very worried. I didn't know anything, whether he was being abused, what was happening to him. … My hands are still shaking," she said.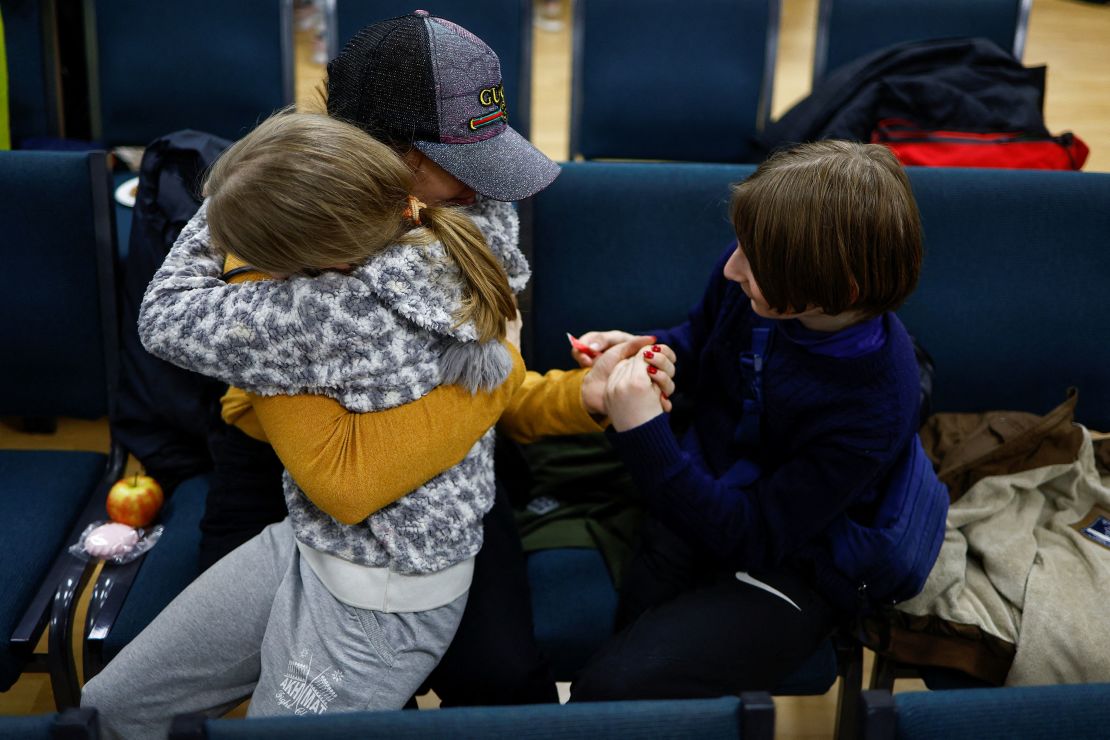 The reunions were coordinated by the humanitarian organization Save Ukraine. The group says it has now completed five missions bringing home Ukrainian children it says were forcibly deported by Russia.
The children – pulling suitcases and bags of belongings, with some clutching stuffed animals – accompanied by family members, had crossed the border by foot a day earlier and were met by volunteers before being put on the bus to the Ukrainian capital.
"It is thanks to our joint and coordinated work that we once again experience these incredible emotions when, after a long separation, children run across their native land into the arms of their families. When you see tears of joy on the faces of young Ukrainians, you realize that it is not all in vain," Save Ukraine founder Mykola Kuleba said in a press conference earlier Saturday.
Kuleba said tragedy had struck during the latest rescue mission: One of the women traveling with the party – a grandmother – passed away during the journey. The woman had been due to pick up two children on the mission, but because of her death, the pair were not permitted to travel back to Ukraine.
The founder earlier said the mission comprised a group of 13 mothers, who left Ukraine a little over a week ago, many of them granted power of attorney which allowed them to collect other parents' children in addition to their own.
The group crossed into Poland before traveling through Belarus, Russia and finally entering Russian-occupied Crimea, where they were reunited with 24 of the children.
The other seven children were collected in Voronezh, Rostov and Belgorod, all inside Russia, she said.
Allegations of widespread forced deportation of children from Ukraine to Russia form the basis of war crimes charges brought against Russian President Vladimir Putin and a senior official, Maria Lvova-Belova, by the International Criminal Court last month.
A report released in February detailed allegations of an expansive network of dozens of camps where kids underwent "political reeducation," including Russia-centric academic, cultural and, in some cases, military education.
Ukraine's head of the Office of the President recently estimated the total number of children forcibly removed from their homes is at least 20,000. Kyiv has said thousands of cases are already under investigation.
Russia has denied it is doing anything illegal, claiming it is bringing Ukrainian children to safety.