A 25-year-old bank employee in Louisville, Kentucky, wrote a note to loved ones before heading to his job Monday morning and opening fire – killing five people and injuring eight others, according to a law enforcement source familiar with the investigation.
The gunman, identified as Connor Sturgeon, started his attack around 8:30 a.m. at Old National Bank in downtown, authorities said. He opened fire as some employees met for a morning meeting before the bank was open to the public. Rebecca Buchheit-Sims, a manager at the bank, told CNN she watched the meeting virtually and witnessed her coworkers being slain.
Buchheit-Sims described Sturgeon as "extremely intelligent" and others who knew him told CNN they were shocked to see the violence, which launched a massive police response in the heart of one of America's most populated cities.
But prior writings by the gunman indicate he struggled to fit in before he joined the team at Old National Bank.
Sturgeon had worked at the bank for more than a year, according to his LinkedIn profile. He livestreamed his attack on Instagram, a video that has since been removed from the platform.
A law enforcement source told CNN on Monday that the assailant had been notified that he was going to be fired from the bank. But Louisville's mayor and police chief have since said otherwise, with Louisville Metro Interim Police Chief Jacquelyn Gwinn-Villaroel telling CNN's Abby Phillip on Wednesday that that there "was no discussion about this individual being terminated" before the massacre.
Gwinn-Villaroel said he did not have "any prior engagement" with police.
A search warrant was executed at Sturgeon's home Monday, Gwinn-Villaroel said in an interview with CNN Tuesday morning, noting she hopes items that were recovered will help shed light on a motive.
She did not say whether any other warrants had been executed as part of the investigation.
The five victims, all between the ages of 40 and 64, were identified as Joshua Barrick, Juliana Farmer, Tommy Elliott, Deana Eckert and James Tutt, police said. Gov. Andy Beshear said Elliott, a senior vice president at the bank, was one of his closest friends.
Eight others were injured, including Nickolas Wilt, a 26-year-old police officer who graduated from the police academy just 10 days ago. Wilt was shot in the head during a confrontation with Sturgeon on Monday morning and was taken to the hospital where he underwent brain surgery, said Gwinn-Villaroel.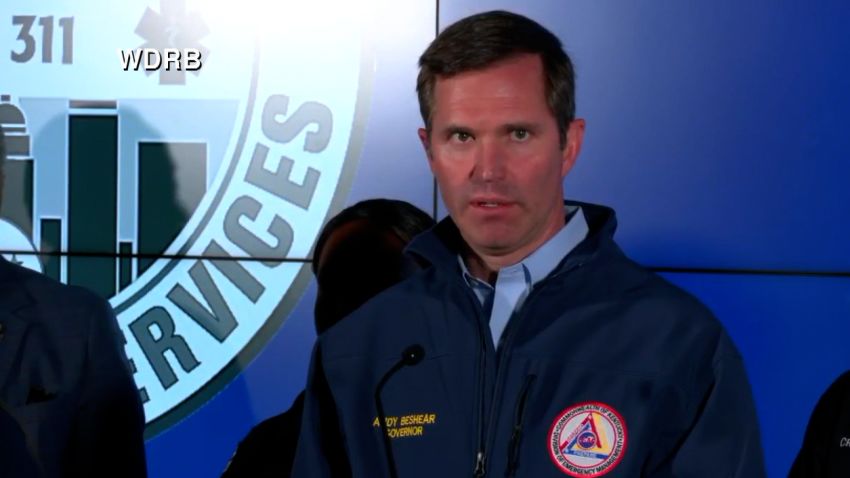 Kentucky governor gets emotional after losing friend in bank shooting
Shooter wrote a note before attack
Sturgeon wrote a note to his parents and a friend indicating that he was going to open fire in the bank, the law enforcement source said.
It is not clear whether that note was on paper or emailed, or whether it was seen before the incident or after, according to the source.
Sturgeon wrote on his LinkedIn profile that he interned at Old National Bank in Louisville for three consecutive summers between 2018 and 2020 before joining full time in June 2021.
Gunman was live streaming during rampage
The shooting was live-streamed on Instagram and has since been taken down. Police are in possession of the video, according to the law enforcement source.