US asylum officers are frustrated by policy whiplash under President Joe Biden, and some are considering leaving their posts, as administration officials contemplate restarting controversial Trump-era border policies that would largely limit who could seek refuge in the United States.
"At this point, I can't tell the difference between Biden immigration policy and Trump immigration policy," one asylum officer told CNN.
The concerns shared among asylum officers who spoke with CNN and were reflected in a March filing come as Biden stares down another potential border crisis next month when a Covid-era restriction, known as Title 42, lifts.
The authority, invoked under former President Donald Trump at the onset of the coronavirus pandemic, allows border officials to turn away certain migrants encountered at the US southern border. It's set to expire on May 11 when the Covid-19 public health emergency ends.
White House and Homeland Security officials have met frequently ahead of an anticipated influx of people at the border when the authority lifts and weighing policies that, they hope, will help manage the flow.
But those policies, some of which echo Trump administration actions, are putting Biden at odds with his allies and even among some in the workforce, including asylum officers who interview asylum seekers.
"It feels like Groundhog Day," another asylum officer told CNN. "With the Trump era, it felt like we had really gotten to rock bottom and when Biden took over, it seemed like a light ahead of us. It feels very disheartening."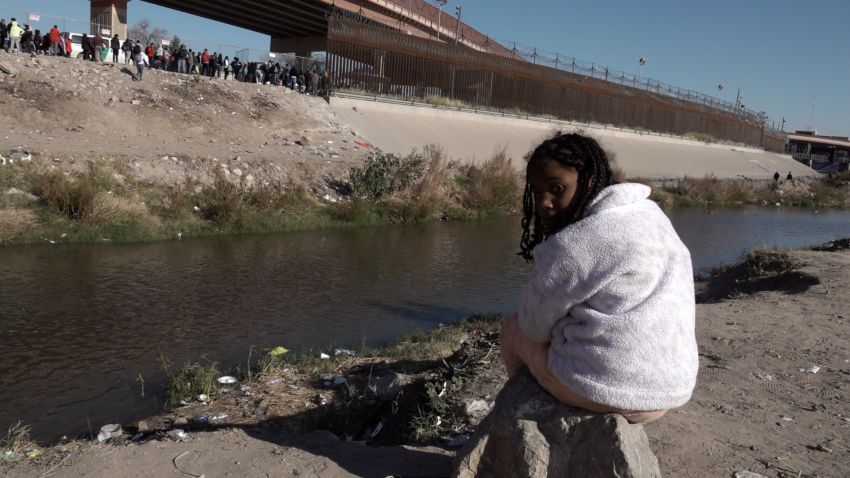 'I'm afraid of them sending me back': Hear from a mom and daughter waiting for Title 42 decision at southern border
"If this is just going to be repeating over and over, there are so many other things I could be doing," the asylum officer added.
A major point of contention is a new proposed regulation that largely bars migrants who traveled through other countries on their way to the US-Mexico border from applying for asylum in the United States, marking a departure from decadeslong protocol.
The proposed asylum rule is similar to one rolled out during the Trump administration, though administration officials have rejected the comparison, citing newly launched programs that provide a legal pathway for certain migrants trying to come to the US and therefore, they say, an alternative to crossing the border.
An administration official told CNN that "from Day One, this Administration has worked to rebuild the asylum system the previous Administration tore down and restore the immigration agencies that it gutted."
"With the support of dedicated workforce across the Administration, we've achieved great success even in the face of unrelenting sabotage and obstruction from Republicans in Congress and their colleagues in the states. We've expanded parole programs, created an app to provide a more orderly and efficient way to apply for asylum, fought in court to defend the CDC's authority to lift the Title 42 public health order, and boosted the budget for critical immigration agencies," the official said.
But in a formal filing opposing the proposal, the union that represents federal asylum officers, known as Council 119 of the American Federation of Government Employees, called the proposed rule "draconian" and argued that enforcing it "could make them complicit in violations of U.S. and international law."
"It's really disappointing because it's asking asylum officers and civil servants to conduct work that is not in accordance with our mission or international agreements," another asylum officer told CNN, referring to the proposed rule.
The rule will likely take effect in May and is expected to last for two years.
The dissatisfaction among asylum officers over stringent asylum policies is reminiscent of the Trump years. CNN spoke with asylum officers located across the country who said they had hoped Biden would correct course from his predecessor, but the latest slate of policy considerations, they say, is discouraging.
"I'm blindsided. I didn't expect this at all," one asylum officer told CNN.
Asylum officers are often conducting difficult interviews with migrants describing the trauma and conditions they're fleeing in their home countries.
"It really weighs on you," another asylum officer told CNN, stressing that officers are often deciding on life-or-death situations. "You understand they're otherwise eligible for that protection … to be forced to then, do something wrong morally and legally is very difficult."
Many officers only stay in the job for up to three years before moving on to other posts in US Citizenship and Immigration Services or elsewhere, according to Michael Knowles, president of a local union that represents asylum officers and a spokesperson for AFGE Council 119.
"People feel crushed by the work. We have to produce a lot of quality decisions in a short amount of time," Knowles said. "Those decisions are involving people's significant trauma. Our officers absorb secondary trauma."
But the pace at which people left accelerated under the last administration and could happen again.
"If (the asylum rule) does go through, the dilemma that will be faced by every asylum officer will be whether they stay or go," Knowles added, though it's unclear how many would leave.
As the administration prepares for the end of Title 42, other policies with echoes of the Trump administration may also make a comeback.
Administration officials are now planning on restarting a policy that could expedite the asylum process. That policy would require that some migrants remain in US Customs and Border Protection facilities for their credible fear interviews, the first step in the asylum process, according to three sources familiar with the discussions. Those screenings usually happen in Immigration and Customs Enforcement facilities, which typically have spaces for the sensitive interviews.
The policy has echoes of the Prompt Asylum Claim Review, which was implemented under the Trump administration and fielded fierce criticism from immigrant advocates who argued it put asylum seekers at a disadvantage. The American Civil Liberties Union, which filed a lawsuit against PACR, argued that CBP facilities, which are akin to jail-like conditions, aren't suitable for the asylum process.
Among the criticisms under the previous administration was lack of access to counsel. An administration official told CNN the Department of Homeland Security is trying to expand access to legal counsel for migrants in CBP custody and has been in touch with legal service providers. The program, the administration official said, is expected to start small and is part of the administration's ongoing efforts to make asylum processing more efficient.
"As part of ongoing preparation efforts for the end of the CDC's Title 42 public health Order, DHS will work with legal service providers to provide access to legal services for individuals who receive credible fear interviews in CBP custody," Homeland Security spokeswoman Marsha Espinosa told CNN in a statement.
"This is part of a planning effort underway to initiate a process that would allow migrants to receive credible fear interviews from specially trained U.S. Citizenship and Immigration Services (USCIS) officers while still in U.S. Customs and Border Protection (CBP) custody. CBP agents and officers will not conduct these interviews," she continued.
A Homeland Security official told CNN that some border stations will have phone booths so migrants can reach counsel. But immigrant advocates warn that it could still be a detriment to asylum seekers who will be forced to go through a truncated process following a treacherous journey to the US.
The Biden administration has repeatedly said that it has opened other avenues for migrants to come to the United States legally and avoid journeying to the US-Mexico border and launched an app to help initiate the asylum process for some as part of its defense of recent policies. Biden has also called on Congress to pass long overdue immigration reform.
But that's done little to quell concerns among immigrant advocates, who say the app is flawed and new legal pathways shouldn't be offset by strict policies, as well as some asylum officers.
"I'm already applying to other jobs," one of the asylum officers said. "I don't intend to do these interviews."
This story has been updated with additional details.