The Biden administration on Tuesday released a highly anticipated analysis of the Colorado River crisis that paints a dire picture of what that river system's collapse would portend for the West's major cities, farmers and Native tribes.
In the draft analysis, the US Interior Department's Bureau of Reclamation offers two different scenarios for how to slash water usage should the levels in Lakes Mead and Powell continue to plummet, with the immediate goal of keeping enough Colorado River flowing through the Glen Canyon and Hoover dams to supply hydroelectric power to hundreds of thousands of customers.
But the implications of the analysis go far beyond hydropower.
The Colorado River provides water and electricity to more than 40 million people in seven states: Utah, Wyoming, Colorado, New Mexico, Nevada, Arizona and California. Decades of overuse, combined with years of drought worsened by the climate crisis, have spurred a sharp drop in water levels in recent years at Lakes Mead and Powell, the nation's largest reservoirs that power Hoover and Glen Canyon and provide water for drinking and agriculture to millions.
Solving the West's water crisis
In both of the federal government's scenarios, states, farms and tribes could be forced to cut nearly 2.1 million more acre-feet of their Colorado River usage in 2024, on top of existing water-conservation agreements struck in past years.
That is an enormous amount of water, roughly 684 billion gallons and nearly equivalent to what the entire state of Arizona was expected to use from the Colorado River this year.
The Interior Department is expected to make a final decision on the cuts – and how and when they would be implemented – later this summer.
After an epic winter full of record-breaking snow and flooding rainfall in the West, state water officials have said the pressure is easing to find an immediate solution to the Colorado River's woes. But Deputy Interior Sec. Tommy Beaudreau told CNN that the department didn't consider this year's historic winter in its analysis.

"While it's encouraging, it's great, the long-term trend here has been continued drought and water shortages," Beaudreau said. "But there's a chance even with a good water year that it just kind of pushes the curve out a few months and we have to continue our planning process accordingly."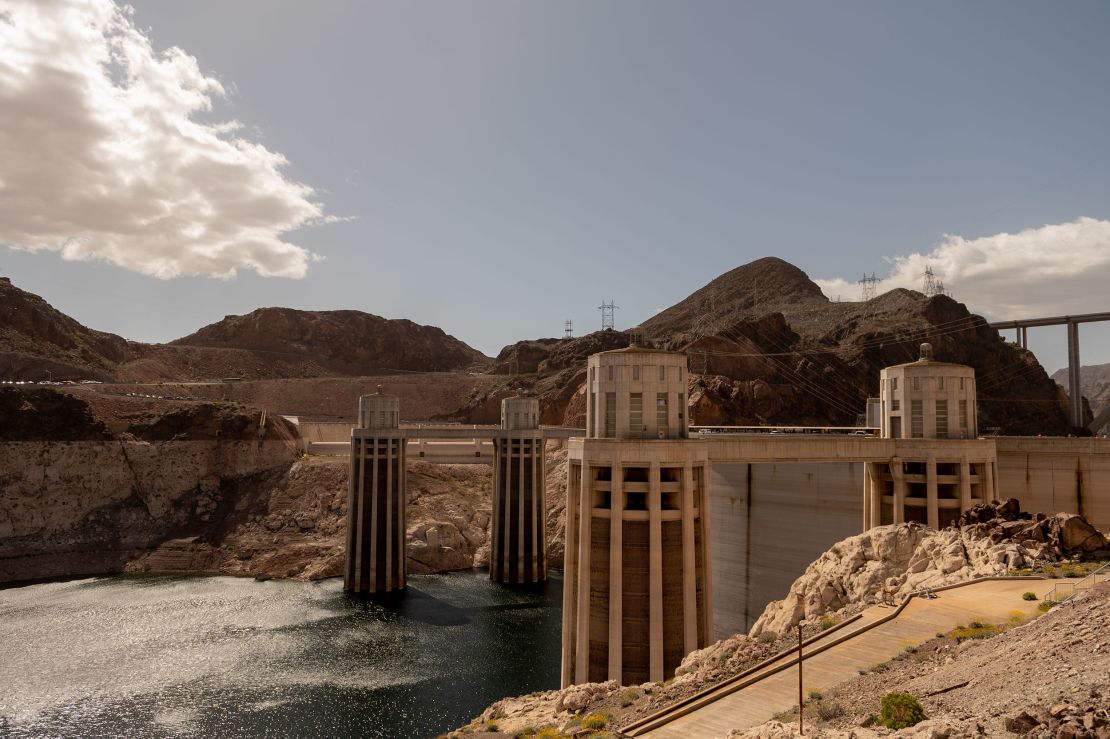 What the cuts would mean for cities, farmers and tribes
As pressure mounts for the federal government to come up with a fair deal for water users, Camille Calimlim Touton, the Bureau of Reclamation Commissioner, said Tuesday in a news conference that the Colorado River "is one community comprised of 40 million people and landscapes that need us to get this right."
Touton and other officials spoke Tuesday in front of Lake Mead's dramatic bathtub ring, showing how much the water levels there have fallen.
And while the extent of the water cuts is the same in the two main scenarios, the difference lies in who would bear the brunt of the cuts.
In one, major Western cities – including Los Angeles, Las Vegas and Phoenix – would take the vast majority of the water cuts if Lake Mead levels were to plummet further, because these cities have a lower priority claim to the water, compared to farmers and Native tribes.
And it would be a major blow to those cities; 90% of Las Vegas' water supply comes from the river, while Phoenix's water supply is about 40% Colorado River water, for example.
"For purposes of the analysis, we show what the effect would be," Beaudreau told CNN, adding he hopes the stark figures help spur an agreement among seven basin states.
The other scenario examines what would happen if the water cuts are spread equally among cities, farmers and tribes alike – an option that some high-priority water users have warned could result in a prolonged, high-stakes court battle between states and the federal government.
There is also a third scenario the feds offered: Do nothing. But that is not an option states or the federal government are seriously considering as the Colorado River continues to decline.
Beaudreau called the no-action option the "most severe" for the river basin, but said it was important to include to emphasize why more cuts are so critical should water levels plummet further.
The federal government is trying to paint a picture that shows what a future with less water would actually look like, Beaudreau said, in hopes that sparring states can come together with a short-term agreement on cuts.
"There has been a lot of negotiation and conversation among the states and with the Interior Department, but a lot of it's been conceptual and abstract," Beaudreau told CNN. "Putting things down on paper to give direction I think will meaningfully move the conversation."
Arizona's top water official Tom Buschatzke said the federal plan "presents multiple paths forward, but those paths have dire consequences."
"In some cases, it may spur opposition or even litigation," Buschatzke said at Tuesday's news conference. "Instead, let us accelerate our discussions in the basin for a collaborative consensus-based outcome."

California's lead negotiator in the Colorado River talks, JB Hamby, echoed that sentiment, and said Arizona, California and the other states are looking to "develop a true, seven-state consensus in the coming months – ideally in the next 45-day period."
The two main scenarios may also not be what is finalized later this summer, as states continue to negotiate among themselves. And a third, less-severe option could ultimately emerge based on how water levels in Lakes Mead and Powell respond to this winter's rain and snow, as well as water cuts that are already being implemented across farms and cities in the Southwest, Beaudreau said.
Administration officials are incentivizing water cuts across agriculture in exchange for federal dollars. Last week, Beaudreau and other administration officials announced the first deal it signed in a series of short-term agreements to fallow water-intensive farmland and keep more water in Lake Mead. More fallowing agreements, some of which are still being negotiated, could be coming in the next few weeks.
The result of those programs could change the landscape enough by late summer that the feds could ramp down the extent of the water cuts in their final decision.
"It all depends on how much the shortages are," he said. "If there's conservation in the system that keeps water in Lake Mead, and we have to make minimal shortage reductions on top of [existing drought guidelines], that is an accomplishment in and of itself."
A combination of those fallowing agreements and the good winter rain and snow are expected to raise elevations in Mead and Powell in the short term, which could stave off bigger cuts. State negotiators have told CNN they hope the good winter helps take some of the immediate pressure off and gives them more time to come to an agreement on water cuts.

Beaudreau said that while he hopes the seven states can strike a short-term deal, he doesn't yet know whether than can be achieved. If not, he reiterated Interior is prepared to act and implement cuts itself to keep the system from crashing.
"I think this is a step towards facilitating what I hope is some consensus coming out of the basin, but it also shows at the end of the day, the [Interior] Secretary will do what's necessary and responsible to keep the system operating," Beaudreau said.