Fierce fighting across Sudan entered a second day as months of tensions between a paramilitary group and the country's army erupted into violence.
Clashes around the army headquarters and presidential palace in capital Khartoum involved heavy weapons. There have also been reports of battles hundreds of miles away in the eastern city of Port Sudan and in the western Darfur region.
At least 56 people have been killed and nearly 600 injured in the clashes, according to the Central Committee of Sudan Doctors.
"Since yesterday we have not been able to leave the hospital for our homes because the clashes are taking place near the hospital and armed men from the army are roaming inside the hospital with their weapons," a female doctor in Khartoum told CNN.
"We are in a real state of terror with the sound of explosions and bullets, we escaped death many times," she added.
Sudan's paramilitary chief Mohamed Hamdan Dagalo claimed to have seized most of Khartoum's official sites after clashes erupted between his armed group and the country's military on Saturday.
On Sunday, Dagalo's Rapid Support Forces (RSF) released a video declaring it had gained control of the Meroe airport in the north of the country. Dagalo told CNN the RSF is in control of the presidential palace, Khartoum airport and the General Command headquarters.
The country's military leader, Gen. Abdel Fattah al-Burhan, disputed Dagalo's claims on Saturday and said the military has maintained control over government sites.
CNN has been unable to independently verify either side's claims.
As fighting continues in Khartoum and other parts of Sudan, the World Health Organization is urging all parties to the conflict to respect the neutrality of health care and ensure unrestricted access to health facilities for those injured by the hostilities.
More than 83 people have been killed and at least 1,126 injured since April 13 "across Khartoum, South Kordofan, North Darfur, Northern State and other regions," the organization said, noting the "heaviest concentration of fighting" is now in Khartoum City.
"There are also reports of shortages of specialized medical personnel, including anesthesiologists," the WHO said in a statement Sunday. "Water and power cuts are affecting the functionality of health facilities, and shortages of fuel for hospital generators are also being reported."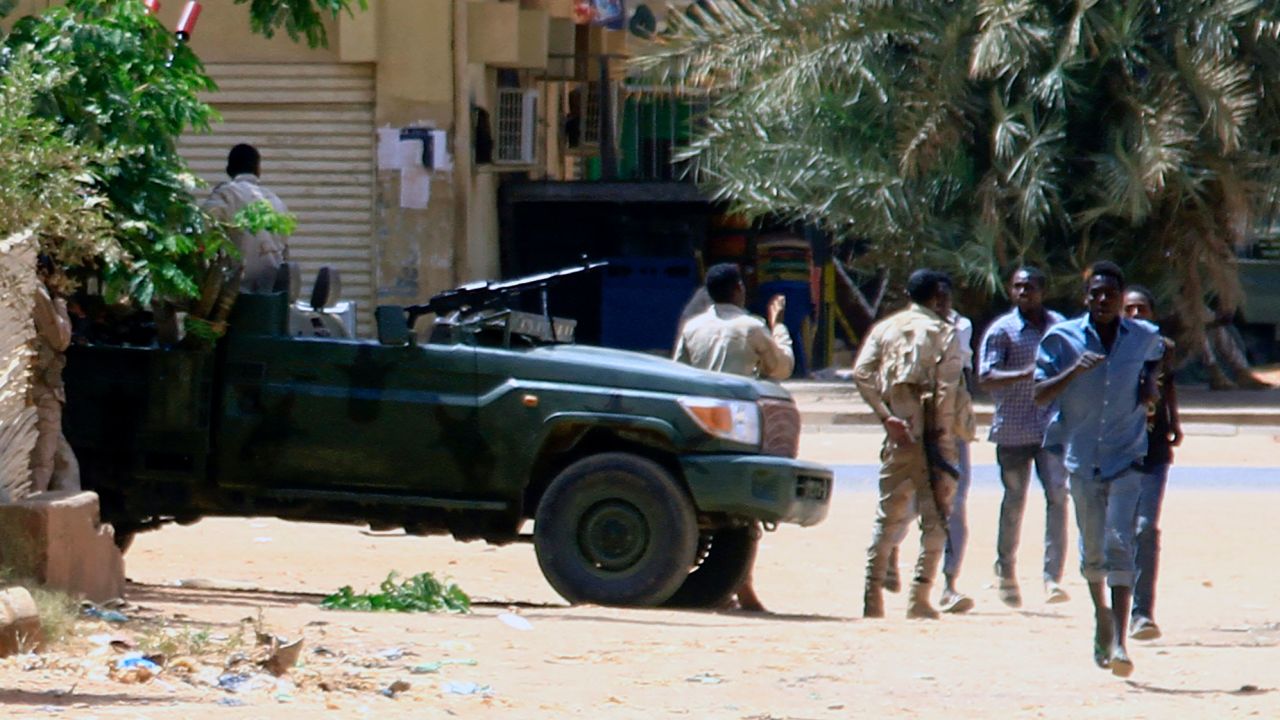 In an interview with Al Jazeera, Dagalo – also known as Hemedti – described Burhan as a "criminal," accusing him of instigating the fighting.
"It was not us who did this," Dagalo told CNN's Larry Madowo. "We were defending ourselves. We're sorry and we tell the Sudanese people that this crisis will end, and Sudan will be even better than before. And this will be a lesson to learn in the future."
Dagalo accused the Sudanese army of breaking a United Nations-brokered temporary humanitarian ceasefire Sunday evening.
"We're under attack from all directions," Dagalo said. "We stopped fighting and the other side did not, which put us in a predicament, and we had to keep fighting to defend ourselves," he claimed.
Dagalo also speculated that Burhan has lost control of his military, saying "they don't seem to be listening to him."
Dagalo's rise to power began when he was a leader of Sudan's notorious Janjaweed forces, implicated in human rights violations in the Darfur conflict of the early 2000s. His group killed at least 118 people in pro-democracy protests in June 2019 after troops opened fire at a peaceful sit-in.
He and Burhan were pivotal in the 2019 overthrow of President Omar al-Bashir but have since become locked in a power struggle, with tensions over the RSF's integration into the army.
International alarm
There have been widespread calls for calm. Sudan's former Prime Minister Abdalla Hamdok on Sunday warned of civil war and called for immediate negotiations.
"This war has to stop today … peace is the only option to avoid slipping into a civil war," he said at a news conference in Abu Dhabi.
The US and UN also called for an end to the fighting.
African leaders were holding emergency meetings on Sunday in response to the situation. Sudan's neighbors Egypt and South Sudan have offered to mediate.
The UN's political mission in Sudan has said the country's two warring factions have agreed to a "proposal" although it is not yet clear what that entails.
The military has been in charge of Sudan since a coup in 2021, with Burhan and Dagalo at the helm. The 2021 coup ended a power-sharing arrangement, following the 2019 ouster of al-Bashir.
A CNN investigation also uncovered another link between the two men: their involvement in Russia's exploitation of Sudan's gold resources to fund its Ukraine war, with Dagalo's forces also being key recipients of Russian training and weaponry.
But recent talks have led to cracks in the alliance between the two military leaders. The negotiations have sought to integrate the Rapid Support Forces into the country's military, as part of the effort to transition to civilian rule.
Sources in Sudan's civilian movement and Sudanese military sources to