University of Virginia running back Mike Hollins scored a touchdown in his team's spring game on Saturday, five months after he was hospitalized by a gunshot wound in a shooting that killed three of his teammates.
After he scored the 1-yard touchdown, Hollins pointed to the sky and placed the ball over one of his three teammates' names that were painted in the endzone.
The fifth-year running back also got the first touch of the game to a standing ovation, and finished with 11 carries for 40 yards in the first half.
Saturday's game marked UVA's first time returning to the field since D'Sean Perry, Devin Chandler and Lavel Davis Jr. were shot dead on a bus as it returned to campus from a class field trip in November.
Hollins was one of two people wounded, and spent time intubated in the hospital's intensive care unit.
"It's great to be back, it's a blessing and I want to thank all you Hoos fans for coming out and supporting us," he said in a video posted on the Cavaliers' official Twitter account.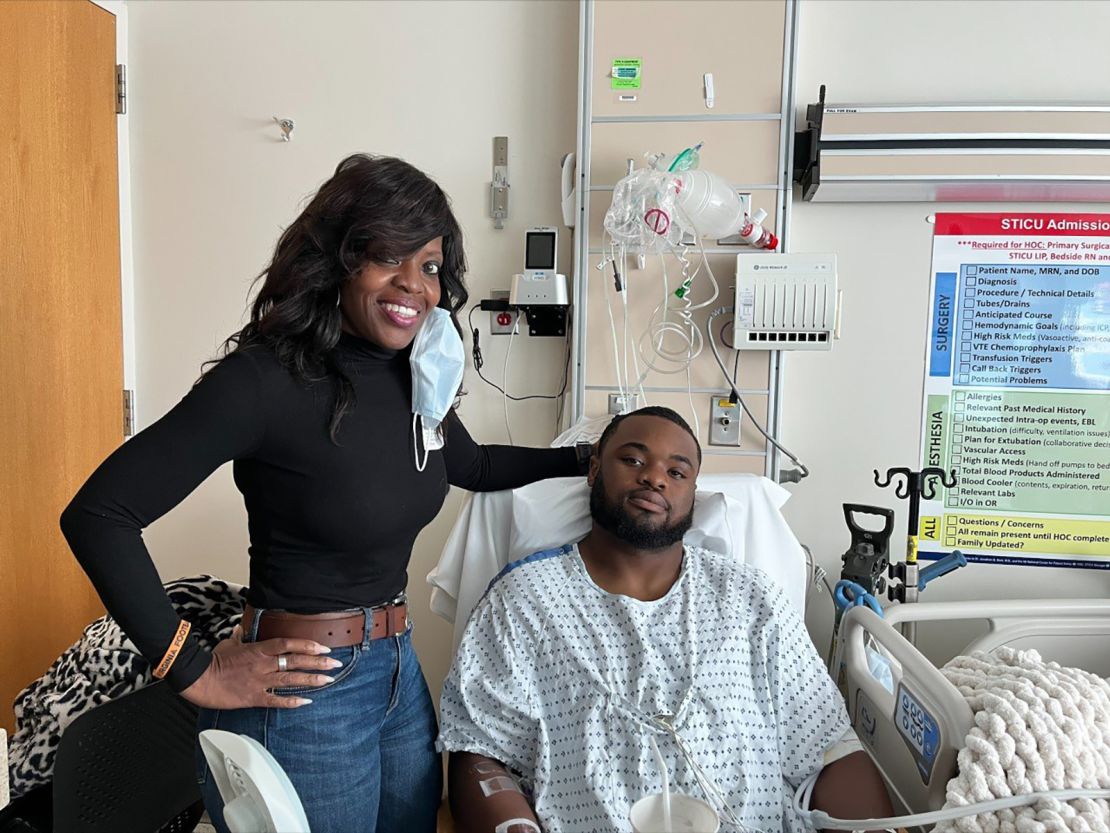 The deaths of Chandler, Davis Jr. and Perry left three enormous holes on a team that felt more like family than anything, University of Virginia head coach Tony Elliott said in November. He went on to describe them, calling Chandler "the life of the party," Davis "the big man on campus" and Perry "the quiet guy everyone wanted to know about."
Hollins said in March that it was a "miracle" that he was able to return to the practice field, adding that he had considered leaving the school to get a fresh start but decided it was best for him to stay.
"I feel like anyone would think about leaving after something like that. But I also thought what better place to re-find who I am and reestablish my mental than the place that everything took place," he said.
The running back, who was hospitalized for days, learned about the deaths of his teammates days after the shooting.
"I've never cried like that before," Hollins told ABC. "I mean, I lost a brother that day. I love Lavel with all my heart, love Devin with all my heart. But D'Sean – it was different with him."
"That was my brother," Hollins said, getting visibly emotional. "It was tragic hearing that he was gone."
The suspect in the University of Virginia shooting, former UVA walk-on football player Christopher Darnell Jones Jr., faces three charges of second-degree murder and three counts of using a handgun in the commission of a felony, authorities said. Jones also faces two counts of malicious wounding, each accompanied by a firearm charge.
Jones had his first court appearance on November 16 and a court ordered that he be held without bond.