Robert F. Kennedy Jr., the anti-vaccine activist and environmental lawyer, described himself as a truth-teller who will "end the division" as he launched his bid for the 2024 Democratic presidential nomination on Wednesday in Boston.
Kennedy used his campaign launch speech to lambast school and business closures during the coronavirus pandemic and to insist that government and media "lie to us."
"My mission over the next 18 months of this campaign and throughout my presidency," he said, "will be to end the corrupt merger of state and corporate power that is threatening now – threatening now – to impose a new kind of corporate feudalism in our country; to commoditize our children, our purple mountain's majesty; to poison our children and our people with chemicals and pharmaceutical drugs; to strip-mine our assets; to hollow out the middle class and keep us in a constant state of war."
The 69-year-old Kennedy is the nephew of former President John F. Kennedy and son of former US attorney general and assassinated 1968 presidential candidate Robert Kennedy.
He joins self-help guru Marianne Williamson in a presidential primary that President Joe Biden is soon expected to enter as the overwhelming favorite.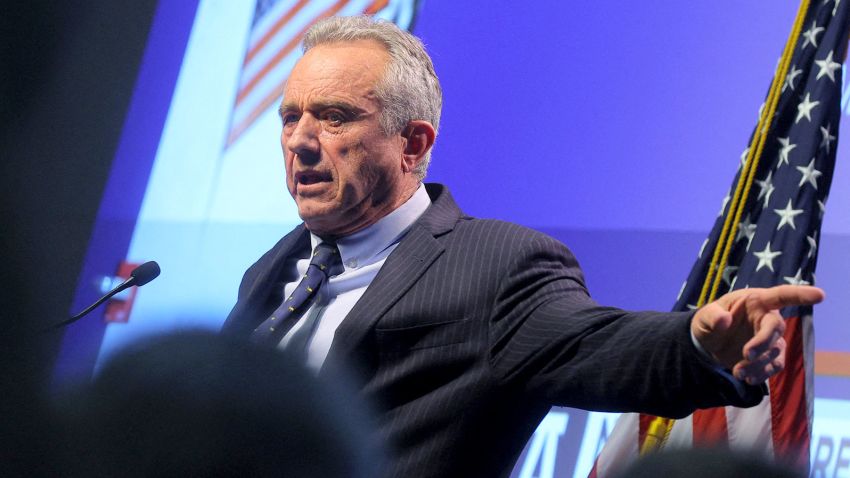 Reporter explains why Kennedy family won't support RFK's son against Biden
One hurdle likely facing Kennedy as he attempts to win over Democratic voters: his own family. Some Kennedy family members have denounced his views on vaccines. He has also clashed with his mother and siblings over his support for the release of Sirhan Sirhan, the man who shot and killed his father in a moment that changed US history.
He acknowledged in his speech the opposition within his own family to his presidential bid.
"Other members of my family who are not here today – I'm going to make a confession because I know most American families, they never have any differences with each other," he said. "So when that happens with a family, it's really huge news, like everywhere."
Still, he said he bears "no ill will or any kind of disappointment" toward family members who oppose his run.
He also pointed out a list of family members who he said were on hand Wednesday, including children, grandchildren, siblings and cousins.
"I told them to wear name tags," he said of his children.
'Heal the divide'
Kennedy made the announcement Wednesday in a ballroom of the Boston Park Plaza hotel, which was bathed in red, white and blue lights, before a backdrop of American flags, patriotic bunting and signs celebrating Kennedy 2024.
More than 500 people filled chairs, with a few hundred more standing in an overflow area, as signs were passed out to the crowd with a succinct campaign message: "Heal the divide."
A brass band played as Kennedy family photographs played in a loop on large screens at the front of the room. Volunteers distributed Kennedy 2024 signs and bumper stickers.
Kennedy lives in Los Angeles, but he chose Boston as a nod to his family's deep political roots in the city, even though his father, Robert F. Kennedy, declared his presidential ambitions in the Senate Caucus Room on Capitol Hill in 1968, the same place his uncle, John F. Kennedy, launched his presidential campaign in 1960.
He's hardly the first Kennedy to take on a sitting Democratic president. Another uncle, Sen. Edward Kennedy, challenged Jimmy Carter for the party's nomination in 1980 and lost decisively in a bitter campaign that divided the party for years to come.
For more than six decades, the reverence to the Kennedy name remains unparalleled in American politics, but the presidential announcement on Wednesday was met with resistance from some admirers of the family.
"I'm a lifelong Democrat, but I will not be voting for Robert Kennedy Jr. because I cannot stomach the anti-vaccine thing," said Tyson Humble of Portland, Oregon, who was visiting the John F. Kennedy Presidential Library and Museum. "The Kennedy name isn't enough. If he's going to go around saying crazy stuff like that, it's kind of a distraction more than anything."
Others acknowledged they didn't know much about Kennedy's environmental activism or controversial stance on vaccines.
"I'm willing to listen to what a person has to say, but I see no reason to displace Joe Biden," said Bob Howland, who was visiting the Kennedy library from Pittsburgh.
Tricia Santi, who took the train from Maine to attend the announcement, said she's a longtime admirer of the Kennedy family and a strong supporter of his message against government mandates for vaccinations. But she said his presidential candidacy excited her for other reasons, including shining a brighter spotlight on his environmental activism.
"I've been following him for many years with his advocacy work," Santi said. "I think he would make an excellent candidate to bring the country together to tell the truth about everything."
She knows his views on vaccinations are controversial, but she called him "a choice candidate" who favors personal autonomy.
Judy McIntyre stood in the ballroom, wearing a Kennedy button and a white T-shirt saying "question everything." She said she hoped his presidential campaign would draw more attention to not only vaccination mandates, but also other progressive positions.
"Don't fall for the one-subject anti-vax thing," McIntyre said. "Keep an open mind, listen to him, listen to his message. He's been cleaning up the environment for years."
A Boston native and long admirer of the Kennedy family, McIntyre said she was not bothered by the criticism from his family.
"I put nobody on a pedestal, but I really believe in his message," McIntyre said. "I come from a big Irish family, too. Everybody is entitled to how they feel. Agree to disagree – that's what you have to do."
Longtime vaccine skeptic and environmental activist
Kennedy is a longtime vaccine skeptic. He has promoted discredited claims linking vaccines and autism and founded the anti-vaccine organization Children's Health Defense.
In 2019, three members of his family – his sister Kathleen Kennedy Townsend, brother Joseph P. Kennedy II and niece Maeve Kennedy McKean – forcefully denounced his anti-vaccine views in a Politico Magazine op-ed, arguing that he was "part of a misinformation campaign that's having heartbreaking – and deadly – consequences."
Kennedy was a strident critic of the government's handling of the coronavirus pandemic and its top infectious disease expert, Anthony Fauci. He also railed against the coronavirus vaccine and vaccine mandates.
In 2022, Kennedy invoked Nazi Germany in an anti-vaccine speech at the Lincoln Memorial in Washington, DC. The previous year, Instagram took down his account "for repeatedly sharing debunked claims about the coronavirus or vaccines."
Kennedy is the latest in a long line of family members to seek to enter politics.
His sister Kathleen served as the lieutenant governor of Maryland from 1995 to 2003. His brother Joseph was a congressman from Massachusetts from 1987 to 1999. And more recently, his brother Chris Kennedy was an unsuccessful candidate for governor of Illinois in 2018.
The last Kennedy to hold elected office was his nephew former Massachusetts Rep. Joe Kennedy III, who lost a Democratic Senate primary in 2020. (He is now the US special envoy for Northern Ireland.) Caroline Kennedy, the daughter of former President Kennedy, is currently the US ambassador to Australia.
The 2024 Democratic presidential primary is only beginning to take shape. Williamson launched her second long-shot campaign for the Democratic presidential nomination last month. CNN previously reported that Biden has told several elected officials in private conversations that he is "definitely running" for reelection but some Democratic officials have said a formal announcement is more likely to come this summer.
On the Republican side, former President Donald Trump jump-started the race for the party nomination, announcing his third bid for the White House last year. Former South Carolina Gov. Nikki Haley, former Arkansas Gov. Asa Hutchinson and tech entrepreneur Vivek Ramaswamy are also in the race, while South Carolina Sen. Tim Scott launched an exploratory committee earlier this month. Other high-profile Republicans said to be weighing bids include Florida Gov. Ron DeSantis and former Vice President Mike Pence.
This story has been updated with additional developments.