NATO Secretary General Jens Stoltenberg said Thursday "Ukraine's future is in NATO," in his strongest remarks reaffirming ties with Kyiv since Russia launched its full-scale invasion in February 2022.
In his first visit to Ukraine since the invasion began, Stoltenberg said he discussed a "multiyear support initiative" with President Volodymyr Zelensky, adding that it would help Ukraine transition from Soviet-era equipment and doctrines to "NATO standards."
This would "ensure full interoperability with the alliance," Stoltenberg remarked.
Even though Ukraine is not a member of the alliance, and NATO has insisted that it is not a party to the conflict, the bloc has played a critical role in supporting Kyiv, donating billions in military aid and other support.
The NATO chief said that since last February, the alliance's allies have delivered more than 150 billion euros ($165 billion) of support, including 65 billion euros of military aid.
"Allies are now delivering more jets, tanks and armored vehicles," Stoltenberg said. "NATO stands with you today, tomorrow and for as long as it takes."
Part of Russia's premise for its invasion of Ukraine was to fend off NATO from expanding close to its borders.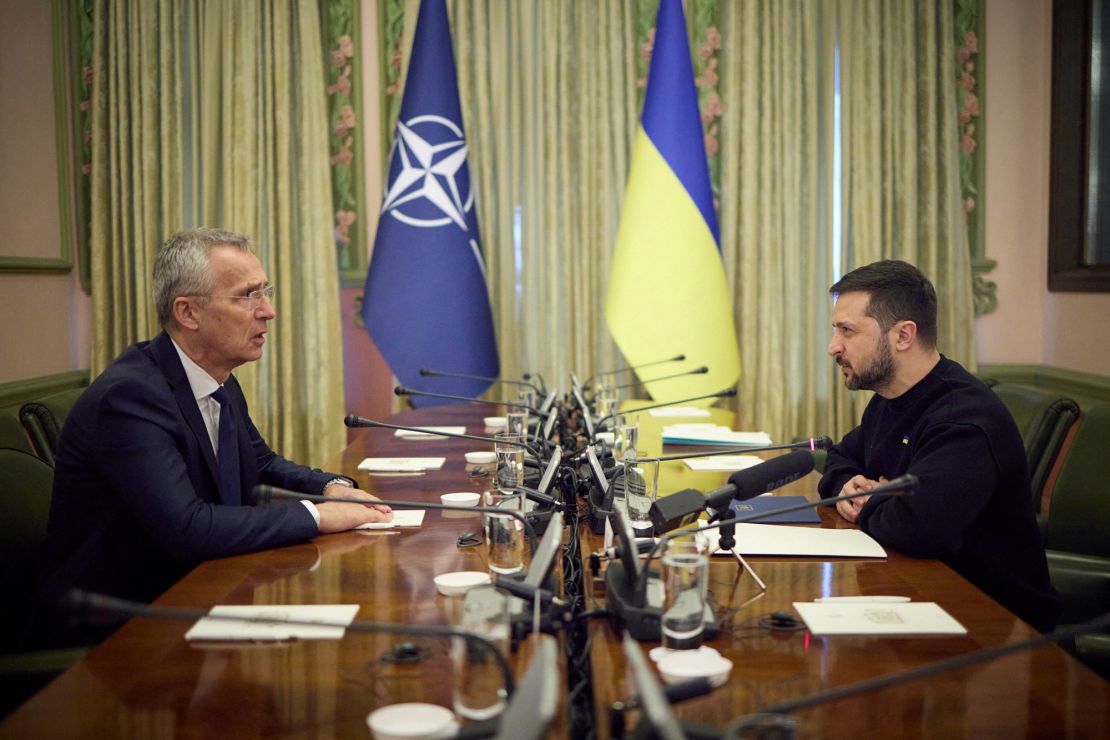 Finland's accession to the alliance earlier this month marked a major shift in the security landscape in northeastern Europe, more than doubling NATO's frontier with Russia.
Finnish public support for accession snowballed following the invasion of Ukraine, and also reignited calls from Kyiv to join.
Speaking at a joint conference in Kyiv, Zelensky said he valued the support from the alliance but pressed Stoltenberg on when Ukraine would be invited to join NATO.
"We need something more than the kind of relationship we are having now," Zelensky said on Thursday. "We will be in their alliance, we believe that is a guarantee of Ukraine's security and a concrete guarantee."
"But while we await the membership and are not a member, we want to have very specific guarantees of security approved in Vilnius, if there is an opportunity to do that then we will be ready on our side."
NATO has an open-door policy, meaning that any country can be invited to join if it expresses an interest, as long as it is able and willing to uphold the principles of the alliance's founding treaty.
However, under the accession rules, any member state can veto a country from joining if they deem that the country doesn't meet the standards required to join the alliance. These standards include being able to demonstrate a "functioning democratic political system based on a market economy" and "the fair treatment of minority populations," according to NATO's website, along with other things that are more difficult to demonstrate during wartime.
Ukraine's membership would also raise questions about the most important aspect of NATO: the alliance's security guarantee. Under Article 5 of its treaty, NATO members accept the premise that an attack on one is an attack on all. The nation under attack can invoke Article 5, in theory compelling the rest of the alliance to come to their aid. Given Ukraine is currently at war, this would likely mean an almost certain immediate invocation of Article 5, putting NATO at war with Russia.
No one in the alliance wants this to happen – some because they fear what an escalation would mean in terms of starting an effective world war, others because they still have certain ties with Russia.
In December, nine Central and Eastern European countries from the alliance signaled their support for Ukraine's membership, while other members have so far refrained from backing Kyiv's bid.
Stoltenberg said the topic of Ukraine's NATO membership and security guarantees will be "high on the agenda" at July's NATO summit in the Lithuanian capital of Vilnius, but he stopped short of confirming the country's accession.
"Ukraine's future is in NATO. All allies agree on that," Stoltenberg said, adding that the main focus of the alliance now is "to ensure that Ukraine prevails."
NATO's expansion in northern Europe has dealt a major blow to President Vladimir Putin's military campaign, with the Kremlin reiterating on Thursday that preventing Kyiv from joining NATO is one of its key goals.
Kremlin spokesperson Dmitry Peskov said on Thursday Ukraine's accession would "pose a serious and significant danger to our country, to the security of our country."
Earlier this month, the Kremlin said it would scale up forces near Finland after the Nordic nation joined the alliance, warning that it will not bring more stability to Europe.
Before Finland's accession, Russia shared about 1,215 kilometers (755 miles) of land border with five NATO members. But the expansion added some 1,300 kilometers (830 miles) to the alliance's frontier with Russia.
CNN's Tara John contributed reporting.