Testing of over two dozen melatonin "gummies" sold as sleep aids found some had potentially dangerous amounts of the hormone that helps regulate sleep, according to a new study.
"One product contained 347% more melatonin than what was actual listed on the label of the gummies," said study coauthor Dr. Pieter Cohen, an associate professor of medicine at the Cambridge Health Alliance in Somerville, Massachusetts.
A jar of gummies might also contain ingredients you didn't count on, Cohen said: "One of the products that listed melatonin contained no melatonin at all. It was just cannabidiol, or CBD."
According to the US Food and Drug Administration, "it is currently illegal to market CBD by adding it to a food or labeling it as a dietary supplement." Yet several of the tested products containing CBD in the study openly advertised the addition of that compound to their melatonin product, Cohen said.
"Four of the tested products contained levels of CBD that were between 4% and 18% higher than on the label," Cohen said.
The use of CBD in over-the-counter aids is particularly concerning because parents might purchase gummy products to give to their children to help them sleep, said Dr. Cora Collette Breuner, a professor of pediatrics at Seattle Children's Hospital at the University of Washington.
"There's no data that supports the use of CBD in children," said Breuner, who was not involved in the study. "It's currently only recommended for a very specific use in children over 1 with intractable seizure disorders."
Aside from CBD, consuming a gummy that unknowingly contains extremely high levels of melatonin — well over the daily 0.5 to 1 milligram per night that has been shown to induce sleep in kids — is also dangerous, said Breuner, who serves on the integrative medicine committee of the American Academy of Pediatrics, which is currently writing new guidelines on supplements in children.
Side effects of melatonin use in children can include drowsiness, headaches, agitation, and increased bed-wetting or urination in the evening. There is also the potential for harmful interactions with medications and allergic reactions to the melatonin, according to the National Center for Complementary and Integrative Health, a department of the National Institutes of Health.
The agency also warns supplements could affect hormonal development, "including puberty, menstrual cycles, and overproduction of the hormone prolactin," which causes breast and milk development in women.
Carefully chosen from government database
In the study, published Tuesday in the journal JAMA, researchers sent 25 products labeled as melatonin gummies to an outside lab that tested for levels of melatonin and other substances.
However, the research team didn't pick products "willy-nilly" off the internet, Cohen said. The scientists carefully chose the first 25 gummy melatonin products displayed on the National Institutes of Health database, which the public can check to see labels of dietary supplements sold in the United States.
"We choose gummies over other products because we thought parents would chose edibles to give to their children," Cohen said. ""We also wanted to take a closer look at those products after last year's report that poison centers have had over a quarter million calls about pediatric ingestion, thousands of hospitalizations, ICU visits, even some deaths."
A 2022 report by the US Centers of Disease Control and Prevention found calls to poison control about melatonin ingestion by children rose 530% between 2012 to 2021. The largest spike in calls — 38% — occurred between 2019 and 2020, the report said.
Most of the calls were about children younger than 5 years old who had accidentally eaten gummies caregivers had not properly locked away.
"Gummies are enticing to young children, who see them as candy," Cohen said. "We wondered if there was something going on with the products that might be contributing to the calls to the poison control centers."
The new study found 88% of the gummies were inaccurately labeled, and only three contained a quantity of melatonin that was within 10% of what was listed on the label, said Cohen, who has studied invalid labeling of supplements for years.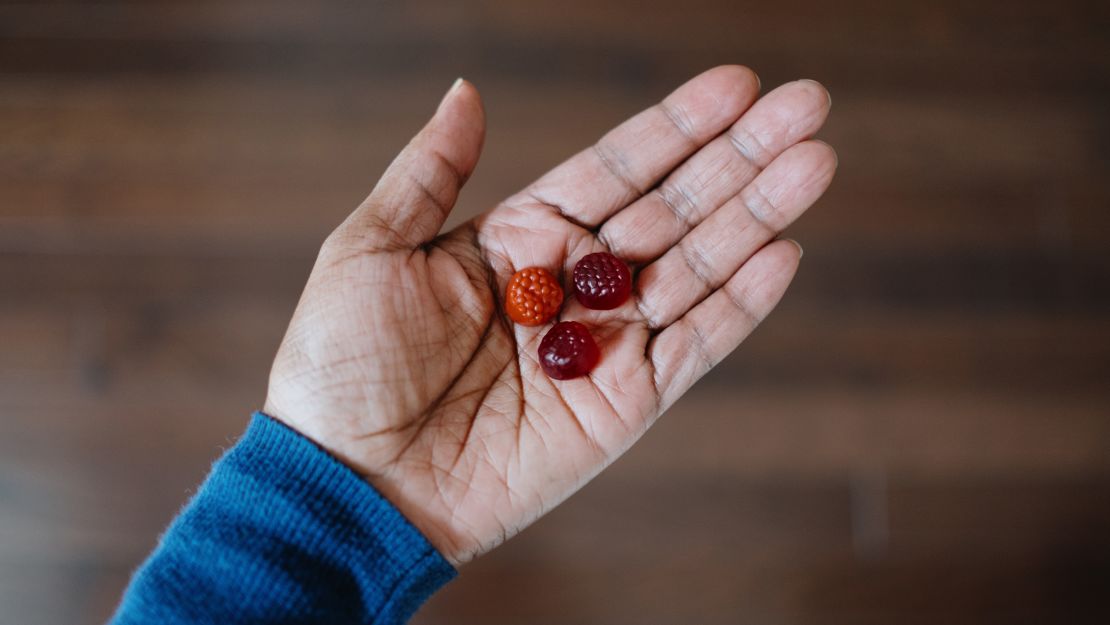 "The regulatory framework for supplements is broken," he said, "The manufacturers are not complying with the law, and the FDA is not enforcing the law. So what that means is that we have a lot of poor-quality products out there."
A spokesperson for the FDA told CNN the agency would review the findings of the study, adding that the FDA generally doesn't comment on specific studies, but "evaluates them as part of the body of evidence to further our understanding about a particular issue."
"It's important to underscore that under current law, the FDA does not have the authority to approve dietary supplements before they are marketed, and firms have the primary responsibility to make sure their products are not adulterated or misbranded before they are distributed," the spokesperson said via email.
Steve Mister, president and CEO of the Council for Responsible Nutrition, a trade association for the dietary supplement industry, released a statement saying that manufacturers may add additional melatonin to be sure the product remains at the levels on the label as degradation naturally occurs over time.
"While there may be some variability in overages as companies adhere to the FDA's requirements regarding shelf life and potency, it does not mean there is a risk in taking these products as intended," Mister said.
Melatonin is a hormone
People often view melatonin as an herbal supplement or vitamin, experts say. Instead, melatonin is a hormone that is made by the pineal gland, located deep within the brain, and released into the bloodstream to regulate the body's sleep cycles.
Studies have found that while using melatonin can be helpful in inducing sleep if used correctly — taking a small amount at least two hours before bed — but the actual benefit is small, Breuner said.
In six randomized controlled trials on melatonin treatment in the pediatric population, she said, melatonin decreased the time it took to fall asleep, ranging from 11 minutes to 51 minutes.
"However, these were very small studies with widely variable results," Breuner said. "So I say to the parents, 'You're really looking at as little as 11 minutes in decreasing the amount of time it takes your child to fall asleep.'"
Anyone considering melatonin should be sure that the bottle has the stamp of the United States Pharmacopeia (USP), which manufacturers hire to test and verify products.
"If it has a USP stamp on the label, you can be sure the product is accurately labeled," Cohen said. "However, that doesn't mean melatonin products are going to work or they're a good idea to take.
"That's not what the USP is about," he said. "But at least the verification of the label should eliminate the problems we're seeing here in our study."
Sign up for CNN's Sleep, But Better newsletter series. Our seven-part guide has helpful hints to achieve better sleep.