A long-awaited phone call between Chinese leader Xi Jinping and Ukrainian President Volodymyr Zelensky on Wednesday has received a tentative welcome in Washington and parts of Europe for its potential to increase dialogue toward resolving Russia's brutal war in Ukraine.
It also marks the most concrete step made to date by China to take up the role of mediator that it has for months alluded to playing.
But the hour-long conversation, believed to be the first between the two leaders in the fourteen months since Russia invaded Ukraine, also comes with few tangible proposals for how China might help to bridge the devastating, war-torn divide between the two countries.
And its timing – at a moment when Beijing is acutely focused on strengthening ties with Europe amid cratering relations with the United States – also suggests there are more drivers than just peace in China's calculus, analysts say.
Ties have been frayed thin since the outbreak of the war, as European leaders have watched in dismay while Beijing refused to condemn the invasion and instead bolstered its economic and diplomatic ties with Moscow, including joining the Kremlin in blaming NATO for fueling the conflict.
Efforts from Beijing to repair those relations took a major stumble earlier this week after China's top diplomat in Paris suggested in a televised interview that former Soviet states have no status under international law – seen as a potential nod to Putin's view that Ukraine should be part of Russia.
"It is hard to separate the timing of the Xi-Zelensky call from those events," said Brian Hart, a fellow at Washington think tank Center for Strategic and International Studies' China Power Project.
"Xi likely timed the call to quell fears in Europe, but it remains to be seen whether the call will help Beijing much… Higher-ups in Beijing walked back the ambassador's statements, but the damage was done, setting back attempts by Beijing to smooth over worsening ties with much of Europe," he added.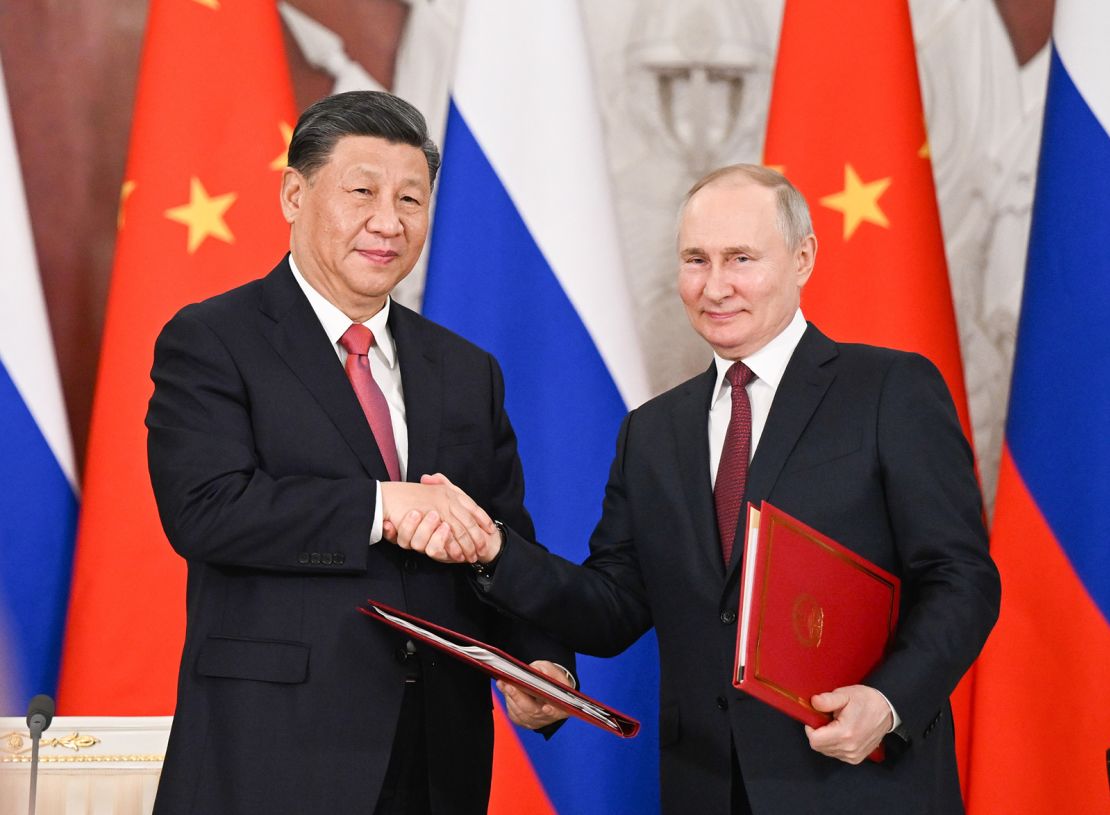 'Many credits'
Zelensky, who had for months expressed interest in speaking with Xi, addressed hopes for China's role in peace after the call, characterizing it in his nightly address to Ukrainians as an "opportunity to use China's political influence to restore the strength of the principles and rules on which peace should be based."
Xi, for his part, pledged China "would not sit idly by" and planned to dispatch a special envoy to push forward communication "with all parties" toward peace talks, according to a Chinese readout of the call – a move that is similar to steps Beijing has taken in other regional conflicts including Afghanistan and Syria.
But what exactly China could or hopes to achieve remains far from clear, as few concrete details past the appointment of envoy Li Hui, a former Chinese ambassador to Russia, were released by Beijing.
Meanwhile the war rages on with Russia unwilling to give up illegally gained territories and Ukraine pledging to fight until it restores its rightful borders.
"The Chinese also have realistic expectations about what they can achieve as no one believes that either Russia or Ukraine is ready to sit down and talk at this time," said Yun Sun, director of the China Program at the Washginton think tank Stimson Center.
Instead, China's move to call Zelensky now may be more a bid to capitalize on French support for its mediator role after a recent visit from French President Emmanuel Macron to China and to win any benefits from Europe, she added.
"For China, (that) the war is not going to end soon doesn't mean it should not exploit the opportunity to increase its diplomatic sway and influence, (and) strengthen goodwill with Europe… Success is not guaranteed for any mediation, but making the effort gains China many credits and that is not insignificant," she said.
China has already appeared ready to boost these optics – with its Foreign Ministry announcing the call in a rare, invite-only special press briefing in Beijing Wednesday evening.
Neutral player?
But another set of optics, Beijing's close rapport with Moscow, has already embedded a deep skepticism in the West over China's potential role as mediator.
Since Russia's invasion of Ukraine, Xi has claimed China's neutrality, but has spoken with Putin five times – including twice in person – without picking up the phone to call Zelensky, despite a years-long strategic-level partnership between their countries.
China has also continued to carry out military exercises alongside Russian forces, with its defense minister visiting Moscow earlier this month and hailing "increasingly consolidated" trust between the two countries.
A vaguely-worded "political settlement" to the conflict released by China on the one-year anniversary of the invasion – and raised by Xi to Zelensky on Wednesday – has been widely viewed in the West and Kyiv as being far more favorable to Russia than Ukraine. It calls for a ceasefire but includes no provision that Moscow first withdraw its troops from Ukrainian land.
This record and the close personal ties between Xi and Putin – further underlined during a three-day visit from the Chinese leader to Moscow last month – are likely to undermine Xi's credibility in Zelensky's eyes, analysts say.
But this rapport has also been the reason that some leaders, including Zelensky and Macron, have expressed hope that Xi could leverage his clout to influence Russia to respect international law.
When it comes to taking on a mediating role, analysts say, China could evolve its "political settlement" position to one that is seen as more acceptable to Ukraine. And it may also try and push for progress by aligning with other countries outside the Western bloc that have also called for peace talks – including Brazilian President Luiz Inácio Lula da Silva, who was in Beijing earlier this month.
But at the same time, the critical importance of the Russia relationship for China could also mean there are simply some buttons that Beijing would be careful to avoid pressing – undermining the potential for true mediation.
"There is no indication that Xi is trying to get Putin or Russia to make concessions of any sort (and) the Chinese readout (of the call) does not include anything concrete that can start a peace process," said Steve Tsang, director of the SOAS China Institute in London.
"Given that the war is an existential one for Ukraine, it cannot find any foreign mediation as credible if the mediating party is clearly supportive of the stance of Russia, which started the invasion," he added.
CNN's Nectar Gan, Steven Jiang, Yulia Kesaieva and Radina Gigova contributed reporting.