Like spring, the NFL Draft signals a season of hope and joy renewed.
This season's edition is no different, with the teams at the top of the order hoping their selections will breathe fresh life into their organization.
The Carolina Panthers showed their ambition by trading up to acquire the first overall pick, exchanging draft picks and star wide receiver DJ Moore to hold the ability to choose the prospect they want.
With some highly-regarded quarterbacks in this year's draft, it is no wonder why.
Let's have a look at everything you need to know ahead of the 2023 NFL Draft on Thursday.
How to watch
The NFL Draft is being held this year in Kansas City, Missouri, which is the home of the reigning champion – the Kansas City Chiefs.
The first round is held on Thursday, April 27, with the second and third rounds on Friday and the final four rounds on Saturday.
Here's where to tune in to watch all the picks.
Australia: Seven
Brazil: ESPN
Germany: RTL, DAZN
Mexico: FOX, ESPN
South Africa: ESPN
UK: Sky Sports, NFL Game Pass
US: NFL Network, ABC, ESPN and ESPN Deportes
Click here for a full list of where to watch coverage.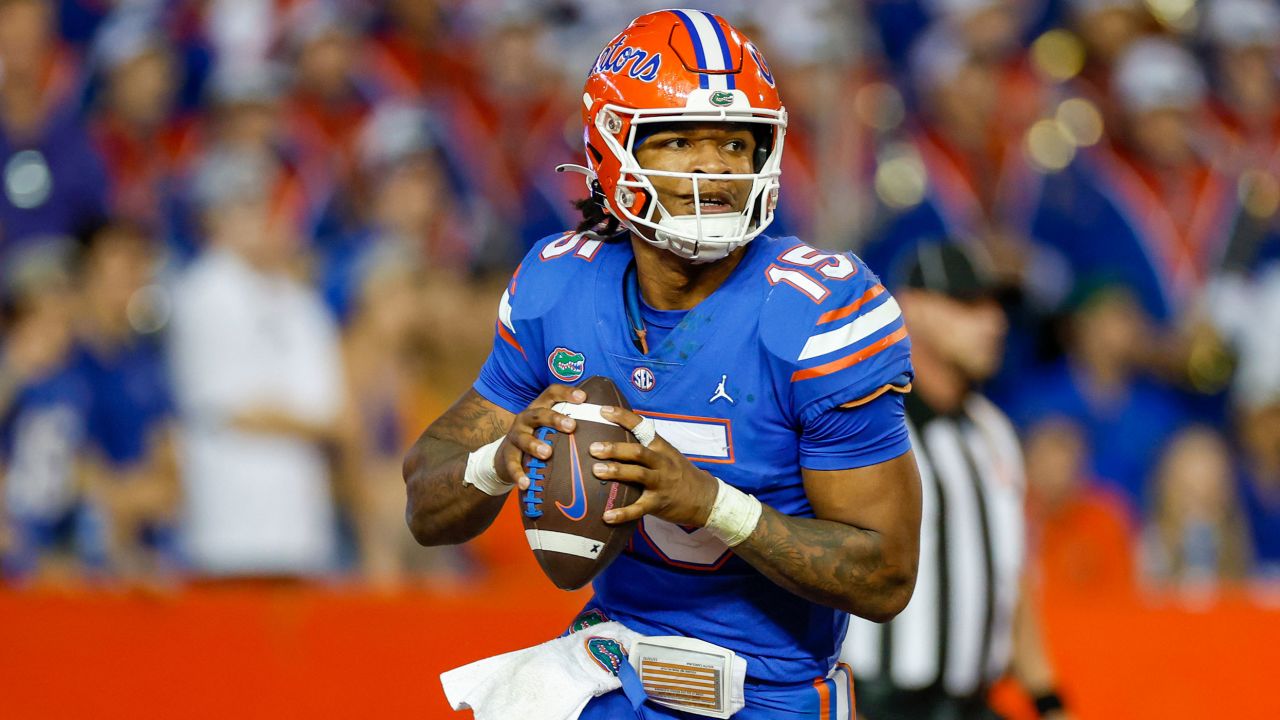 Quarterback talent
Sometimes, draft classes can be lacking in top level quarterback prospects – but this is not one of those years.
Atop many people's draft boards is Bryce Young, the signal caller from Alabama.
The California native was graded as the NFL's fourth-highest player overall and the highest quarterback, earning himself comparisons to future Hall of Famer Drew Brees.
NFL analyst Lance Zierlein describes Young as a "full-field reader whose confident demeanor on the field oozes off the tape but never becomes unbridled cockiness."
The only knock against him entering the draft is his build – measuring five-feet-10-inches and weighing just 204 pounds – which raises concerns about his ability to absorb contact and sustain injuries.
However, his talent is likely to see him go first overall to the Panthers, who have been in dire need of a quarterback ever since Cam Newton's decline and departure.
Ranked just a fraction behind Young is CJ Stroud, who enters the draft after two successful years at Ohio State.
The 21-year-old's "accuracy stands out on tape," according to Zierlein. "He's able to lead receivers with good placement and make on-frame throws to targets on all areas of the field."
With Young going No. 1 as many predict, there are plenty of quarterback-needy teams below in the order ready to snap up Stroud.
The Houston Texans at number two and the Indianapolis Colts at four both stand out as teams lacking that franchise quarterback so could select Stroud to fill that void.
The next two quarterbacks in the NFL's ranking – Will Levis and Anthony Richardson – have produced wildly different conclusions from analysts.
Some see Richardson from Florida as the quarterback with the highest upside in the class, while others say the obvious flaws in his game make him a selection gamble.
Levis on the other hand has been viewed as having a higher floor than Richardson without having the star ceiling despite having plenty of suitors.
With eight of the top 10 picks arguably all needing quarterbacks, it proves to be a fascinating opening round.
Defensive stars
Outside of the quarterback talent, there are plenty of highly-valued prospects on the defensive side of the ball to get teams excited.
The headline player is former University of Georgia standout Jalen Carter who enters the draft as the highest ranked overall player.
"Based upon talent, traits and projection, Carter appears ready to step into the NFL and become a productive three-down talent with Pro Bowl potential," says Zierlein of the six-foot-three-inch defensive tackle:
However, Carter's draft stock has fallen after he was sentenced to 12 months of probation in March for his role in the January crash that killed his teammate and a team staffer.
Carter's teammate Devin Willock and football team staff member Chandler LeCroy were killed in the January 15 crash, which happened hours after the team participated in a parade through campus to celebrate its second consecutive national title.
Carter turned himself in at the Athens-Clarke County Jail in early March on charges of reckless driving and racing.
LeCroy was driving a Ford SUV near campus with Willock and two other members of the football program also in the vehicle, police said.
The SUV was traveling "about 104 miles per hour" before it veered off the road and slammed into two power poles and several trees, Athens-Clarke County police said.
Authorities said Carter was driving a separate vehicle and he and LeCroy appeared to be racing.
He entered no contest pleas to the charges on March 16 and was sentenced to serve 12 months of probation, pay a $1,000 fine, perform 80 hours of community service and complete a state-approved defensive driving course.
Carter's on-field performances have impressed but his behavior away from the gridiron is one for teams to evaluate and decide if he is right for them.
The second highest ranked prospect is edge rusher Will Anderson Jr. from Alabama who is slated to be a top-10 overall pick.
Anderson's combination of speed and strength makes him an attractive prospect to coaches, possessing the ability to transform a defensive line and provide constant pressure on opposing quarterbacks.
In the defensive backfield, there are also plenty of options; Oregon's Christian Gonzalez, Alabama's Brian Branch, Illinois' Devon Witherspoon and Penn State's Joey Porter Jr. are all slated to go in the first round.
Stay until the end for 'Mr. Irrelevant'
After the success of one particular player last season, fans will be wary to watch right until the end of the draft.
Brock Purdy, who was chosen with the 262nd overall – and final – pick of the 2022 draft by the San Francisco 49ers, was given the opportunity to start for a team with Super Bowl aspirations midway through the season and he never looked overawed, going 7-0 in his first season before eventually falling to the Philadelphia Eagles in the playoffs.
And although he suffered a serious elbow injury in that defeat to the Eagles, Purdy is under serious consideration to be the team's starter this upcoming season; a dramatic rise from 'Mr Irrelevant' – the moniker given to the final pick of the draft.
Although Purdy is an outlier rather than the rule – there have been very few successful 'Mr. Irrelevants' – it is worth keeping an eye on who the Houston Texans select with the 259th pick to keep tabs on their journey from the fringes to NFL life.
Draft order
Here is the order for the first round of the NFL Draft:
1 Carolina Panthers
2 Houston Texans
3 Arizona Cardinals
4 Indianapolis Colts
5 Seattle Seahawks
6 Detroit Lions
7 Las Vegas Raiders
8 Atlanta Falcons
9 Chicago Bears
10 Philadelphia Eagles
11 Tennessee Titans
12 Houston Texans
13 New York Jets
14 New England Patriots
15 Green Bay Packers
16 Washington Commanders
17 Pittsburgh Steelers
18 Detroit Lions
19 Tampa Bay Buccaneers
20 Seattle Seahawks
21 Los Angeles Chargers
22 Baltimore Ravens
23 Minnesota Vikings
24 Jacksonville Jaguars
25 New York Giants
26 Dallas Cowboys
27 Buffalo Bills
28 Cincinnati Bengals
29 New Orleans Saints
30 Philadelphia Eagles
31 Kansas City Chiefs