Fighting between Sudan's military and the Rapid Support Forces (RSF) continued Friday, hours into the latest ceasefire, eyewitnesses in the country said, as officials warned that scores have been killed in "deadly ethnic clashes" in West Darfur's capital city El Geneina since the beginning of the week.
The situation across Sudan has deteriorated, with shortages of vital water and food supplies, and reports of widespread looting, with hospitals being targeted. The conflict has seen more than 50,000 people flee to Sudan to Chad, Egypt, South Sudan, and the Central African Republic, the United Nations said Friday.
Sudan's Armed Forces, led by Abdel Fattah al-Burhan and the RSF paramilitary group, led by Mohamed Hamdan Dagalo, agreed Thursday to extend an ongoing ceasefire for 72 hours, but violence continued to rattle restive Darfur, where a war between rebels and government forces backed by militias claimed nearly 300,000 lives in the early 2000s.
Recent fighting concentrated in El Geneina has been between Arab militias and civilians, according to Ahmed Gouja, founder of Darfur Network for Monitoring and Documentation, speaking from Nyala in South Darfur.
Local civilians have armed themselves with weapons from the city's police station headquarters, said Gouja.
In a report on Wednesday, the United Nation's humanitarian office OCHA described El Geneina as erupting into chaos with "clashes, looting and burning of houses" reported in the city's south and civilians reportedly killed and displaced by the violence.
"Markets have reportedly been looted, as well as several humanitarian organizations' premises. Most of the health centers are not functioning," OCHA said.
At least 96 people have been killed since Monday in "deadly ethnic clashes" in El Geneina, the Office of the United Nations High Commissioner for Human Rights (OHCHR) said on Friday, with OHCHR spokesperson Ravina Shamdasani warning that there is "serious risk of violence escalating in West Darfur, as the hostilities between the Rapid Support Forces (RSF) and Sudanese Armed Forces (SAF) have triggered intercommunal violence."
"The death toll might be much higher," Shamdasani said, given the difficulty of gathering information at this time.
Shamsadani said there have been "sporadic clashes between Arab and Massalit communities" in West Darfur, and that such intercommunal violence "goes back to perceived and real ethnic affiliations of the RSF and SAF." The current environment in Sudan "creates a situation that's ripe for further violence and opportunistic criminal violence, as well as for these longstanding ethnic tensions to come to the fore," Shamsadani added.
In Sudanese capital Khartoum eyewitnesses said that hours into the latest ceasefire on Friday, fighting between the armed forces and RSF could be heard, with an exchange of heavy fire close to the Presidential Palace in the center of the city.
Al-Jamil Al-Fadil, a resident of Tuti in Khartoum, told CNN that projectiles fell on the neighborhood.
And in the Kafouri area north of the city, warplanes overhead came under fire from anti-aircraft missiles, eyewitnesses told CNN journalists in Sudan.
RSF claimed on Friday that it controls more than 90% of Khartoum state, the most populous state in Sudan, with around 8 million people.
Both factions also accused the other of violations. The Sudanese Armed Forces said RSF was targeting retired military and police officers, while RSF said the army was attacking its positions in a ceasefire.
Meanwhile, a Turkish evacuation C130 plane was shot at over Sudan on Friday morning but landed safely later with no injuries on board, Turkey's Defense Ministry said on Twitter.
The Sudanese Armed Forces accused the RSF of shooting and damaging the aircraft as it was preparing to land at Khartoum's northern Wadi Seyidna airport. The RSF denied the accusation saying they are not in control of the area.
In Bahri, Khartoum state, plumes of smoke could be seen rising as fighter aircraft continued flying overhead, eye witnesses told CNN. In Bahri's Kafouri neighborhood sounds of explosions could be heard Friday morning, a CNN journalist said.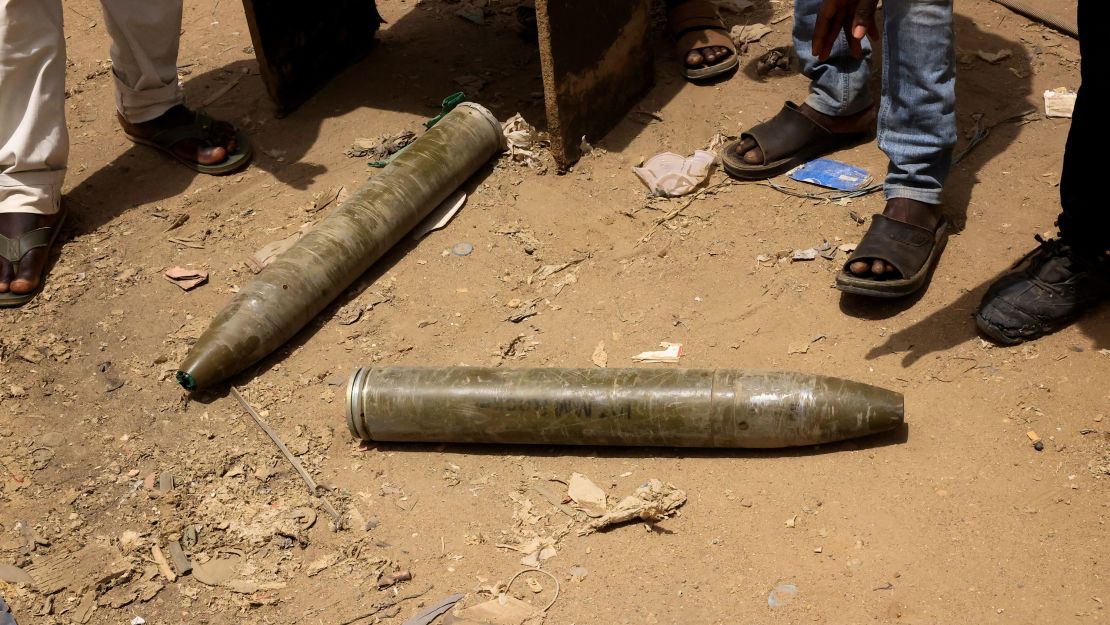 No functioning hospitals in El Geneina
In West Darfur's El Geneina, none of the city's hospitals remain functional, a member of the Sudan Doctors Union told CNN Thursday, adding that a doctor had been killed in recent violence.
"All hospitals are out of service, and the El Geneina Hospital was looted," Dr. Safa Aboush said.
Aboush also accused the RSF and Janjaweed militia of "looting and violating neighborhoods."
The RSF has previously blamed looting on "remnants and elements of the defunct regime," and claimed credit for repelling would-be looters.
The Preliminary Committee of Sudan Doctors' Union has warned of "war crimes" in Sudan's West Darfur, blaming "the absence of justice" locally as well as "the multiplicity of armed forces, the proliferation of armed militias, and the continued failure of military governments to protect civilians."
"The bloody events are still taking place in the city of El Geneina, leaving dozens of dead and wounded people, whom we could not accurately count due to the tense security situation and the continuation of attacks on civilians," the Committee said in a statement on Thursday.
Shelters, hospitals, markets, banks and international organizations' offices have been targeted for looting and burning, it said.
The two warring generals al-Burhan and Dagalo both have history in Darfur, having played key roles in the counterinsurgency against rebels in the region's civil war that began in 2003.
Burhan controlled the Sudanese army in Darfur, while Dagalo was the commander of one of the many Arab militias, the Janjaweed, which was implicated in human rights violations and atrocities.
As a broader conflict plays out across Sudan, Sudan Doctors Union said 69% of hospitals in areas of fighting, including in the capital Khartoum and adjacent cities, are not operational.
Out of 86 hospitals, only 26 are "fully or partially operating, some providing first aid service only," the doctors union said, adding they are "under threat of closure due to lack of medical staff, medical supplies, and water and electricity."
Dr. Howida Alhassan, a doctor at the Alban Gadid Hospital in the East Nile region, south of Sudan, told CNN that hospitals in the area have been "targeted."
"The RSF uses civilians as shields," Alhassan said, adding that the East Nile Hospital, close to where she works, is now under RSF control. "They are inside the hospital," she said.
The Alban Gadid Hospital is experiencing shortages in oxygen and other medical supplies, she said. "They are available in another area, but because of the insecurity on the road, we cannot bring it," Alhassan said.
Food and water shortages
Andou Dieng, the UN's humanitarian coordinator in Sudan, said looting as well as fighting is continuing across the country despite attempted ceasefires.
Speaking to reporters by phone, Dieng said he was "extremely worried" about the availability of food, particularly in Darfur and asked that humanitarian corridors be opened.
In Khartoum, eyewitnesses and CNN journalists in the north of the city told CNN that RSF paramilitary soldiers are occupying at least one water station, causing shortages to vital water supplies.
Since April 16, water facilities have essentially been out of service and people have "been drinking bitter water from wells on unfinished construction sites," the eyewitness said.
"The water engineers have not been able to access the water plant to fix it. They were targeted by RSF snipers," the eyewitness said. CNN has reached out to the RSF for comment. 
Earlier this week, residents of several neighborhoods in Khartoum state said food stocks had run out in stores, clean drinking water was scarce, and food factories in the state had been looted.
The area has seen fierce fighting and those who spoke to CNN said they have been unable to leave their homes and be evacuated outside the capital. 
"Violent clashes between the SAF (armed forces) and RSF continue with heavy weapons, and the participation of warplanes over an RSF camp in the Kafouri area," one eyewitness said Thursday.
As the conflict stretches into a second week, foreign governments continue the scramble to evacuate their citizens, while many Sudanese people remain trapped without electricity, food or water, desperately seeking a way to escape.
At least 460 people have been killed and thousands injured in the fighting, the country's health ministry said.
More than 2,700 people from around 76 countries have arrived in Saudi Arabia in recent days after being evacuated from Sudan, the Saudi ambassador to the UK told CNN on Thursday.
Meanwhile, the White House urged Americans in Sudan who want to leave the country to do so within the next 24 to 48 hours, but said the US government would still only help its citizens from afar, unlike other nations who are using their own military resources to extract their citizens.
CNN journalists in Sudan and CNN's Nima Elbagir, Niamh Kennedy, Ghazi Balkiz, Hamdi Alkhshali, Sugam Pokharel, Laura Ford, Kevin Liptak and Richard Roth contributed reporting.