An interstate in central Illinois reopened Tuesday, a day after at least seven people were killed as more than 70 vehicles crashed in a dust storm, officials said.
The crashes along Interstate 55 happened shortly before 11 a.m. in Montgomery and Sangamon counties south of the state capital after dust from newly plowed fields took over the highway, police said. The state capital, Springfield, is in Sangamon County.
Thirty-seven people were hospitalized with injuries ranging from life-threatening to minor, Illinois State Police said. Those injured ranged in age from 2 to 80, Illinois State Police Maj. Ryan Starrick said.
One of those killed in the wrecks was Shirley Harper, 88, of Franklin, Wisconsin, police said Monday evening.
Police named five other victims Saturday, including Earl LeGrand, 64 from Florissant, Missouri; and four from Illinois: Joseph Bates, 74, and Donna Bates, 71, both from Crystal Lake; and Michael Zinchuk, 55, and Amy Zinchuk, 54, both from Champaign.
The seventh victim has yet to be identified, but state police said they are working closely with the Montgomery County Coroner's Office to identify the person and their information will be released once the family has been notified.
Seventy-two vehicles were involved in the crashes, which happened along a 2-mile stretch of I-55, police said. Two semi trucks also caught fire, Starrick said.
The wrecks happened in both north and southbound lanes, with all the deaths were reported in northbound lanes, he said.
The interstate reopened in both directions Tuesday morning, the Illinois Department of Transportation said in a tweet.
CNN has reached out to county coroner offices for more information.
"The cause of the crash is due to excessive winds blowing dirt from farm fields across the highway leading to zero visibility," Illinois State Police said in a news release.
CNN meteorologist Chad Myers said 45 mph winds picked up the dust and suddenly made it nearly impossible to see on the short stretch of highway.
"The deciding factor today was the tilled fields," he said. "This was a localized event by localized conditions."
Rescuers dealt with 'a difficult scene'
Photos from the wrecks show a thick yellow haze in the air hanging over the highway. The images show vehicles on fire and smoke mixing with the haze as first responders survey the damage.
Kevin Schott, the director of Montgomery County's Emergency Management Agency, said first responders had a difficult time responding to the scene because of the thick dust, noting everyone's "eyes are full of it."
"This is a difficult scene, something that is very hard to train for, something that we really haven't experienced locally," he said.
Schott said through the thick haze, first responders were met with multiple vehicles on fire and dozens of vehicles scattered across both sides of the road, making it hard to get to "victims in a rapid manner."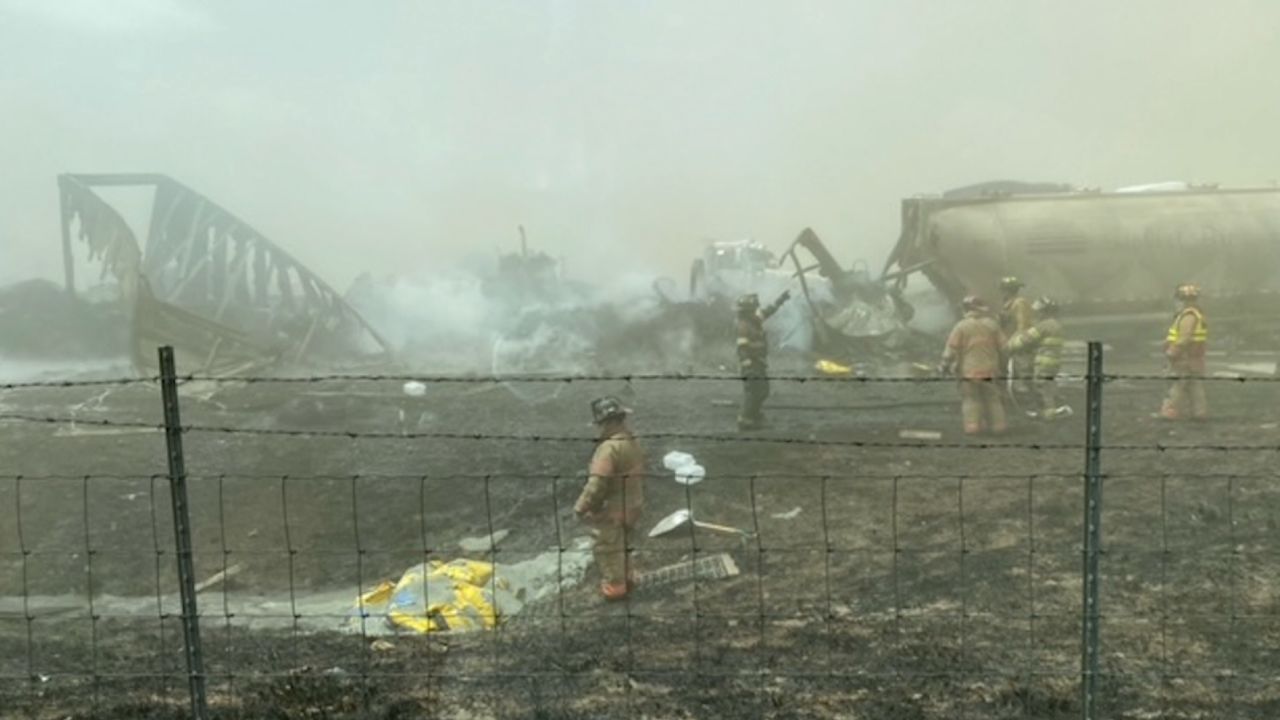 "We had to search every vehicle, whether they were involved in the accident or just pulled over, to check for injuries," he said.
The National Weather Service in Lincoln, Illinois, issued a "blowing dust warning" at 1:25 p.m.
"Severely limited visibilities are expected. Travel will be dangerous and possibly life-threatening," the warning stated. Winds across the region have been gusting between 35 and 45 mph.
The warning went on to say that people with respiratory problems should plan to stay inside until the storm passes. It noted to "be ready for a sudden drop in visibility to near zero."
CNN's Zoe Sottile and Kara Devlin contributed to this report.