Brisbane, Australia
CNN
—
The Australian government will ban e-cigarettes through a heavy set of controls on imports and packaging to discourage vaping, especially among teens, under its biggest smoking reforms in more than a decade.
Australian Health Minister Mark Butler on Tuesday said vaping has become a top behavioral issue in high schools and a growing problem in elementary schools but recognized the products have a therapeutic use under the right circumstances.
Vaping involves heating a liquid that contains nicotine in an e-cigarette which is vaporized and inhaled by the user. It is widely seen as an alternative to smoking cigarettes and a product to help smokers quit tobacco, but instead, teens and even young children are taking up vaping as an addictive habit globally.
"Vaping was sold to governments and communities around the world as a therapeutic product to help long-term smokers quit," Butler said. "It was not sold as a recreational product – in particular not one for our kids. But that is what it has become – the biggest loophole in Australian history."
Before the changes were announced Tuesday, the only legal way to sell a nicotine vape in Australia was through a prescription provided by a doctor to a pharmacy – but the products were still widely sold across the country.
Announcing the new regulations, Butler said non-prescription vapes will be banned from importation, and vape products will be required to have pharmaceutical-like packaging, aimed at being sold as products to help smokers quit only.
Brightly colored, fun-flavored packs that lured younger users will be restricted, and all single-use and disposable vapes will be banned, Butler said.
"No more bubblegum flavors. No more pink unicorns. No more vapes deliberately disguised as highlighter pens for kids to be able to hide them in their pencil cases," the health minister added.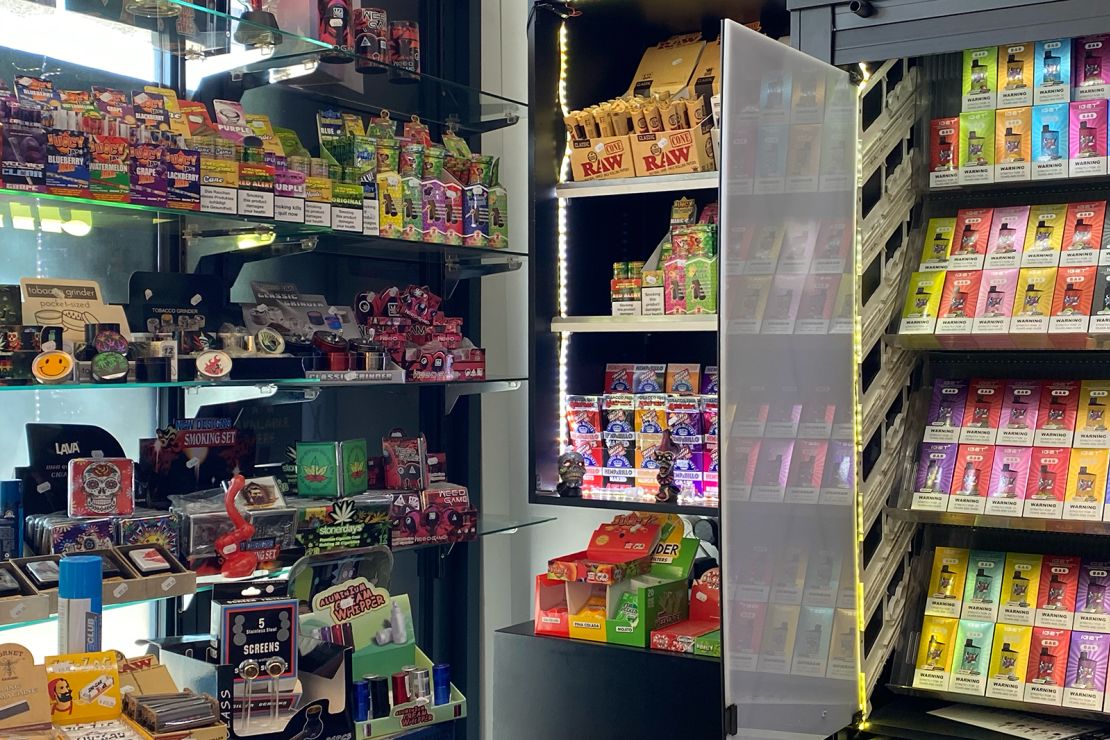 Removing vapes from stores
In suburban Brisbane, vape shop operator Ali Ayoub sells an array of colorful vape fluid with candy-like flavors such as pineapple punch, custard, butterscotch and menthol melon, and doesn't agree that young people hooked on such products will switch to regular cigarettes.
"Have you ever tried a cigarette before? It tastes awful. Kids, they love the fruity taste (of vapes). It's something sweet," he said. Ayoub says he makes a point of checking ID and doesn't sell vapes to customers under age 18.
However, Ayoub said the ban on recreational vaping would bankrupt his business: "What's the point of a vape shop, if I can't sell smokes? What else is there to sell?" he asked.

As CNN spoke with Ayoub, one of his regular customers walked in to purchase a pineapple watermelon flavored disposable vape with nicotine. The customer, who declined to give his name, said he'd have no trouble giving up vapes, if they were banned. "I can stop smoking, it's not like I'm addicted," he said.
But he said without vapes, he would "buy a pack of smokes – it's nicotine."
Wayne Hall, an emeritus professor at the National Centre for Youth Substance Use Research at The University of Queensland, said the Australian Medical Association discourages doctors from prescribing vaping products to help people to quit nicotine – so anyone currently buying them without a prescription is breaking the law.
"A ban on sales of disposable vapes is welcomed as a way to deter youth uptake, but much more effort will need to be made to ensure that smokers can easily and legally access approved vaping products," he said.
Alongside the ban, the Australian government is increasing its tobacco tax by 5% per year for the next three years starting September 1. At the moment, a box of 20 cigarettes costs around 35 Australian dollars ($23) – considerably more than in the United States and the United Kingdom.
Vaping concerns across the world
Researchers have found links between nicotine addiction among adolescents and children as a result of increased vaping habits. Teenage vaping has also been linked to psychological issues, headaches, stomachaches and significant addictions to nicotine.
Some argue that e-cigarettes are a good substitute for regular cigarettes, and in some countries they are even promoted as smoking cessation devices. But the US Centers for Disease Control and Prevention says "e-cigarettes are not safe for youth, young adults, and pregnant women, as well as adults who do not currently use tobacco products."
Nicotine is highly addictive and can harm adolescent brain development, which continues into the early to mid-20s, the CDC also warned.
Vaping has become ubiquitous in many of America's high schools, prompting the US Food and Drug Administration to start tackling "epidemic" levels of use among minors in recent years. About 2.55 million middle and high school students in the US use e-cigarettes, according to the 2022 National Youth Tobacco Survey.
Adolescents who vape are also starting younger and using e-cigarettes more intensely, according to a study published in the medical journal JAMA Network Open.
In Australia, vapes are disproportionately used by young people – one in six teenagers ages 14 to 17 has tried vaping, while one in four people ages 18 to 24 have also tried it, recent figures show.
According to the government, lung cancer is the leading cause of cancer deaths in Australia – it wants people to give up smoking and plans to spend millions of dollars on programs to help them quit, without first turning to vapes.
The UK is taking a different tack – it's pushing vaping as a stepping stone to help long-term smokers quit.
Up to 1 million smokers will be encouraged to swap cigarettes for vapes, according to a British government plan announced in April.
Under the scheme, nearly one in five smokers will be given a "vape starter kit" alongside behavioral support to help them kick the habit, the British health department said.
Pregnant women will also be offered financial incentives to stop smoking in what will be a world first, the government added.
This story has been updated with new information.
CNN's Jen Christensen and Jacqueline Howard contributed to this report.