The jobs, benefits and financial security of millions of Americans could start disappearing in less than a month as the Republican House leverages a debt showdown to try to force big spending cuts on President Joe Biden.
Treasury Secretary Janet Yellen on Monday issued a stark warning that the US government could run out of money to pay its obligations as soon as June 1 unless Congress raises its borrowing authority. Failure to do so could trigger a domestic and international financial catastrophe.
Yellen wrote to House Speaker Kevin McCarthy that unless Congress acted, it would cause "severe hardship to American families, harm our global leadership position, and raise questions about our ability to defend our national security interests." Experts have warned of a potential crisis on the scale of the 2008 financial meltdown, with the threat of benefits not being paid to veterans and senior citizens, and halts to military funding and vital government programs.
Her letter swiftly turned what has for weeks been a theoretical threat of a default sometime this summer into a real-time nightmare with a flashing deadline, leaving little time for McCarthy and Biden to find a way to save the economy.
McCarthy has accepted an invitation to meet with the president on May 9 about the debt ceiling, according to a source familiar, setting the stage for the high-stakes moment.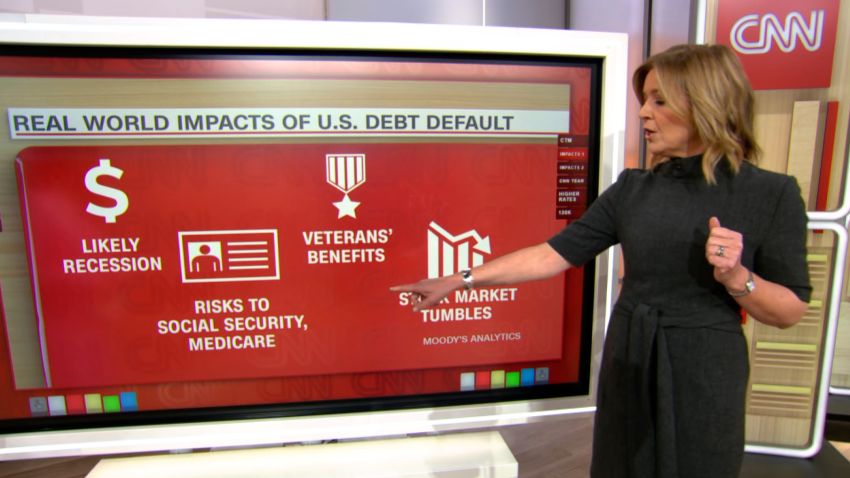 'Living standards will go back in time': Hear how US debt default could impact your household
Biden on Monday invited congressional leaders to the White House next week for talks on the crisis. The political futures of both the Democratic president and Republican speaker may depend on winning the showdown, and it is unclear whether there is room for a compromise that could satisfy each of them.
Yellen's letter may also go some way to sparking alarm on Wall Street about the situation after a period in which investors appeared sanguine that the perennially dysfunctional Congress would likely step back from the precipice at the last minute.
The gulf between the parties remains massive. Republicans want Biden to make huge concessions on spending that would fundamentally reshape his legacy. They are using the debt ceiling crisis and the possibility of a financial catastrophe to try to get the spending cuts they hope could define their time in the majority.
There is nothing wrong with Republicans using power won in a democratic election to fight for what they say they and their voters want – reductions to what they see as bloated federal spending and efforts to slow the growth of the national debt, which currently stands at more than $31 trillion. But the question they face is whether it is appropriate to use the prospect of fiscal Armageddon to advance a partisan goal.
The president is refusing to cave into their demands. He insists Congress must pass a "clean" bill to raise the government's borrowing limit – a power only Congress has. He says he is willing to discuss spending – but only in the context of the yearly budget – a process the House GOP has barely started.
The coming debt crisis represents the most acute moment yet in a period of divided government that will show whether Washington is able to overcome the country's political estrangement. The most sobering reality is that if the US tumbles off the debt cliff, it will be a self-inflicted disaster that would shatter America's reputation as a haven of financial stability that is critical in cementing Washington's global leadership.
Why the debt ceiling needs to be raised
The debt ceiling needs to be raised because the government takes in less money in revenue than it spends. It is able to borrow money at excellent rates because it has a reputation of always paying its bills. Democrats point out that government borrowing authority needs to be raised since Congress is obligated to pay for spending that it has already approved. They also cite the fact that Republicans had no trouble doing so when former President Donald Trump was in office.
With the moment of disaster approaching, the most worrying thing is that each side seems to believe that the prospect of the unthinkable will eventually force the other to blink to avoid being saddled with the blame. But there's no evidence yet either can or will.
"This is not the way to do things, to hold the entire economy hostage to your political agenda," Democratic Sen. Chris Murphy of Connecticut told CNN's Wolf Blitzer on Monday. "It's juvenile. It's irresponsible. It's essentially political arson."
But South Carolina Republican Rep. Nancy Mace told CNN's Jake Tapper on "The Lead" that "the president and the Senate ought to come to the table and work together with Republicans and make some decisions about how we move forward and take on spending and the debt."
McCarthy heads a radical and tiny House majority that is cast in the disruptive image of Trump. A Republican wish-list bill, which raised the debt ceiling for a year in return for measures like expanding work requirements for Medicaid and cuts to climate change spending, squeezed through the House last week by the narrowest margin possible. Even if Biden were willing to negotiate, there's no guarantee McCarthy could pass any compromise that did not involve the president's utter capitulation. And if the California Republican tried to pass a less confrontational bill to shield the economy with the support of some Democrats, he could be ousted by his conference.
Biden faces equally existential questions. Given that he is dealing with a Republican House that seems bent on an extreme path, he is likely to face calls in the coming days to show that he is the "adult in the room" and to make concessions in order to shield millions of Americans from harm. But in doing so, he'd show weakness that would compromise his presidency and encourage Republicans to wield the nightmare scenario of a debt default again down the road. He may also demoralize Democratic voters he needs to support the reelection bid he launched last week.
The looming political battle
The administration's logic is that if hostage takers get concessions, they will demand more.
Much will depend on whether Democrats in Congress stand firm behind the president amid growing concern about the political impact of the crisis. It also remains to be seen whether more moderate Republicans critical to the party defending its majority in 2024 begin to demand their own concessions and for McCarthy to stand up to hardliners.
And ultimately, given that only Congress – and not the president – has the power to raise the debt ceiling, the fate of the country may rest on whether McCarthy is willing to risk his career and speakership to avert the worst consequences of this game of Russian roulette with the economy. Given that it took him 15 rounds of voting to win the speakership in January, which required multiple concessions to his party's most extreme members, that seems unlikely.
So is there any hope that catastrophe can be avoided?
"I will take a bit of positive news out of this – they are talking, at least we have got that part going. For the last several months, they weren't even doing that," Jim Bianco, a financial analyst and president of Bianco Research, told CNN's Erin Burnett on Monday. But Bianco also warned that things are already not going well in an economy that did not need the shock of a debt default.
The worry is that the May 9 meeting with Biden and McCarthy and Senate Majority Leader Chuck Schumer and Minority Leader Mitch McConnell will only entrench divides.
The White House stressed on Monday that the meeting would focus on the need for a "clean" bill to raise the debt ceiling – signaling no shift toward McCarthy's position. The speaker reinforced his stand during a trip to Israel that he used to goad the president.
"House Republicans did their job and passed a responsible bill that raises the debt ceiling, avoids default, and tackles reckless spending," he said in a statement on Monday. "Meanwhile, President Biden has refused to do his job — threatening to bumble our nation into its first ever default — and the clock is ticking."
This is the kind of pre-game positioning expected ahead of a tough negotiation and is similar to that which preceded a deal that narrowly averted a debt default in 2011 between then-House Speaker John Boehner and then-President Barack Obama. But even though fiscal disaster was averted that time, the US did lose the top-level credit rating awarded by ratings agency S&P, which raised US borrowing costs for years afterward. More than a decade on, the bitterness between the parties is deeper and the GOP has marched far to the right, making the possibility of a compromise even more questionable. Some members of the GOP House majority – in which McCarthy can only lose four votes and still pass a bill – have said they will never vote to raise the debt ceiling.
In more normal circumstances, it would be possible to see a way out of the situation. In a classic Washington fudge, Biden could agree to curbs on spending in a budget negotiated with Republican leaders in the House that could then get through the Senate. Republican House members could argue that they had beaten Biden as cover for passing a "clean" bill raising the debt ceiling. The president could allow McCarthy that symbolic victory in return for getting new government borrowing authority that would spare the country and the world the impact of a debt default.
But such an outcome would require trust between the parties, a functioning relationship between McCarthy and Biden, courageous leadership and a willingness from lawmakers in both parties to cast tough votes that could come back to haunt them in primary races. None of these qualities appear in ready supply in Washington in an age of increasing polarization.
The debt ceiling will have to be raised eventually. But it's growing increasingly hard to see how it could happen without some of the consequences of a default playing out to show both sides the severity of the political costs that subsequent misery could cause Americans.
Senate Minority Whip John Thune told reporters that Monday's developments only underscored the need for Biden and McCarthy to get to work.
"Time's a-wasting," the South Dakota Republican said.