For days now, the blasts have echoed the condition each country's military is in.
Ukraine is apparently striking at fuel depots in Russian-occupied areas and inside Russia itself – seemingly precise attacks but ones to which Kyiv is making no overt claim.
Russia has been lashing out at what often seem to be civilian targets in Ukraine, either in rage or through ineptitude. In Uman, more than 20 people died; in Pavlohrad, there were two dead and many injured.
In Kherson on Wednesday, three were killed when a crowded hypermarket was hit at 11 in the morning. And in Zaporizhzhia, two rockets slammed into a quiet residential garden that same overnight Tuesday into Wednesday, leaving a crater in a genteel, freshly sculpted lawn.
Nobody died in this last strike, but perhaps only because the first missile sent two families rushing for cover before the second struck.
During the night, the city of Zaporizhzhia was blasted with repeated air raid sirens – a familiar noise in the past months, but this time accompanied by explosions, suggesting Moscow's escalation, as Russian forces apparently send S300 missiles into cities, according to local officials and accounts.
We don't often know when Russia hits a military target in Ukraine, but the number of strikes on civilian targets suggests either extreme negligence and inaccuracy, or a tactic of intentionally terrifying ordinary people.
A pattern is forming, outside of Moscow's repeated disregard for human life. Night by night, each side appears to be trying to weaken the other.
The Ukrainian strikes have hit obvious infrastructure targets – railroad tracks, huge fuel depots – which suggest both how researched their coming campaign is, and how poorly prepared Russia is. It is still, for the most part, doing things in the same old, obvious way.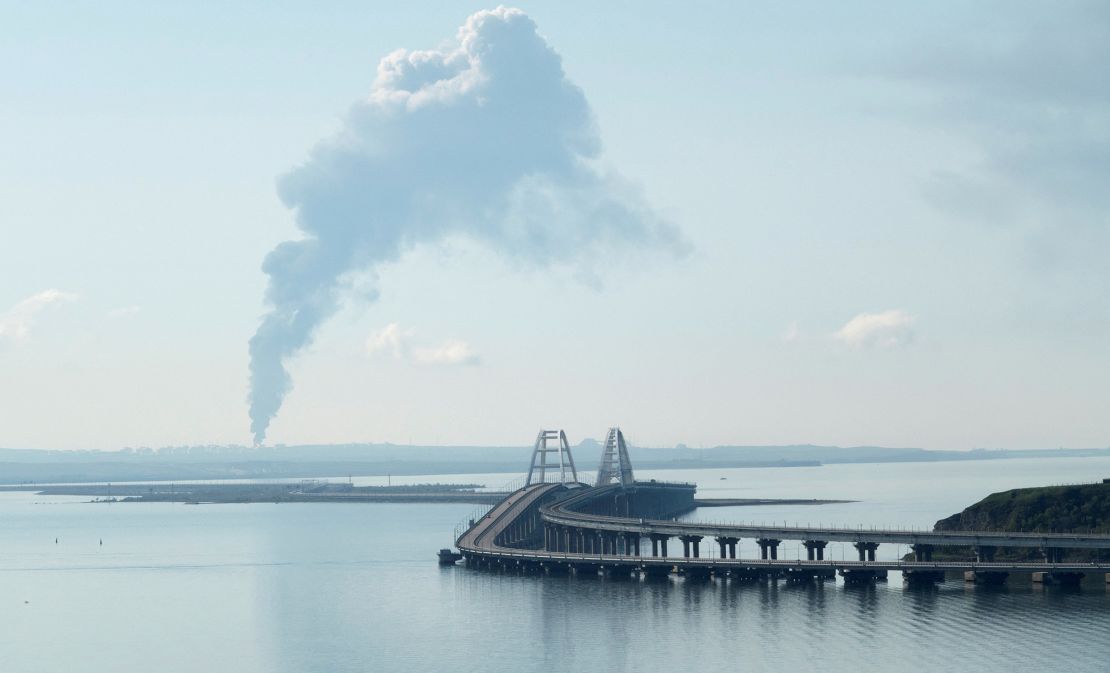 The signals ahead of Ukraine's long-heralded counteroffensive are getting louder. For two weeks, a slight uptick in clashes has been reported by pro-Russian officials along the Zaporizhzhia front lines, through which Kyiv's forces will likely have to push if they are to separate the occupied peninsula of Crimea from the rest of occupied Ukraine – a key strategic goal. It is unclear if this uptick is Ukraine probing, or business as usual – and that is entirely the point.
But it's been similarly fluid around Bakhmut, the deeply symbolic but strategically less vital city in Ukraine's eastern Donetsk region that Russia made its winter goal.
A few weeks ago, Moscow claimed to be near to encircling Ukraine's forces. But over the weekend, Yevgeny Prigozhin, head of Russia's Wagner mercenary group, which has done much of the fighting there, warned that the Russians might not be able to hold on to their positions without more artillery shells.
Ukraine was quick to capitalize on that statement and sent senior officials to the area to claim Russia had already begun pulling back. Thousands of lives have are likely to have are been lost there – and Moscow has definitively failed to achieve its slender goals.
And now, in Kherson, Ukrainian officials have ordered a 58-hour curfew from 8 p.m. on May 5, barring locals from leaving their houses. It is under the guise of a law enforcement operation, but comes after a fortnight of speculation about an increased Ukrainian presence on the eastern bank of the Dnipro river, where the occupied part of Kherson region begins.
Whatever Ukraine intends to use this break in civilian life for, Moscow cannot ignore it. If it is a distraction, the Russians must observe it to be sure; they must even adjust their force strengths ahead of it, in case they are taken off-guard.
So, both in the east and west of occupied areas, Ukraine is trying to keep Russia off-balance and guessing, while launching precise attacks on its fuel depots and officials in the middle of these areas – in occupied Melitopol.
This comes amid a deluge of comments from Ukrainian officials that the weather - for the past fortnight alternating between rain and bold sunshine - has held them back. In fact, they've said little at all, bar that the weather has delayed them.
Perhaps it has. Perhaps it hasn't. But there are some pretty clear signs Ukraine has begun part of its plan, and the warmer weather of the weeks ahead will likely enable the rest of it to unfold.