The Los Angeles Lakers have taken a 1-0 lead in their best of-seven Western Conference semifinal against the Golden State Warriors with a big 117-112 road win.
In a clash that was billed as LeBron James back against Steph Curry, it was the King's LA teammate Anthony Davis who put on a show at the Chase Center.
With LeBron far from his best, the 6-foot-10-inch big dominated against the smaller Warriors and put up a game-high 30 points to go with 23 rebounds and five assists to lead his side to a vital series opener win.
The game started off evenly with neither team able to break away from their opponent – the Lakers went into the halftime break with a marginal 65-64 lead.
Los Angeles came out on top after the interval and slowly managed to build their lead up to a 14-point advantage with less than six minutes on the clock in the fourth.
However, led by the talismanic Curry, the Warriors roared back from the brink with a 14-0 run – leveling the scores at 112 apiece with 1:37 left in the encounter.
But after evening things up, the Warriors would not score a further point in the contest with Davis' late block on Curry making a statement on the road and Jordan Poole's long, game-tying three-point attempt missing the mark.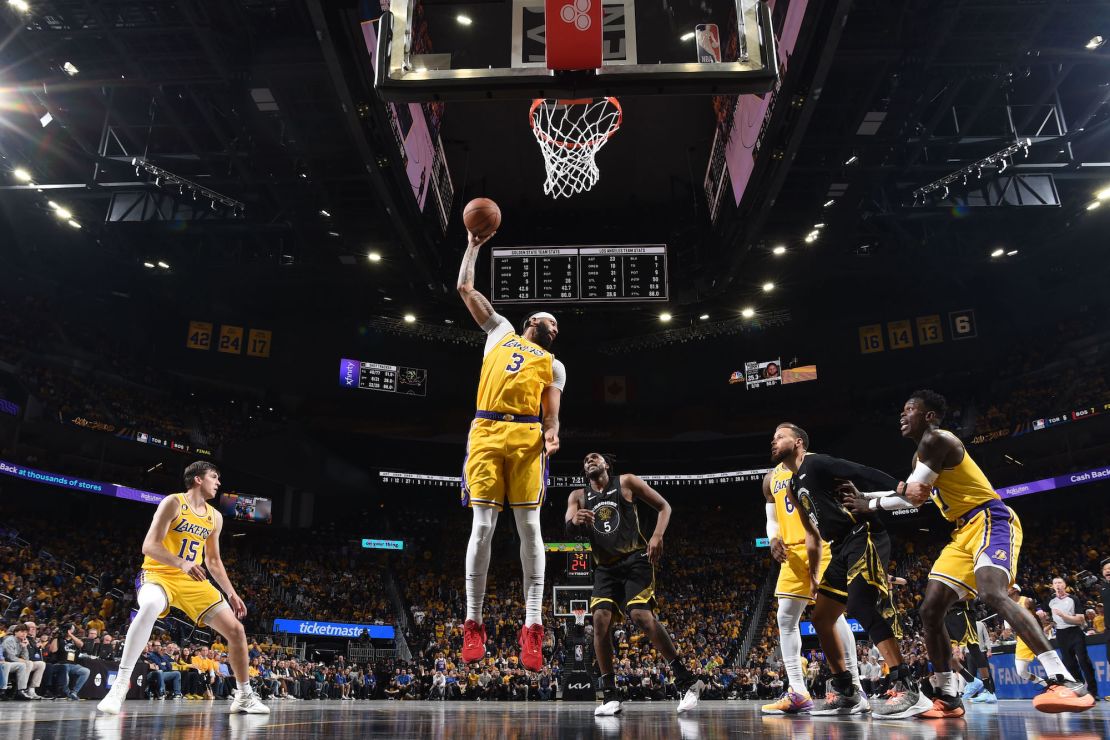 Speaking to reporters after the game, Warriors head coach Steve Kerr was full of praise for 'The Brow' after he shut down his squad: "I thought AD had a great game. Obviously, he dominated and he got blocked four shots and altered some others.
"That's what this team has been doing now for the last few months. They have been one of the best defensive teams in the league for a reason and he's a huge part of that."
James was careful not to get too carried away post-game and added: "We were very resilient tonight … We know how great they are on their home floor, so to withstand that, it's another good step for our ballclub."
Game 2 in the series takes place on Thursday in San Francisco.
Elsewhere in the playoffs
Over in New York, the Knicks leveled their series against the Miami Heat with a 111-105 victory.
The Heat were without star man Jimmy Butler, who has been on an outstanding playoff run, and struggled without their leader.
Jalen Brunson continued his impressive run in New York with a game-high 30 points, going 6-of-10 from beyond the arc, while Julius Randle – who had 25 points, 12 rebounds and eight assists – and RJ Barrett, who pitched in 24 points, helped carry New York's offensive load.
Heat fans will be sweating on Butler's health before Game 3 on Saturday.