On April 29, 1990, 'Nothing Compares 2 U' by Sinead O'Connor topped the charts in the US, the Detroit Pistons had just begun their road to a second successive NBA title and cranes began pulling down the Berlin Wall at the Brandenburg Gate.
In Naples, Marco Baroni was leaping into the Italian spring air to head a ball past a diving goalkeeper to put Napoli one goal ahead against Lazio.
One seemingly small event sent a fandom and a city crazy with joy.
The defender's powerful header was the decisive goal in a 1-0 victory and those three points assured Napoli's position atop Serie A, two points ahead of AC Milan who also won that day.
In doing so, Baroni clinched the club's second ever Italian league title, cementing its golden era into Napoli folklore – an era spearheaded by the great Diego Maradona.
The joy of those two Scudetto title successes didn't last that long though: Napoli suffered relegations, financial difficulties, near misses and the coming and going of superstars – all without reclaiming that elusive third title.
That was until this year. Led by the towering Nigerian Victor Osimhen, the enigmatic Georgian Khvicha Kvaratskhelia and coach Luciano Spalletti, Napoli has romped to the Serie A title, ending 33 years in the wilderness. A fandom and a city, again, rejoice.
"The city is special. For example, it's very difficult for others to understand what we do for our club," Daniele 'Decibel' Bellini, Napoli's stadium announcer, told CNN Sport.
In recent years, Bellini has gone viral for his videos announcing Napoli's goalscorers during games. His 'call and response' style with the fans leaves viewers with goosebumps, such is the enthusiasm displayed from both parties.
One YouTube video of Bellini calling out the name of former Napoli striker Gonzalo Higuaín has been viewed over six million times. In the video, Bellini calls out the Argentine's first name nine times, with the Napoli faithful roaring back the player's surname in response.
"Every time, I tell them the club is like a girlfriend, is like a mother, is something special for us. And this is the reason for all this passionate, all this incredible love for the team and maybe this is the reason when I go to the stadium and I do my job, the people wait for me for pictures and signatures and videos."
But, after years of heartache, the title victory is important for so much more than just on field success; it is a victory for southern Italy against its northern rivals, not least because there has long been economic tension between those two parts of the country.
"It will be not just the first time Napoli has won the title since Maradona, but the first time the true south has won, if you're not counting Rome" Kirsten Schlewitz – Napoli fan and author of the upcoming book 'More Than Maradona: The Birth, Death and Rebirth of SSC Napoli' – told CNN.
"It is a big deal for the city as a whole to have that pride and to be able to say: 'Look, we can do it too. You don't need to be the rich northerners. We assembled a smart squad.'
"It's not a club where teams can just come in and pick off their players and there's an incredible pride in Napoli developing, Napoli finding the good players, not so much for the youth squad, but being able to be that smart team that can build a competitive squad without … spending big money on players who are over the hill.
"So there's that pride in being able to say: 'Yeah, but yeah the south did this and the south did this in a different way.'"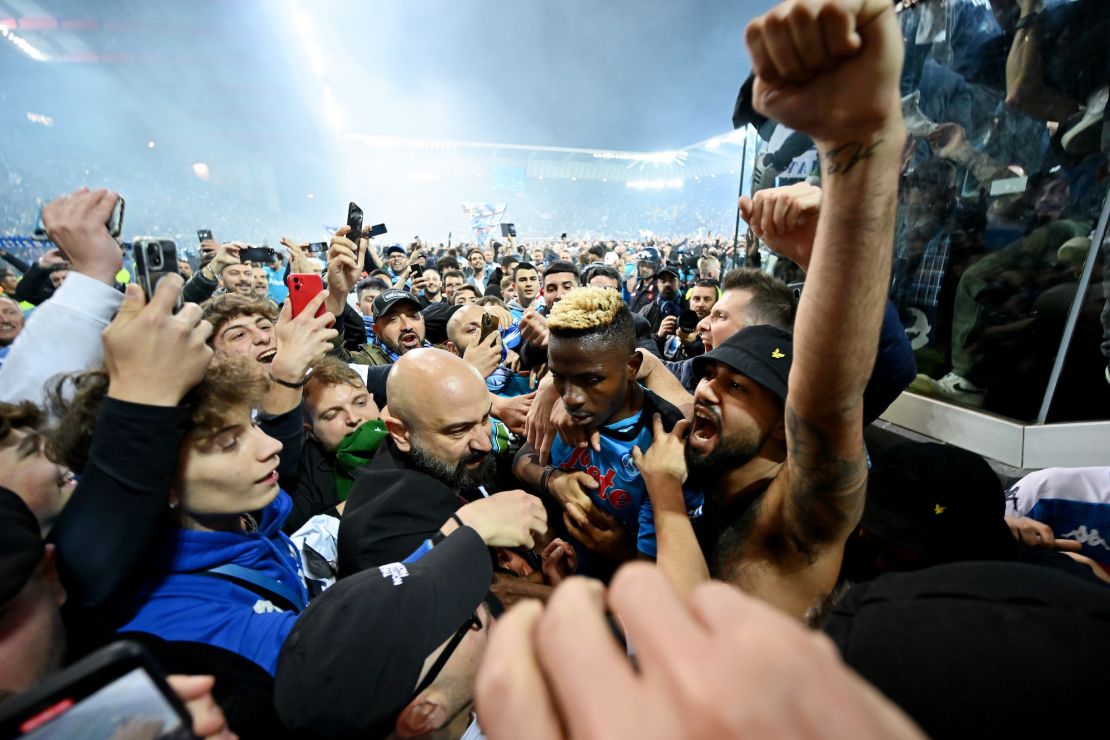 More than a team
Football is in Naples' DNA.
Whether it is the fanatical supporters crammed into the Diego Armando Maradona Stadium on matchdays or the hordes of fans who race through the streets after a Napoli victory, not much gets done on the day of a home game.
Bellini says the vice-like grip that the club has on the city is down to Naples only playing host to one major team, Napoli – a phenomenon unlike most other Serie A cities.
"Milan has two, Turin have two, Rome have two and Genoa also have two," he explains. "Naples is the only big, big, big city in Italy where we have just one club. And this is very important for us and all the people here support Naples."
As a result, every home game is like a festival of football, with fans reveling in the displays of brilliance their favorite Napoli players – dressed in the sky-blue shirts and white shorts – produce.
Over the years, they've had their fair share of awe-inspiring players who have dazzled and astonished – most notably, the diminutive genius, Maradona.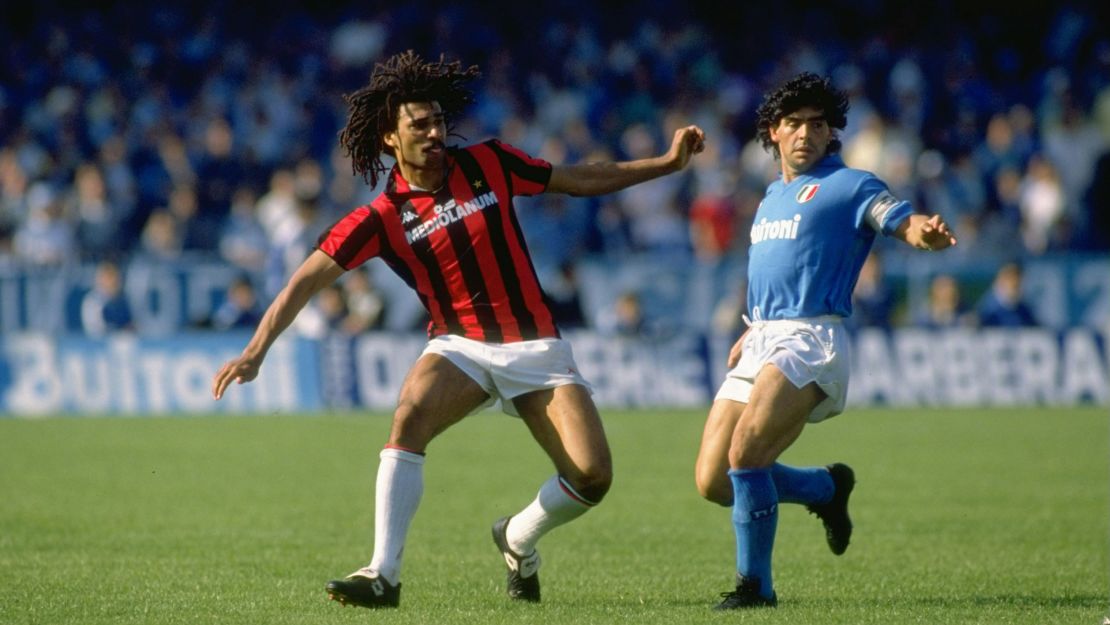 The Argentine arrived in the south of Italy in 1984, joining from Barcelona for a then world-record fee of $10.5 million.
With Maradona's arrival came a level of success Napoli had previously never seen, culminating in a 1987 title victory; the club's first ever Scudetto.
Bellini remembers how he celebrated the victory as a six-year-old whose fandom for Napoli was burgeoning.
"I stayed on the balcony in my house with my flag, and you can find the picture on Instagram. With my flag on the balcony without possibility to do something or do fiesta or with the supporters, because I was very, very little. But very happy. Very proud. When I was born, I was born with Maradona and that Napoli and, always in my life, I support Naples."
Three years later, Napoli reclaimed the title, once again with Maradona at the forefront.
For a city and football club that had often been looked down upon by its northern rivals, that run of success was an opportunity for the region to proudly express its time on top.
When Napoli won its first Serie A title in 1987, the Gentleman Ultra website notes: "In the city, mock funerals were held for Juventus. Naples finally had a riposte to their overweening Northern foes: 'May 1987, the other Italy has been defeated, a new empire is born.'"
But that four-year stretch proved to be an abnormality rather than a trend.
The dark years
A year after the 1990 title success, the Napoli team began to unwind with players departing, leading to a drop in performances.
The headline departure came when Maradona failed a drug test and he left Italy in disgrace after being handed a 15-month ban.
Following years of steady decline, the club was relegated from Serie A after claiming a miserly 14 points from 34 games. Only eight years after being crowned Italian champion, Napoli found itself in the second tier.
The disappointment didn't end there though for Napoli. Despite a small respite back in the top-flight in the 2000/01 season, the club was immediately relegated after their first season back in Serie A before the club was declared bankrupt for the second year in a row, which saw it relegated to the third tier of Italian football.
Although the club had fallen to its lowest league position in its history dating back to the 1920s, Bellini says the fanatical support around the club never suffered.
"You can find on the Internet or in a YouTube the video when we are in Serie C with 60,000 people at the stadium and the opposing team are a very tiny team and they are not able to play in San Paolo stadium [what is now the Diego Maradona stadium] in front of 60,000 people. And this is the big passion, big passion of Neapolitan people and big love for this club."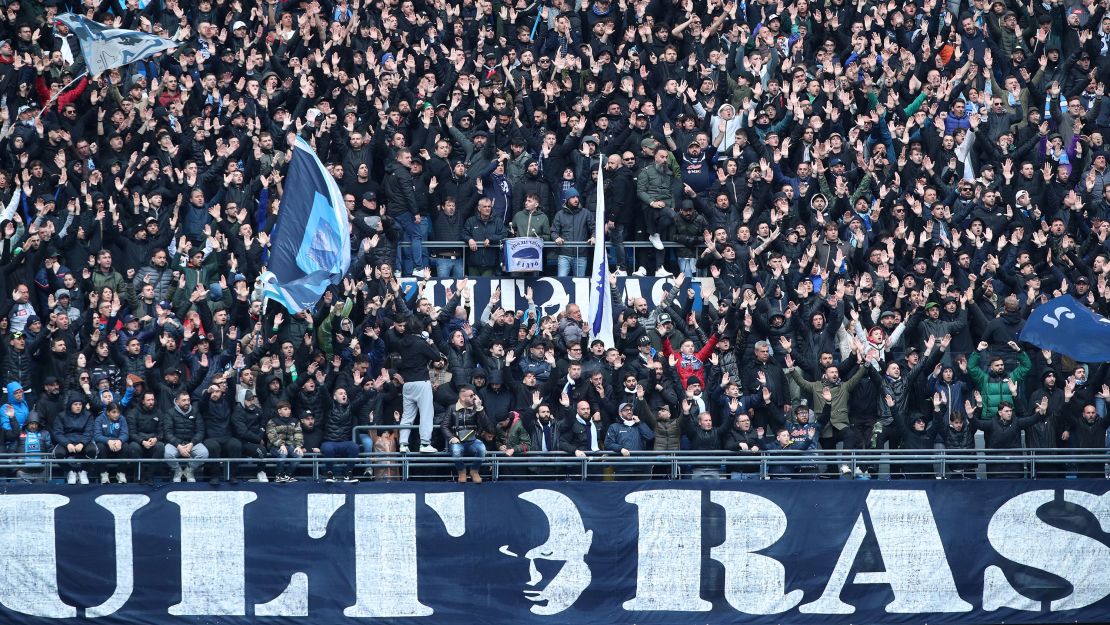 On top again
But like a phoenix, Naples rose from the ashes; spearheaded by the most unlikely of saviors.
When the club was at its most vulnerable financially, in swooped Italian film giant Aurelio De Laurentiis to rescue the club with the aim of establishing stability and a return to former glories.
And De Laurentiis made good on his promises, bringing Napoli back into the Italian top-flight in three years and into European competitions in the second year back in Serie A.
De Laurentiis' no-nonsense approach to running the club has brought success but has also brought tension. Fans and De Laurentiis have been at loggerheads about new proposed ticket prices although a picture posted on the owner's Twitter account suggests that that tension has been resolved for now.
Schlewitz says that despite any friction against the owner, "a whole lot is going to be forgiven" with the title victory.
Behind savvy transfer dealings and shrewd coaching appointments, the club established itself as one of Italy's elite.
In the 16 years since the club's return to Serie A, Napoli fans have seen some of Europe's best players grace the Diego Armando Maradona Stadium pitch – from Edinson Cavani and Higuaín to Dries Mertens and Marek Hamšík – as well as rotating cast of elite managers – Walter Mazzarri, Rafael Benítez, Maurizio Sarri and Carlo Ancelotti have all had stints in the Naples dugout.
However, beyond cup success, Napoli was never able to reclaim that elusive Scudetto behind the dominance of Italy's northern clubs.
"It's very, very hard to win in Italy because the north of Italy has a high representative of teams as Juventus, as Milan, as Inter and, in the south, it's very difficult to (win)," Bellini said.
"For example, Roma or Lazio in the center of Italy have only two or three times won the title because it is very, very difficult to win against the north; against the money, power of those clubs. And when we had Maradona in our club, we did this. We win against the against Juventus, against Milan, against Inter."
The 2022/23 season has been different though.
Behind a previously unheralded squad – Kvaratskhelia was signed from Georgia for little fanfare, the midfielder trio of Stanislav Lobotka, André-Frank Zambo Anguissa and Piotr Zieliński have all flattered to deceive before and Kim Min-jae arrived from Turkey in the summer to transform the defense into one of the league's most formidable – Napoli has blown away the domestic competition.
The team's unheralded star though, according to Schlewitz, is left back Mário Rui. Rui signed for the club in 2017 under Sarri but has undergone a transformation this season.
"I have to say that I intensely disliked Mario Rui. And he just used to make all kinds of mistakes," Schlewitz said. "He came in 2017 and he would either go into tackles too hard or he would turn the ball over too quickly or just be in the wrong place at the wrong time.
"And now he is 31, and it's like he's finally grown into the player that he was always supposed to be. And I'm just glad that the squad had faith to keep him around because he's kind of the anchor point. And he's not our captain in name, but he's kind of our captain in spirit."
Even the team's manager, Spalletti, came to Naples with a reputation of producing beautiful footballing teams but ones that falter at the crucial moments.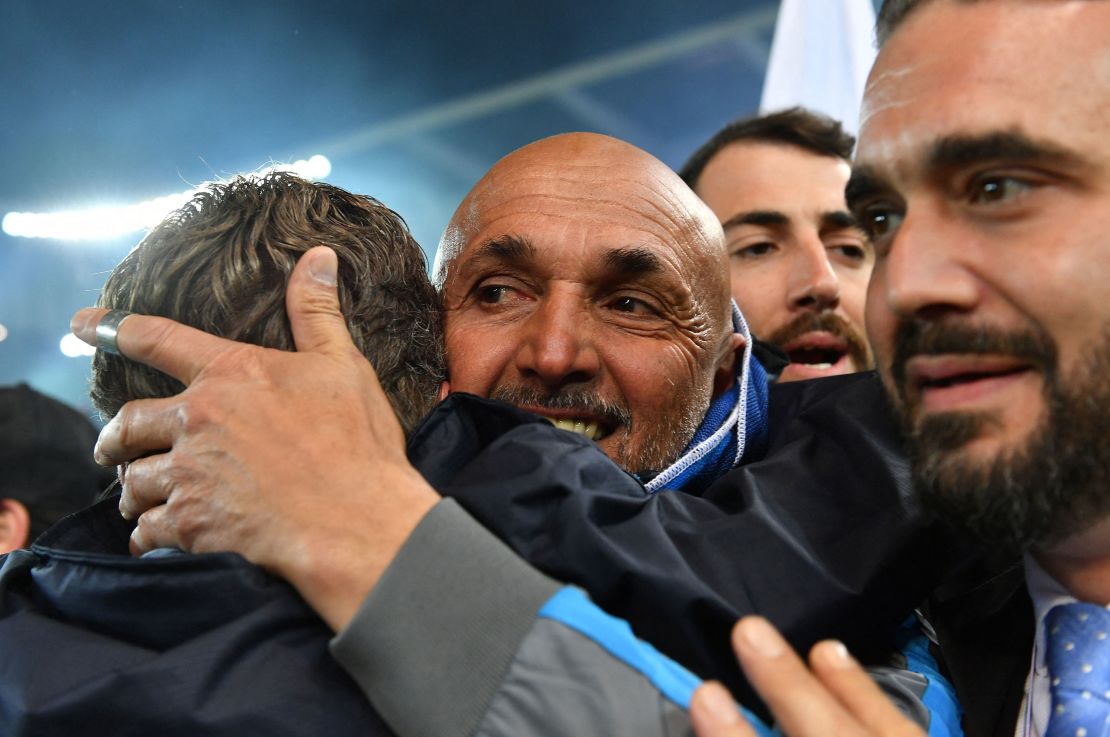 Whereas in previous seasons where fans would avoid talking about title challenges out of a fear of jinxing the team, Bellini says the huge lead the team established after last year's World Cup break allowed fans to dream before Thursday's draw sealed the title victory.
Over 30 years after Maradona led Napoli to its last Serie A title, Osimhen, Kvaratskhelia and company have done the same to end the heartache of some of Italy's most passionate fans.
And for someone who has been working inside the Napoli stadium and around the team for approximately 14 years – and as a fervent fan himself – Bellini said this moment had been a long time coming and that he has an idea of how he'll announce the team's title success to the stadium when they play at home for the first time as champions.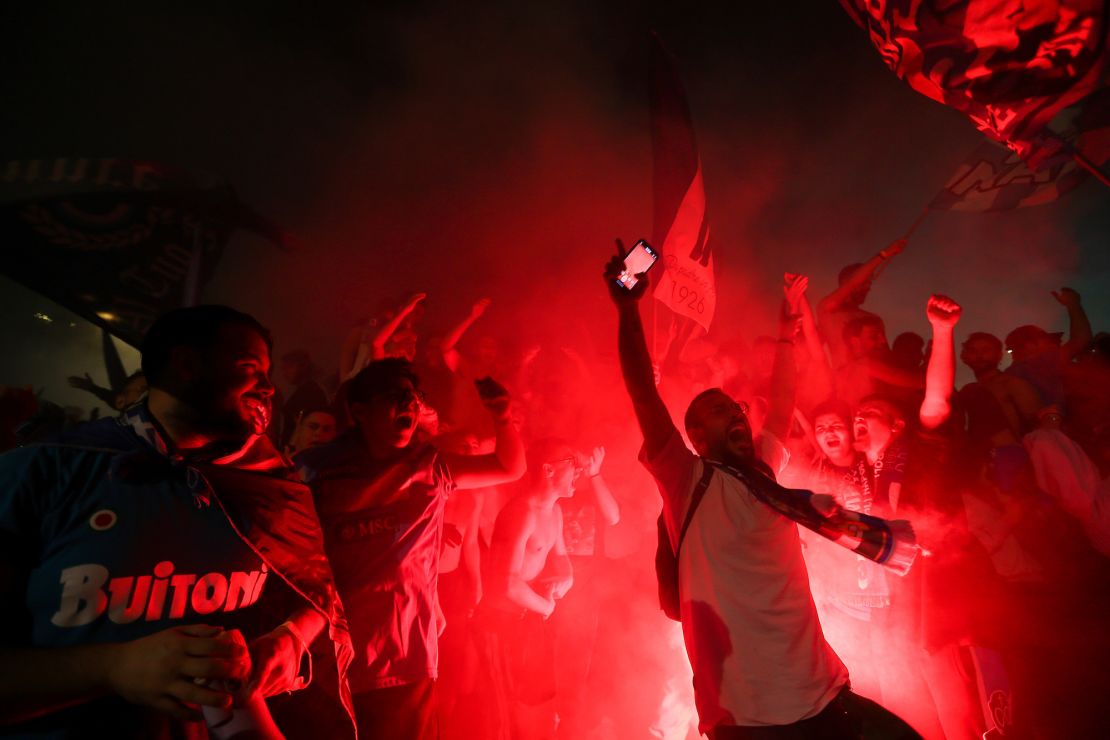 "I have something in my mind, but I don't know very well what my heart suggests to me because I don't want to prepare something special or special words for that moment because I think my heart can suggest the best word in that moment," he said.
Bellini added: "I've dreamed of this moment since when I was young, and especially since when I start to do this job with Naples, I dreamed this whole night.
"This is special."