Editor's Note: A version of this story appears in CNN's Meanwhile in the Middle East newsletter, a three-times-a-week look inside the region's biggest stories. Sign up here.
Arab nations are set to re-admit Syria into the Arab League despite repeated objections from the United States to ending the decade-long isolation of a regime that it holds accountable for the deaths of more 300,000 civilians and displacement of millions in the country's brutal civil war.
Speaking to CNN's Becky Anderson Thursday, Jordanian Foreign Minister Ayman Safadi said he believes there are enough votes among Arab League members for Syria to return to the bloc, adding that Jordan has kept the US informed in its efforts to rebuild ties with the regime.
Officials and analysts have said that Syria's re-admission into the Arab League, while symbolic, comes with the hope that it could pave the way for President Bashar Al Assad's rehabilitation internationally, and potentially the removal of crippling sanctions against his regime.
"Ultimately in order for us to really end [the crisis], we will have to make sure that the whole international community is on board," Safadi said. "Because at the end of the day there are sanctions, European sanctions, American sanctions, and there's going to be a tremendous need for a global effort for reconstruction."
But just this week, US State Department Deputy Spokesperson Vedant Patel made it clear that that Washington is not on board with such plans. The US "will not normalize relations with the Assad regime and we do not support others normalizing with Damascus either," he said at a State Department briefing in Washington, DC.
"We've made this abundantly clear to our partners," Patel said. "The US believes that a political solution that is outlined in UN Security Council Resolution 2254 is the only viable solution to this conflict in Syria."
Resolution 2254 endorses a roadmap for a peace process in Syria through UN-facilitated talks between the Syrian government and opposition members.
Arab states have argued that the status quo in Syria is untenable and has caused them a headache at home. Syria has over the past decade turned into a narco-state, exporting highly addictive amphetamines across the border to Jordan and to Saudi Arabia.
In the absence of what they see as lack of progress from the international community in its efforts to bring an end to the war there, Arab states have insisted on finding a regional solution, even if that means making peace with a leader whose regime has been accused of egregious war crimes.
Safadi told CNN that the Arab world is now taking the lead on resolving the Syrian crisis, as "there was no effective effort" so far to do so.
In a Wednesday opinion piece in Saudi newspaper Arab News, Assistant Secretary-General of the Arab League Hossam Zaki said that the May 19 summit is "a step on the road toward finding and activating Arab solutions to Arab problems and crises."
A new modus vivendi
Syria's return to the Arab League "paves the way for member states who might have been holding back to engage more directly with Assad's regime," HA Hellyer, Middle East scholar at the Carnegie Endowment for International Peace and at Cambridge University, told CNN. "It also makes it easier for non-member states, like Turkey and others, to argue that a new modus vivendi is in order."
Syria has been under crippling Western sanctions for years, the most prominent being the US' 2019 Caesar Act, which imposed wide-ranging sanctions that restricted individuals, companies or governments from economic activities assisting Assad's war effort. The act rendered the entire economy untouchable.
The UN says the levels of poverty and food insecurity faced by Syrians today are unprecedented. The World Food Programme (WFP) estimates that as of 2022, more than 12 million Syrians – more than half of the country's population – are food insecure.
It's unclear if the US will stand in the way of Arab states' efforts to bring Syria back into the regional fold. Safadi told CNN that Jordan and other Arab countries are constantly discussing the matter with Washington and are working towards a solution that is consistent with UN Resolution 2254.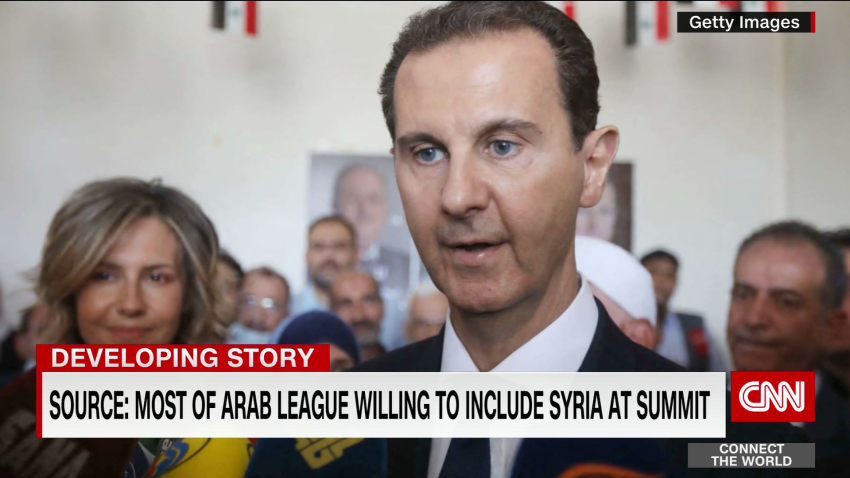 Arab League may bring Syria back into the fold
Analysts say that while Western states may object to the normalization, they are unlikely to translate that objection into any kind of action against the Arab states, citing other international issues that take priority, as well as fatigue with the Syrian question.
"The US will not impose a veto on their allies when it comes to normalization with Assad," said Hellyer. "The political will for such a move doesn't exist in DC, particularly when there are so many other files that are taking bandwidth for the US, both in (the Middle East), but also more widely internationally, with Ukraine and other issues."
Qutaiba Idlbi, a nonresident fellow at the Atlantic Council in Washington, DC, said that US normalization with the Assad regime is unlikely to bring any foreign policy or security benefits to the Biden administration, and will therefore not be pursued, especially ahead of the presidential elections next year. Arab normalization, he argued, may be seen in a positive light in Washington despite its public objections as it "strengthens regional leadership on regional issues."
Given the wide-ranging scope of the sanctions on the regime, however, Syria is more likely to get a political lifeline from normalization than an economic one, analysts said – at least until Arab states can persuade the international community to embrace the Syrian president. Analysts say that'll be a tough sell.
Charles Lister, a senior fellow at the Middle East Institute in Washington, DC, said the sanctions have left both American and European governments "handcuffed," placing a legal impediment to engagement with the regime.
"As we watch these regional steps, which are at least symbolically significant, I don't think we are going to be seeing much more than political contact," he told CNN. "We are certainly not going to see some major shift toward investment in Syria… none of that is going to be feasible without Western diplomatic and economic support. And that is just completely off the table."