E. Jean Carroll's civil battery and defamation trial against Donald Trump neared a close Monday with closing arguments as her attorney told a federal jury in New York that no one is above the law, while Trump's lawyer said not to hold any negative feelings about the former president against him.
"In this country, even the most powerful person can be held accountable in court," said attorney Roberta Kaplan. "No one, not even a former president, is above the law."
Trump attorney Joe Tacopina said he knows Trump is a divisive figure, but that shouldn't matter to jurors when reaching a verdict.
"People have very strong feelings about Donald Trump. That's obvious," Tacopina said. "There's a time and a secret place to do that: it's called a ballot box during an election."
"What they want is for you to hate him enough to ignore the facts," Tacopina added. "All objective evidence cuts against her."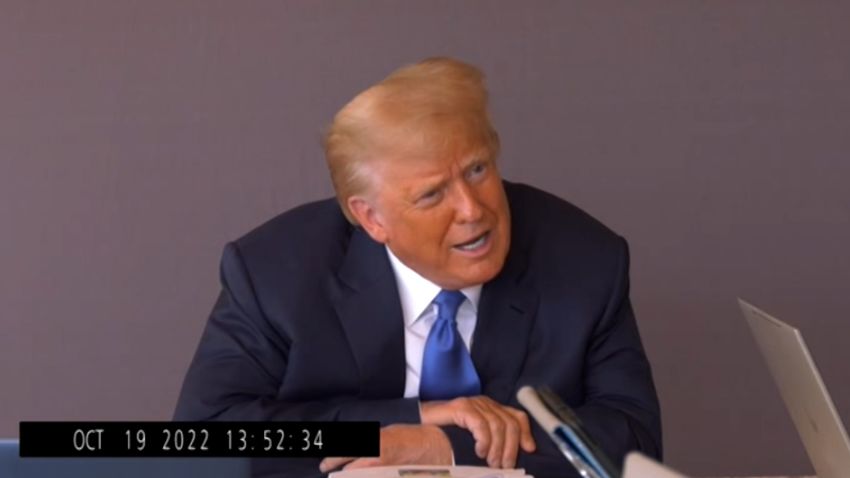 Trump asked about infamous 'Access Hollywood' tape in deposition. See his reaction
Carroll, a former magazine columnist, alleges Trump raped her in the Bergdorf Goodman department store in the spring of 1996 and then defamed her when he denied her claim, said she wasn't his type and suggested she made up the story to boost sales of her book. Trump has denied all wrongdoing.
District Judge Lewis Kaplan (no relation to Roberta Kaplan) is expected to instruct and charge the jury to begin deliberations on Tuesday.
Attorneys for Carroll and Trump rested their respective cases last Thursday. Carroll's legal team put on 11 witnesses in her case, including the writer herself, over seven trial days. Trump did not put on a defense and ultimately opted not to testify, as is his right.
Roberta Kaplan pointed out that Trump didn't attend the trial, even though clips from his deposition were shown.
"And you only saw him on video. He didn't even bother to show up here in person," Kaplan said.
Carroll's attorney showed clips of Trump's video deposition taken last October including a moment where Trump mistook Carroll for his ex-wife. This shows, Kaplan said, that Carroll "was exactly his type."
Tacopina stressed that the former president did not need to appear in court to testify in his own defense.
"How do you prove a negative?" Tacopina asked. "Challenging the story is our defense. There are no witnesses for us to call. There's no witness for us to call because he was not there, it didn't happen."
Tacopina said Trump did not defame Carroll when he denied her false accusations on social media. Trump's lawyer told jurors not be confused by the verdict form when they see it. "If there's no rape, there's no defamation. There was no sexual assault and there was no defamation, they go hand in hand."
'Access Hollywood' tape
The jury again saw the infamous "Access Hollywood" tape and heard Trump describe how he aggressively moves on women without their consent because they let you "when you're a star."
Trump revealed his "playbook" for handling women on the tape when he thought no one was listening, Kaplan said. "Telling you in his very own words how he treats women."
According to Kaplan, Trump and his lawyers want the jury to believe Carroll and the other witnesses in her case are a part of a huge "hoax" to take down the former president. "The big lie," Kaplan called it.
"There is only one person here who is lying and that person is Donald Trump," Kaplan said.
In order to side with Trump's defense, "You'd need to conclude that Donald Trump, the nonstop liar, is the only person in this room telling the truth."
Tacopina responded by criticizing Trump's language on the tape but said the crude nature still doesn't make Carroll's allegations true.
"They're trying to take parts of Donald Trump that you dislike or even hate," Tacopina said. "You can think Donald Trump is a rude and crude person and that her story makes no sense. Both of those things can be true."
Carroll's attorney also showed the jury a chart mapping how allegations from Carroll, Jessica Leeds and Natasha Stoynoff reveal a pattern of aggressive behavior. In each woman's testimony at trial they described how Trump first engaged them in a semipublic place, then allegedly grabbed them suddenly, then later denied the allegations and said "she is too ugly for anyone to assault," Kaplan said.
Trump has denied Leeds' and Stoynoff's allegations against him.
"Three different women, decades apart, but one single pattern of behavior. What happened to Ms. Carroll is not unique in that respect. Trump's physical attacks and verbal attacks are his standard operational procedure," Kaplan said.
The jury in this case can award Carroll damages if they believe her account.
"For E. Jean Carroll this lawsuit is not about the money," Kaplan said. "It's about getting her good name back."
"I'm not going to stand here and tell you how much you should award E. Jean Carroll in damages. What is the price for decades of living alone without companionship? No one to cook dinner with, no one to walk your dog with, no one to watch TV with. And feeling for decades that you're dirty and unworthy," Kaplan said. "I'm not going to put a number on that."
Responding in his closing, Tacopina accused Carroll of fabricating her rape allegations to sell her book and make money.
"She's abused this system, bringing false claims for, amongst other things, money, status, and political reasons," Tacopina told the jury. "You cannot let her profit to the tune of millions of dollars for her abuse of this process."
This story has been updated with additional developments.