Islamabad, Pakistan
CNN
—
Former Pakistan Prime Minister Imran Khan was arrested on Tuesday by paramilitary troops who smashed their way into a courthouse in Islamabad to detain him on multiple corruption charges.
The dramatic and sudden arrest of the former cricket star turned leader is the latest chapter in months of ongoing political turmoil in the nuclear armed nation after Khan was ousted last year.
According to court documents seen by CNN, Khan was arrested in Islamabad on charges brought by the National Accountability Bureau, the country's anti-corruption agency.
He was submitting his biometric data for a court appearance when paramilitary forces broke down a window to get to him before apprehending him, as seen in a video provided to CNN by his party Pakistan Tehreek-e-Insaf (PTI).
In the video, paramilitary forces attacked Islamabad High Court premises before arresting Khan who watched impassively at the unfolding chaos while wearing dark sunglasses.
A separate video sent to CNN by PTI showed paramilitary troops piling out of cars and holding batons before the arrest.
A violent protest broke out in the Pakistan city of Quetta Tuesday evening local time, following Khan's arrest, where a CNN journalist saw an Imran Khan supporter shot dead by police.
The person was killed when police fired warning shots towards a crowd of people charging toward a military checkpoint. Protesters threw stones at police and torched a police van while chanting against the government and army.
Several arrests were made at the scene, which remains tense.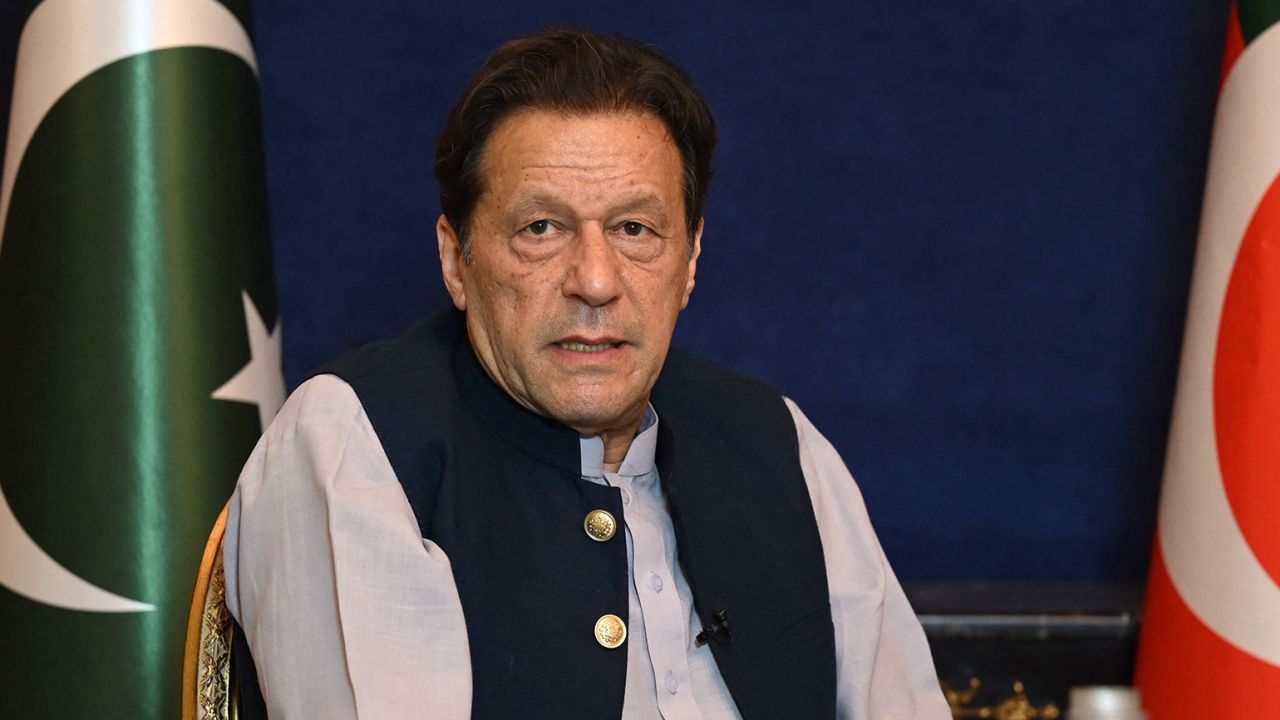 Khan said he was "detained on incorrect charges" in a pre-recorded statement released on YouTube by PTI after his arrest.
"By the time you will receive these words of mine, I will have been detained on incorrect charges, Pakistan constitution, which gives us rights, which gives us democracy, has been buried. Perhaps I won't get the opportunity to speak to you again."
Khan claims in the video statement, "I have always followed the law. I am being apprehended so that I can't follow my political path for this country's fundamental rights and for me to obey this corrupt government of crooks which has been hoisted on us."
Khan appealed to his supporters to "come out for your fundamental rights; no nation is handed its freedom on a plate; the time has come for all of you to come and struggle for your rights."
PTI spokesperson Fawad Chaudhry described Khan's arrest as an "abduction" and said he had been "whisked away by unknown people to an unknown location."
Khan, 72, was ousted in a parliamentary no-confidence vote last year and has since led a popular campaign against the current government led by Prime Minister Shahbaz Sharif, accusing it of colluding with the military to remove him from office.
He has faced a growing raft of legal cases filed against him and multiple arrest warrants have been made, triggering confrontations with his supporters.
Khan faces multiple allegations of corruption while he was in office, which he has rejected as "biased." He says the charges against him are political.
In March, the streets outside his residence in Lahore became something of a pitched battle between police and his supporters after officers attempted to arrest Khan for not showing up to court on corruption charges.
Supporters hurled stones and projectiles at police while people inside Khan's residence lit fires after officers fired tear gas into the compound.
Police later cut the electricity supply to Khan's home and turned street lights off in the neighborhood. The operation was eventually called off.
Economic crisis
The cricket legend-turned-politician has accused Pakistani authorities of attempting to arrest him to remove him from the playing field ahead of a general election scheduled for October.
"[The government], they're petrified that if I come into power, I will hold them accountable," Khan told CNN during the unrest outside his residence in March.
"They also know that even if I go to jail, we will swing the elections no matter what they do."
In the midst of the ongoing political jostling Pakistan is facing an acute economic crisis.
The government has been trying to reach an agreement with the International Monetary Fund to restart a $6.5 billion loan program that has stalled since November, in an effort to keep the economy afloat.
The fund has presented a set of conditions in exchange for the release of a $1.1 billion loan installment. It includes liberalizing the rupee's exchange rate and raising taxes.