Spanish police have arrested 26 people in recent months for an alleged scheme to use water from illegal wells to grow subtropical fruit, as the country grapples with damaging heat and drought.
A Spanish Civil Guard statement said a four-year investigation had uncovered 250 illegal wells and ponds in the in a drought-stricken area Axarquia district east of Malaga, along the Mediterranean coast.
In addition to the dozens arrested, 44 people are under investigation in the alleged scheme, which is estimated to have caused nearly $11 million in damages.
The southern Andalusia regional government has strict water use restrictions for the area, which has been gripped by "a prolonged and exceptional drought" since June 2021.
More recently, key food producing regions of southern Spain, near Seville and Corboda, and in northeastern Spain near Barcelona, have seen low rainfall and high temperatures combine to diminish many local water reservoirs, the Spanish central government has reported.
April was the hottest and driest month recorded on the Spanish mainland since record-keeping began back in 1961 – 62 years ago – Spain's national weather agency AEMET said on Friday.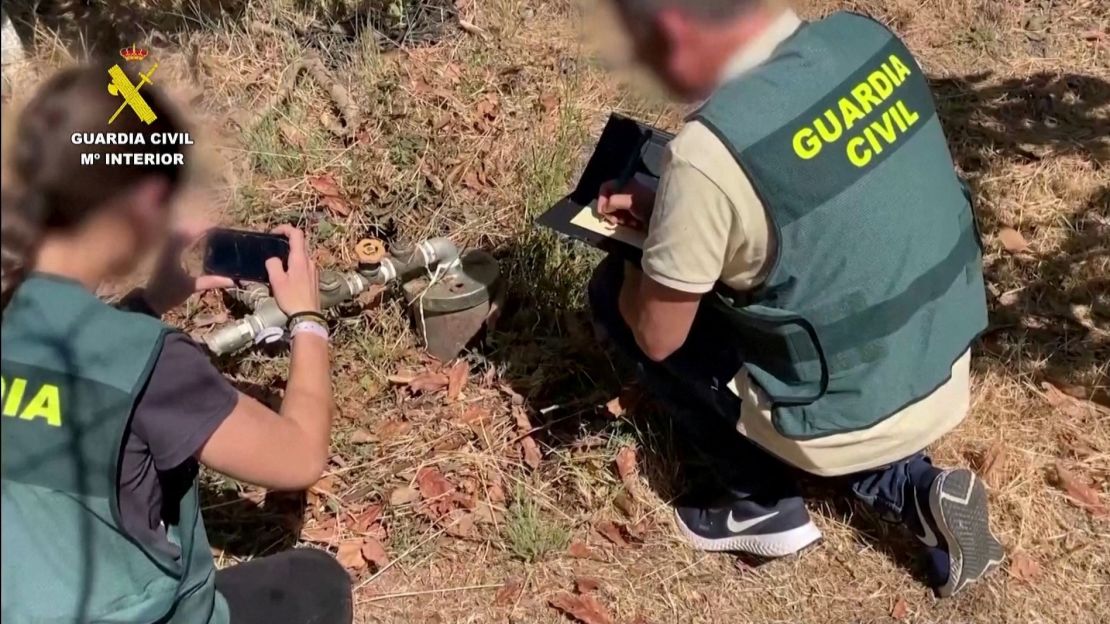 The Spanish mainland received just 22 percent of the normal amount of rainfall in April.
Most of the fruit allegedly grown with water from the illegal wells were avocados and mangos, and the suspects include growers, business executives and workers at community irrigation projects, the Civil Guard press office in Malaga told CNN.
Authorities' investigation into the alleged illegal wells scheme began with a complaint to the Civil Guard's environmental investigative unit four years ago. Later various growers told authorities they also detected illegal use of water, Spanish police said.
The 44 people under investigation include those who sell and install irrigation pipes and equipment, and pumps to bring water out from wells.
The police said that prosecutors in Malaga specialized in environmental offenses were involved, along with an investigating magistrate at a court in the city of Velez Malaga.
The 26 people arrested have been arraigned before the magistrate there in recent months and released, with charges pending, the Malaga Civil Guard press office told CNN.
The police said the investigation includes alleged crimes against natural resources and the environment and fraudulent use of water.