At a Summer League in Las Vegas, a towering figure perched next to basketball trainer Drew Hanlen and introduced himself.
"I already know who you are," Hanlen retorted – the formidable figure needed no introduction.
By the time the pair met, Joel Embiid had made a name for himself as one of the most exciting young prospects in the NBA, but he was still an unrefined talent.
The Cameroonian was also coming off the back of missing two whole seasons through injury and there were doubts over how long he had been playing the game.
"He missed the first couple of years, and nobody really knew what to think," long-time Philadelphia 76ers play-by-play commentator Marc Zumoff explains to CNN Sport.
"He was an unpolished product to begin with, having played really part of only one year at Kansas. And everybody knew he took up the game at 15. You wondered, 'Well, yeah, there's potential there, and physically he has the chance to grow into a body that could be pretty imposing. But who is this guy?'"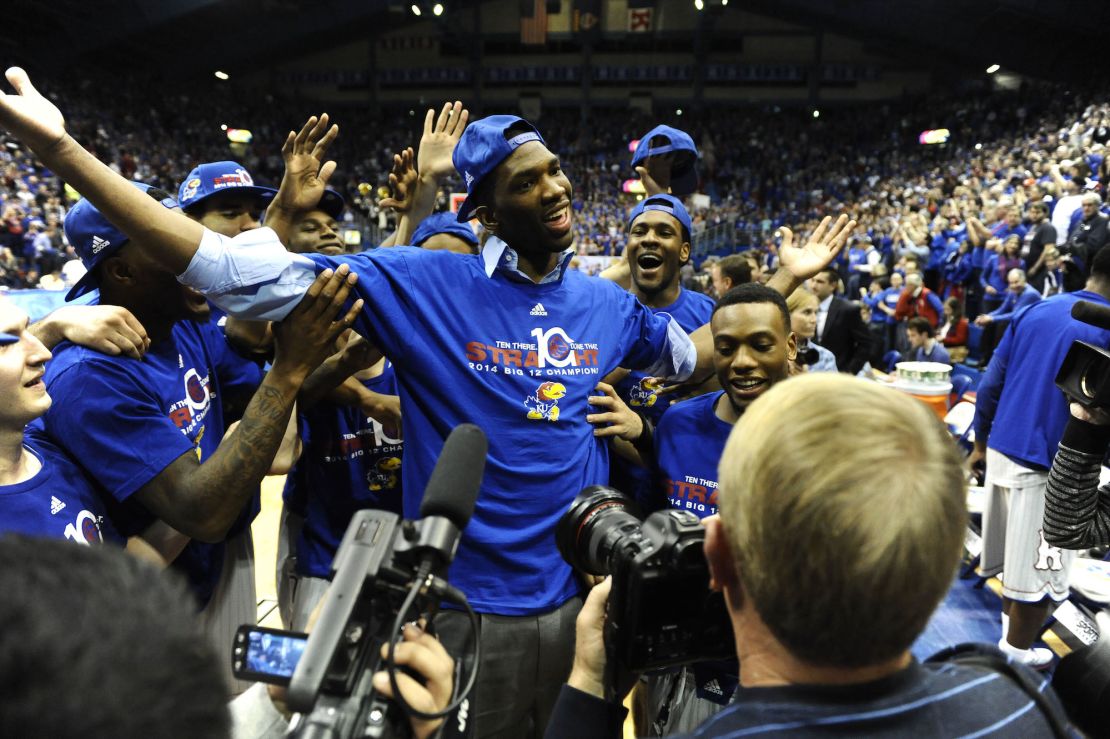 Hailing from Yaoundé, the capital of Cameroon, Embiid only picked up basketball in his mid-teens when he was invited to a camp hosted by then NBA player and fellow Cameroonian Luc Mbah a Moute.
"They could see something in me [and] I got a spot at the Basketball Without Borders camp in South Africa," Embiid explained to The Players' Tribune. "Two months later, I was on a plane to Florida to go to high school in America."
Embiid had been hooping for less time than many middle-schoolers, but Hanlen knew from that very first conversation it would not be long before the newly crowned MVP would reach another level.
When hearing the trainer was on his way back to Los Angeles, the 76ers star joked that he would join the young coach in the City of Angels – at least Hanlen thought he was only joking.
"A couple of hours later, I was getting calls from his agent and his manager," Hanlen tells CNN Sport. "Joel had basically told them, 'Figure it out, I want to work.'"
The pair sorted a time, and the next day Embiid was in LA having his first of many workouts with Hanlen.
Work hard, play hard
This work ethic has stayed with the 29-year-old throughout his time in the NBA and is something that Zumoff says was always plain to see.
Zumoff was the Sixers' play-by-play man for over 25 years and saw Embiid's desire to improve from up close. The 67-year-old saw "a lot of sweating with assistant coaches and anybody else who dared to put a body on him."
Hanlen reiterates this and says the Sixers big man is constantly searching for ways to improve.
"He's the biggest film nerd there is in the NBA," Hanlen laughs. "We've watched every single made field goal of Kobe Bryant, of Shaquille O'Neal, of Hakeem Olajuwon, Dirk Nowitzki, Kevin Durant," Hanlen stops before naming any other greats.
This is another of the countless examples Hanlen has to emphasize Embiid's need to be better.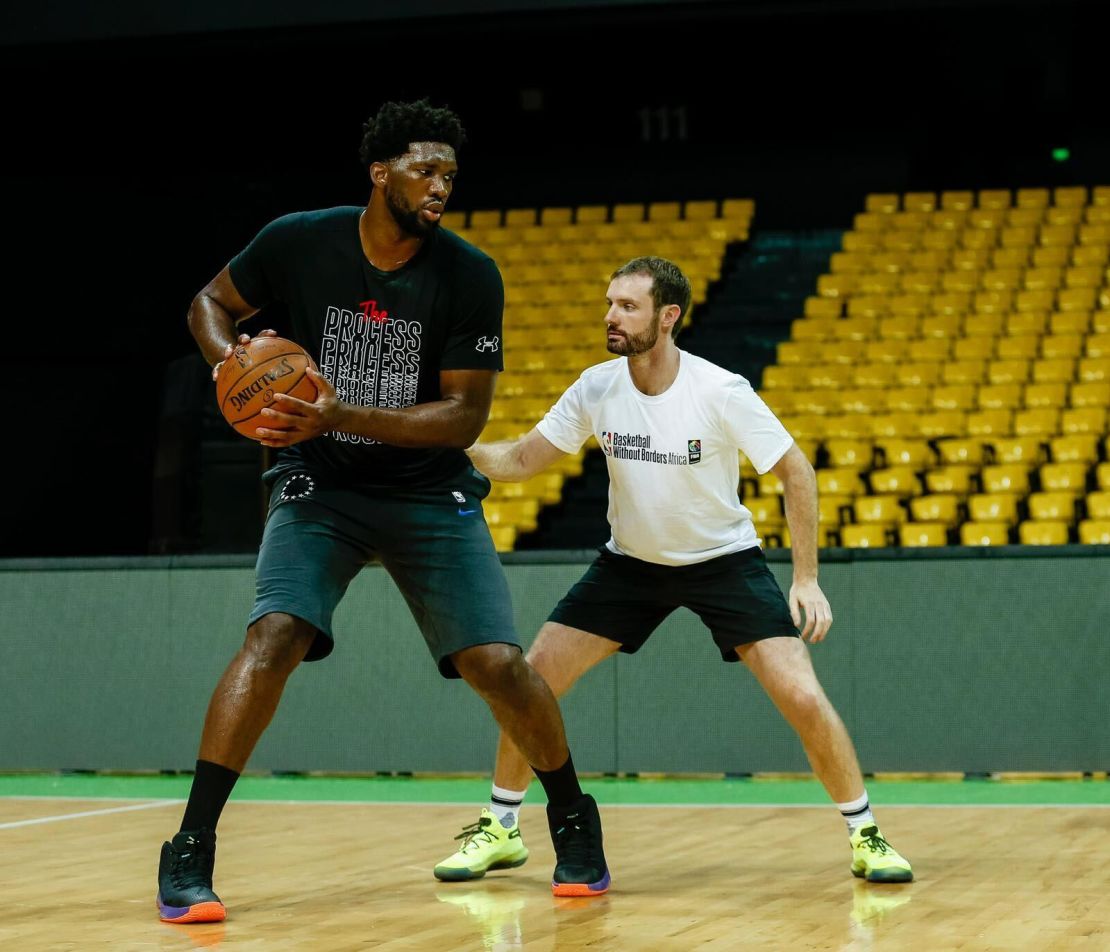 Hanlen smiles while explaining how 'The Process' had watched every single Nowitzki field-goal on tape and was still asking for more footage of the former Dallas Mavericks star.
Embiid's obsession doesn't stop there. On late night journeys to and from the gym, Hanlen is forced to drive as the four-time All-NBA second-teamer sits in the passenger seat and watches every possible 'meaningless' League Pass game on his phone.
It is no surprise that the seven-footer turned up to Hanlen's sessions with the goal of being an elite defender, yet, fast-forward to the present day, he is now the most dominant offensive player in the NBA.
The ultimate scorer
Despite his 'Joel Troel' alter-ego, Embiid's approach to the game shows he is everything but a joker who fools around.
To partner with his MVP crown, the big man has won back-to-back scoring titles – the first center to do so since Hall of Famer Bob McAdoo 47 years ago.
Embiid has demonstrated in those two years that he can score in every possible way despite his huge frame – his 33.1 points-per-game on 54.8% shooting from the field this season is an indicator of this.
One of the reasons for this dominance is the hours spent watching tapes of the greats and then replicating them on the hardwood floor with Hanlen.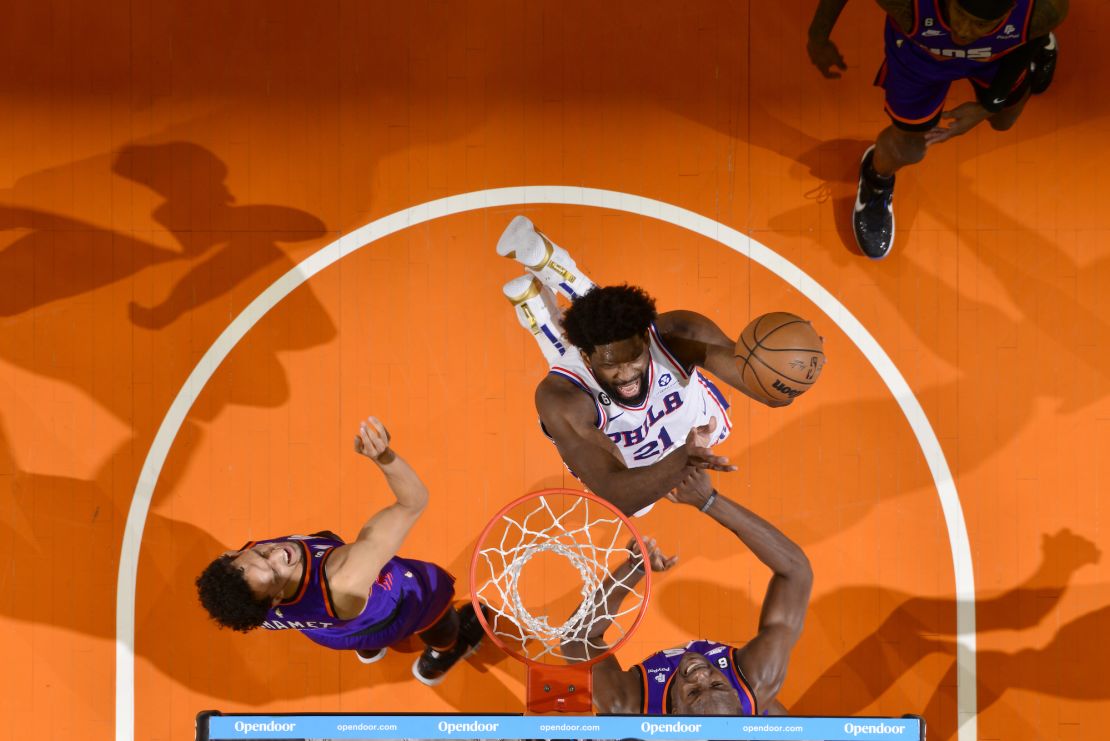 "At times, you look at him and you're like, 'Man, he's Shaquille O'Neal on the low block,' and then you'll see him in the mid post, and you'll go, 'Man, there's a lot of Hakeem [Olajuwon] right there.'
"Then you'll see him facing up and you go, 'Wait, is that the little bit of Kevin Durant?' And then you see him move to the nail and you'll say, 'Oh, there's Dirk Nowitzki.' But the fact that he can steal the best aspects of all these great players and put it all into one is a testament to his hard work."
Hanlen grins as he explains he still struggles to believe that the clips of Embiid at high school and college are the same person he coaches today.
Family ties
Zumoff believes there was a moment when everything switched for the six-time All-Star.
"My theory about Joel has always been that since he became a father to his son, Arthur, that really changed his outlook on life," Zumoff says.
Based on the MVP's reaction to winning this year's award, it seems he would agree.
Speaking after being named MVP, Embiid said: "I'd say the biggest key of it is, obviously, I'm all about family. I don't talk about it a lot. My son I would say is probably the biggest part of it."
It is clear that family is incredibly important to Embiid and, after speaking about his parents, he spoke about his son.
"Arthur … losing my brother and then giving his name to my son meant a lot. My son is the reason why I'm really sitting here."
Zumoff can remember the exact moment he realized the importance of fatherhood to Embiid, when during a post-game interview, the Sixers commentator asked the two-time scoring champ about being a dad.
"He proceeded to talk for about 90 seconds about the joy that fatherhood brought him, and then he turned it to himself and said, having a son now and being a father has inspired him to show his son that when all is said and done, he would be known as one of the best players to ever play the game.
"And if you take a look at his scoring stats since the birth of his son, they have been pretty good," Zumoff understates.
Arthur is named after Embiid's late brother who passed away shortly after the 2014 NBA Draft. This tragedy hit Embiid hard and speaking to The Players' Tribune in 2020, he touched on this.
"I thought about walking away from the game. I'm not exaggerating at all. I seriously considered retiring from the NBA before I'd even played one game."
Embiid added: "When you talk about my life, you have to talk about my brother Arthur. There's no telling my story without him."
The City of Brotherly Love
Despite his individual success, basketball is of course a team game and Embiid has had to endure some tough moments playing for the Sixers.
Playoff defeats over the years garnered media attention and criticism aplenty, but Embiid's desire to bring a championship home has never wavered.
"His only goal is to win, you know, win a championship, bring a championship to the city of Philadelphia that's embraced him from the second that he stepped foot in Philly," Hanlen explains.
"And every year, when he falls short of reaching that goal, we analyze the film, we break down what he can do better, and then he works on adding that aspect to his game."
Philly has already made Embiid an honorary Philadelphian, but winning a chip would secure his status in the City of Brotherly Love.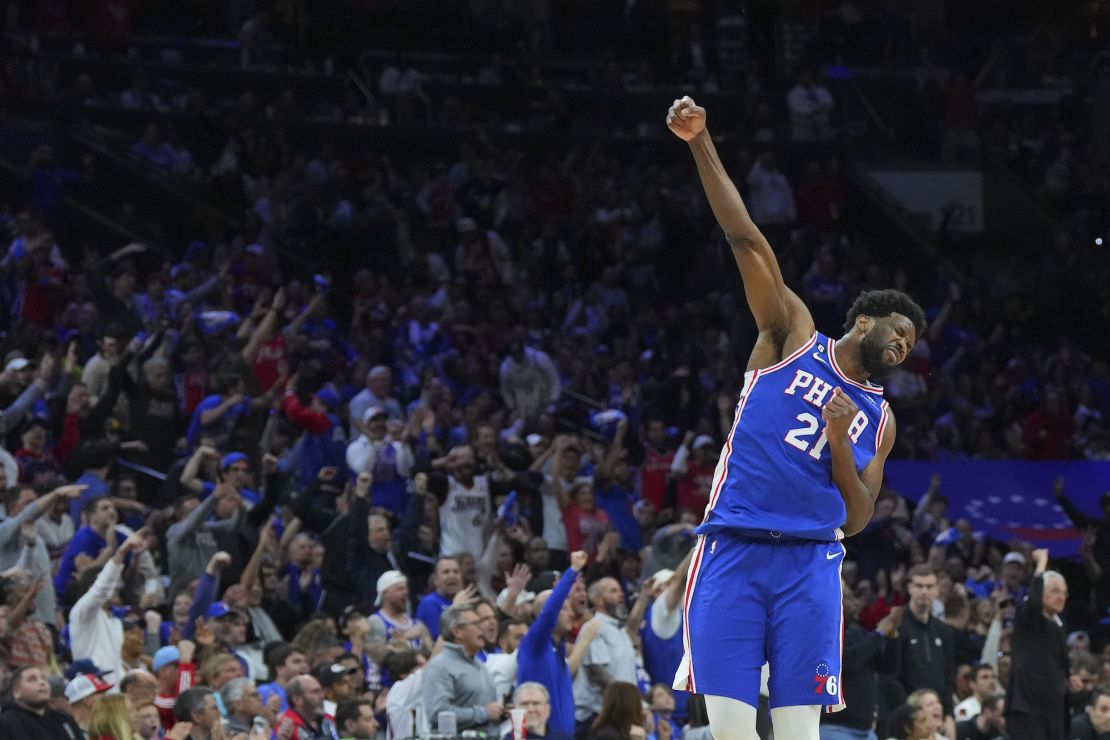 "Philadelphia, I think, is one of, if not the most passionate sports city in the United States. And I say that because we really do consider our sports teams an important part of our fabric, our society, our culture and our commerce," outlines Zumoff.
"Because of that, we live and die with them, whether they win or lose. Yes, we do a lot of complaining and booing and whatnot, but that's only because we care. If we didn't care, we wouldn't boo or we wouldn't criticize."
For Zumoff, it is clear why Philadelphians have become so attached to their star man.
"When you have a player like Joel Embiid, who is leading his team to victory and doing so in a way that is big and imposing and dominant, well, we love that because that's what we're all about.
"We're all about putting in the work. We're about the blue-collar ethic and not taking any shortcuts. We see that with Embiid. And I'll tell you what, we also see the joy that he plays with."
Obsessed with greatness
In a brilliant career so far, it is clear that Embiid's journey to the Michael Jordan Trophy transcends more than just the sport of basketball itself.
"If you're looking for a word or phrase, I would literally say what he's done in his career has been a miracle," says Zumoff.
"When you consider he didn't start until he was 14 or 15, that he came from a culture that didn't necessarily emphasize the game of basketball or had games available to watch all the time.
"When you consider where he came from to what he's become, it's really nothing short of miraculous."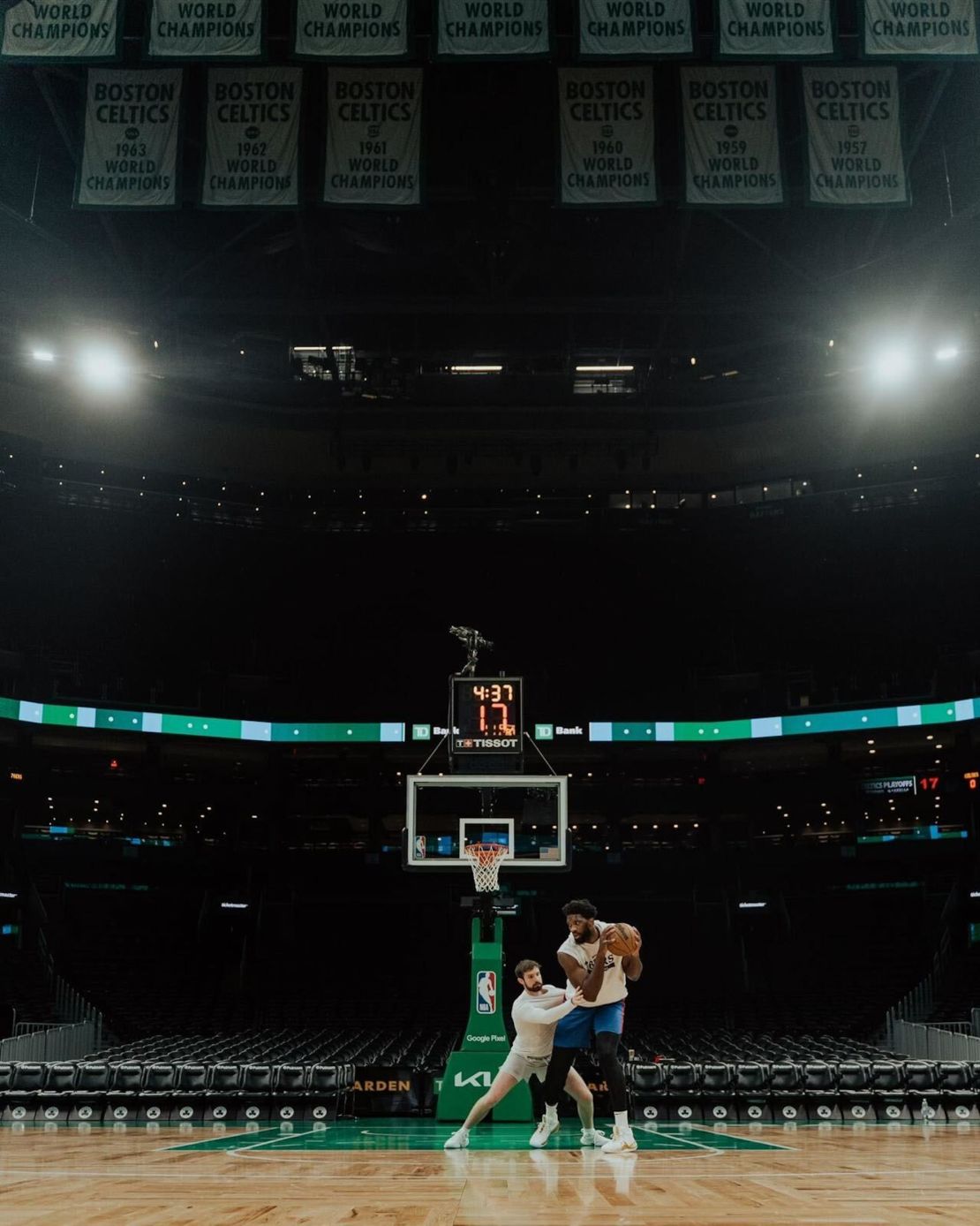 After becoming just the second African player to receive the honor of winning MVP, Embiid said something similar to reporters, adding: "For us Africans, we don't have a lot of these opportunities.
"The probability of us making it here is and let alone being an MVP is probably negative zero. But improbable doesn't mean impossible."
Hanlen then summed up Embiid's overall approach by saying: "I would just say he's obsessed with greatness. He's willing to do anything and everything to become the best possible player that he can ever become."
Whether Embiid can lead his team to a championship is a different story, but the MVP trophy has been a long time coming in one of basketball's true fairytales and he can finally enjoy being recognized for his personal accomplishments.