Real Madrid coach Carlo Ancelotti was left to rue the "small details" after the ball appeared to leave the field of play in the buildup to Manchester City's equalizer in the teams' Champions League semifinal.
Kevin De Bruyne's long-range strike midway through the second half meant the first-leg clash ended 1-1 at the Santiago Bernabéu, though Ancelotti and several of Real Madrid's players felt that they should have been awarded a throw-in when Bernardo Silva tried to keep the ball in play.
The ball was subsequently recovered by Madrid defender Eduardo Camavinga, who then lost possession with a stray pass in the lead up to De Bruyne's goal.
"It was out. It's not me saying that. Technology says so," Ancelotti told reporters. "It was shown by beIN Sports. But not VAR [video assistant review] because they didn't see it. It seems strange to me that they didn't check it properly. Small details."
Ancelotti was referring to an image shared by beIN Sports which appeared to show that the ball had gone out of play.
However, speaking on CBS, rules analyst Christina Unkel explained how Camavinga's loss of possession meant a VAR check could not place.
"We talk about it and explain it as the attacking phase of play," said Unkel. "There is no set amount of time before a goal we go back to check, instead it's really predicated by the possession and who has possession of the ball.
She added: "When Camavinga took the ball away from De Bruyne, converted it, had plenty of time, made a bad pass … That actually started that window for the VAR to look. Even if this was out, it would not have been reviewed by the VAR leading to the goal."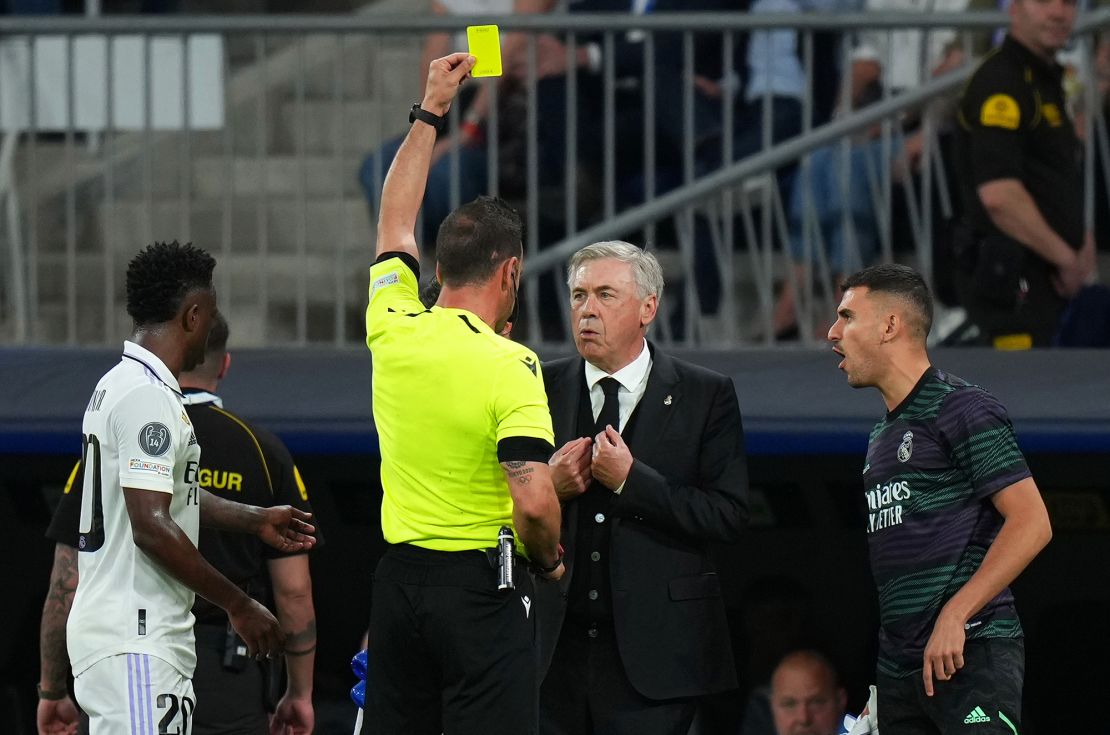 De Bruyne's goal canceled out Vinícius Jr's stunning opener for Real Madrid – a right-footed rocket from outside the Man City box.
The result means the tie is evenly poised ahead of the return leg at the Etihad Stadium on May 17.
"We got the goal, and from then on, we played really well, controlling the game and creating opportunities," said Ancelotti.
"We're very pleased with how we went about the game and I hope to see a repeat performance in the return leg."
Meanwhile, it was a quiet night for Man City striker Erling Haaland as he had only three shots during his first appearance at the Bernabéu.
It was a different story for the Norwegian's father, Alfie Haaland, who was moved to a different suite after taunting Real Madrid fans in the stands.
Writing on Twitter, Haaland, a former Man City player, said Madrid fans were "not happy" with him for celebrating De Bruyne's goal. He also denied reports that he had thrown peanuts at the madridistas in attendance.
"We had some good banter with Madrid fans," he said. "They were not happy when City scored. Typical. Then we had to move 50 meters away. Nothing more. All happy."
Madrid next faces Getafe in La Liga on Saturday, while Man City plays Everton on Sunday. The other Champions League semifinal between AC Milan and Inter Milan kicks off on Wednesday.