Former President Donald Trump would not say Wednesday night who he thinks should prevail in Russia's war against Ukraine, instead telling New Hampshire GOP primary voters that he wants "everybody to stop dying."
"I want everybody to stop dying. They're dying. Russians and Ukrainians. I want them to stop dying," Trump said at CNN's town hall moderated by "CNN This Morning" anchor Kaitlan Collins. "And I'll have that done in 24 hours."
Trump, who would not say whether he wants Ukraine to successfully deter Russia when pressed by Collins, told the audience gathered at Saint Anselm College that he doesn't "think in terms of winning and losing."
"I think in terms of getting it settled so we stop killing all these people," he said.
Trump – asked whether he supports providing US military aid to Ukraine by a Republican voter who will be casting a ballot for the first time in 2024 – would not commit to sending aid to the war-torn country, should he win the Republican presidential nomination and then the White House.
"We're giving away so much equipment, we don't have ammunition for ourselves right now," he said. "We don't have ammunition for ourselves we're giving away so much."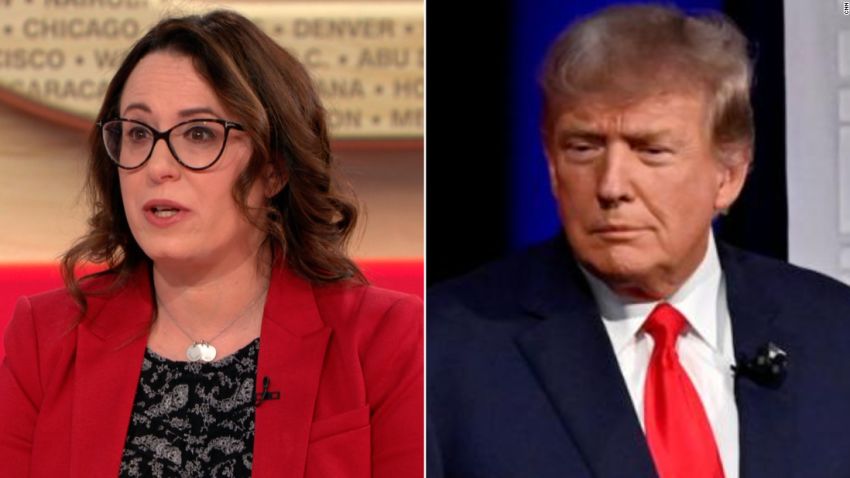 Haberman says Trump 'walked himself into some trouble' with CNN town hall comments
The White House last week estimated that the Russian military has suffered more than 100,000 casualties since December in its war with Ukraine. The US defines the term "casualty" as both wounded and killed.
White House National Security Council spokesperson John Kirby declined at the time to provide information on Ukrainian casualties, noting that it is Ukraine's decision to make its casualty figures public. "Ukrainians are the victims here, Russia is the aggressor … I don't need to abide by that same sense of courtesy for the Russians," he said.
Pressed by Collins on the conflict, Trump replied, "I'll say this: I want Europe to put up more money."
The US has provided Ukraine with $36.9 billion in military aid since the beginning of the war in February 2022.
Trump: Putin 'smart guy' who 'made a tremendous mistake'
While Trump said he would meet with Ukrainian President Volodymyr Zelensky and Russian President Vladimir Putin and solve the war in Ukraine "in one day, 24 hours," he would not say whether he believed Putin was a war criminal but that it "should be discussed later."
The International Criminal Court's chief prosecutor Karim Khan told CNN in March he believes Putin could stand trial for alleged crimes committed during Russia's war.
The ICC issued arrest warrants in March for Putin and Russian official Maria Lvova-Belova for an alleged scheme to deport Ukrainian children to Russia – a practice the Russian government has defended as saving them while denying that the deportations are forced.
Thousands of Ukrainian children have been subjected to forced deportations by Russia, according to Zelensky, who hailed the ICC's decision at the time.
"If you say he's a war criminal, it's going to be a lot tougher to make a deal to make this thing stopped," Trump said. "If he's going to be a war criminal, people are going to grab him and execute him, he's going to fight a lot harder than he's fighting under the other circumstance."
Trump called Putin "a smart guy," but said the Russian leader "made a tremendous mistake."
"Of course he's smart. They want you to say he's a stupid person. He's not a stupid person and he's very cunning. Putin made a bad mistake in my opinion."
When asked to elaborate, Trump said, "His mistake was going in. He would have never gone in if I was president," referring to Russia's invasion of Ukraine.
Muted initial response from allies
In an interview with European public broadcasters that was published on Thursday, Zelensky expressed confidence that Ukraine will win the war by 2024, thus mitigating concerns over the outcome over the presidential election.
"Who knows where we'll be (when the election happens)?" Zelensky said, according to the BBC. "I believe we'll win by then."
Other reaction across the Atlantic has so far been muted. European diplomats and officials expressed concern at Trump's comments but also noted that he has a history of making outlandish and contradictory statements on foreign affairs, according to conversations with four diplomats from four different European nations.
The sources – none of whom wished to be quoted – told CNN they took Trump's comments seriously but noted that his views did not have any practical effect for now, since he is not currently the Republican nominee. Even if Trump did end up back in the White House in January 2025, Europeans hope the Ukraine war will be over by then.
But Trump's former defense secretary, Mark Esper, said the comments from the Republican front-runner are likely to rattle allies and is "the wrong message to send."
"I fully expect that this is the chatter throughout the European capitals and other capitals around the world, quite frankly, because it's not just about Russia invading Ukraine," Esper said Thursday on "CNN This Morning." "It's about the possibility that China could invade Taiwan at some point in the future as well, and the question is, will America stand up? Will America support democracies, like Ukraine and Taiwan, and defend them like we've done in the past for decades?"
CNN's Tori B. Powell, Elise Hammond, Maureen Chowdhury, Amir Vera, Caitlin Hu, Betsy Klein, DJ Judd, Oren Liebermann, Haley Britzky, Vasco Cotovio, Luke McGee and Andrew Millman contributed to this report.