Pakistan is teetering after former Prime Minister Imran Khan was dramatically arrested by paramilitary troops on corruption charges, sparking a deadly outpouring of anger against the powerful military that has put the country on edge.
Unrest has spread across multiple major cities, resulting in unprecedented scenes of defiant crowds breaking into military properties and setting the homes of army personnel ablaze, directly challenging a usually untouchable force that has long sat at the apex of power in Pakistan.
Since it won independence in 1947, Pakistan has struggled with political instability, regime changes and coups with the military having a historically decisive role in who stays in power.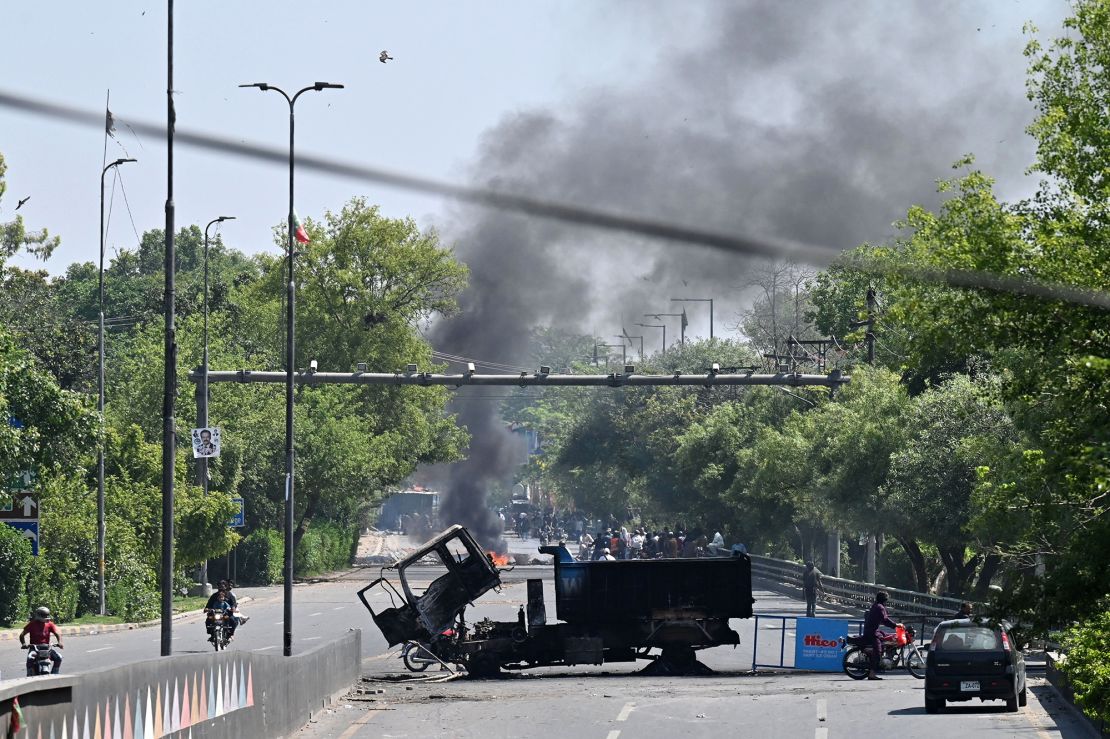 The army has accused Khan and his supporters of crossing a red line, saying that military property and installations have been "systematically attacked" and that "anti-army slogans were raised."
"Any further attack on the army, including all law enforcement agencies, military and state installations and properties, will be severely retaliated against," the military said in a Wednesday statement, its first since Khan's arrest.
"The full responsibility of which will be on the very group that wants to push Pakistan into civil war."
Police said they have arrested six senior politicians from Khan's party for "inciting arson and violent protests," adding more arrests should be expected soon.
The crisis comes as the nation of 220 million people grapples with an acute economic crisis, as soaring inflation leaves people unable to afford food and fuel, heightening fears about the country's stability in what is an election year for Pakistan.
Khan has consistently stated in interviews that attempts to arrest him are meant to ensure he is out of the running. The government has denied these claims.
Here's what you need to know.
Why was Khan arrested?
Khan was arrested on May 9 by paramilitary troops in a sudden operation that saw officers smash their way into a courthouse in the capital Islamabad to detain him on multiple corruption charges.
He is accused of illegally acquiring land to construct a university and has been placed on "physical remand" for eight days, his lawyer told CNN. Khan has also been charged in a separate case for unlawfully selling gifts sent to him by foreign leaders while in office.
In a pre-recorded statement released on YouTube by the PTI after his arrest, the former prime minister said he was "detained on incorrect charges" and told his supporters "the time has come for all of you to come and struggle for your rights."
On Thursday, Pakistan's Supreme Court ruled Khan's arrest was unlawful, overturning a lower court's ruling on Tuesday that it was legal. The court ordered that Khan be released, according to officials in Khan's political party, Pakistan Tehreek-e-Insaf (PTI).
What is happening in Pakistan?
Khan's arrest turbocharged what was already a tense showdown between the military and Khan's supporters that had been simmering for months.
The largest protests took place in the cities of Lahore and Peshawar, both political strongholds for Khan, and saw crowds clash with security forces.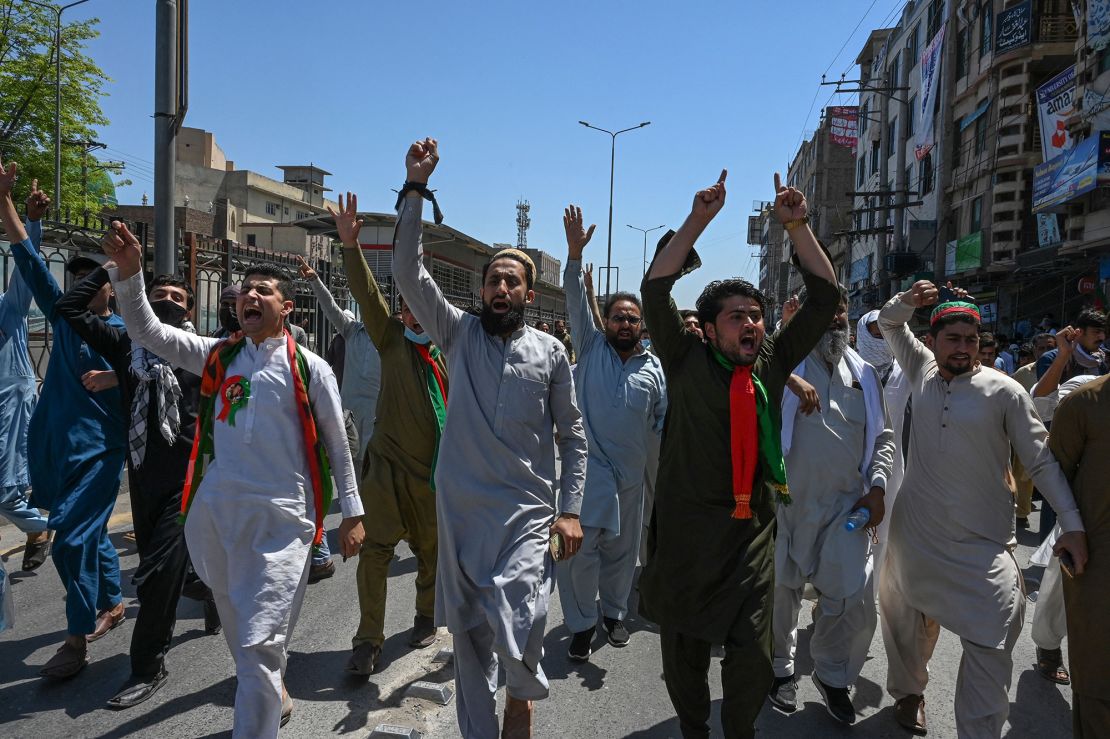 Hundreds of protesters stormed the headquarters of the national broadcaster Radio Pakistan in Peshawar, setting the building on fire.
At least eight people have died in the clashes and more than 300 been injured, according to officials. More than 650 people have been detained in the province of Khyber Pakhunkhwa, a government official who requested not to be named, told CNN on Thursday.
Police said nearly 1,000 Khan supporters had been arrested in the country's most populous Punjab province, according to Reuters.
Private schools were ordered shut nationwide, with certain countries, including the United States, issuing travel advisories. The government blocked mobile internet services in a bid to quell the chaos, disrupting access to Twitter, Facebook and YouTube. Popular apps and digital payment systems have also been disrupted.
Authorities in three of the country's four provinces have imposed an emergency order banning all gatherings. The military has been called into Islamabad and Khyber Pakhtunkhwa to provide security assistance.
Pakistan's Prime Minister Shehbaz Sharif has called Khan's supporters "terrorists" and has told them to "behave or face punishment."
Who is Imran Khan?
Arguably Pakistan's best-known prime minister in recent decades, Khan has made a name for himself as a politician, philanthropist and sports superstar both at home and around the world.
Born in 1952 in the city of Lahore, he received a prestigious education, rounded off with a degree in philosophy, politics and economics from Oxford University. He went on to become one of the best cricket players of his generation, ushering the Pakistan team to World Cup victory in 1992.
Riled by the constant state of corruption in a country historically led by powerful dynasties, his eyes were set on politics, and he founded his own political party, the Pakistan Tehreek-e-Insaaf (PTI), in 1996.
The party mostly languished in the political wilderness until 2013, with a crop of new voters attracted by Khan's promise to put an end to corruption and economic troubles. The PTI roared ahead in that year's general election – though they were unable to win a majority.
In 2018, backed by the military, Khan was voted prime minister, promising a "new Pakistan," vowing to eradicate poverty and corruption.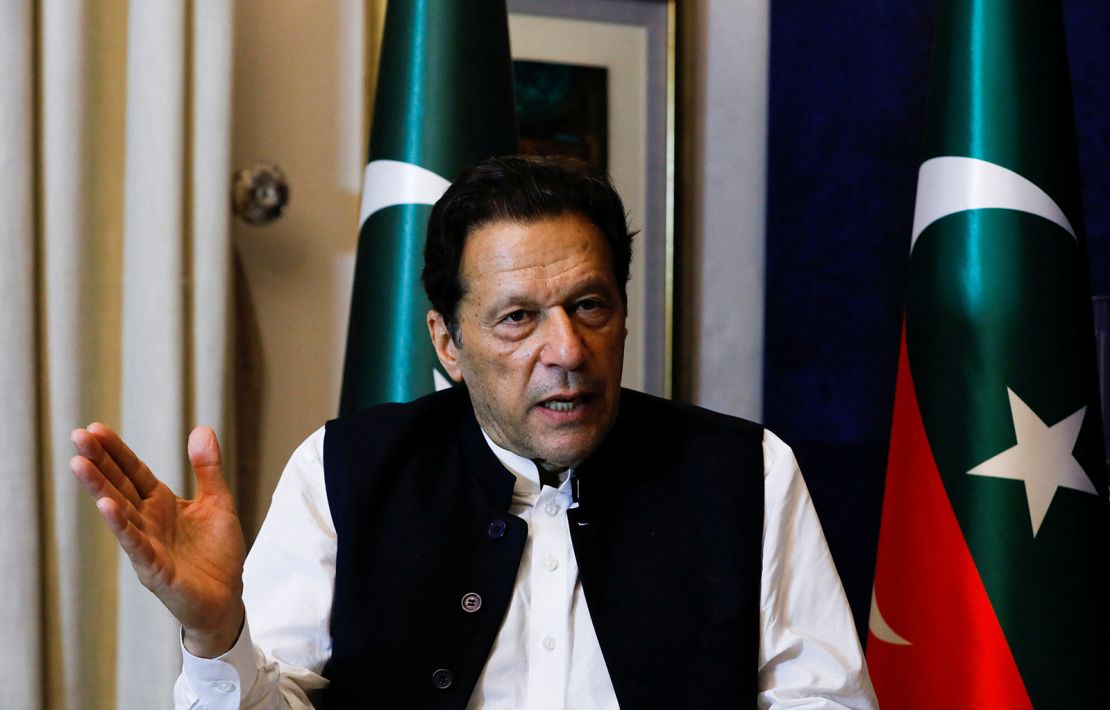 His unique brand of Islamic populism won him support from a young population in a country where anti-American sentiment and anti-establishment feelings are common.
But his relationship with the generals soured and things took a turn last year when Khan was removed from power in a vote of no confidence over claims of economic mismanagement.
The ouster riled his supporters, sparking mass protests, as Khan increasingly spoke out publicly against the military's role in politics.
Last November, Khan survived a shooting at a political rally, in what his party called an assassination attempt.
Acting on the corruption charges, police and paramilitary troops had attempted to arrest Khan multiple times in recent months – with one operation this March ending in chaos as his supporters challenged authorities outside his home.
And the political upheaval appears to have only bolstered Khan's popularity. Last year, his PTI party won local elections in the country's most populous Punjab province, seen as a litmus test for national elections.
Why have protesters targeted the military?
Since Khan's ouster, tens of thousands of his supporters have taken to the streets in key cities across Pakistan to protest, chanting slogans against Pakistan's military.
Regarded as a formidable force in the country, the military has intervened in Pakistan's politics multiple times in history, at times running the country directly.
And while political leaders have sometimes challenged its dominance in the past, analysts say the current situation is different because of who Khan's supporters are.
It is "unique" that Khan has "garnered significant public support from the urban middle class, a group that has not traditionally been involved in challenging the military's role in politics," said Syed Baqir Sajjad, a Pakistan Fellow at the Wilson Center in Washington.
"This has put increased pressure on the military establishment, which is feeling the heat more this time," he said.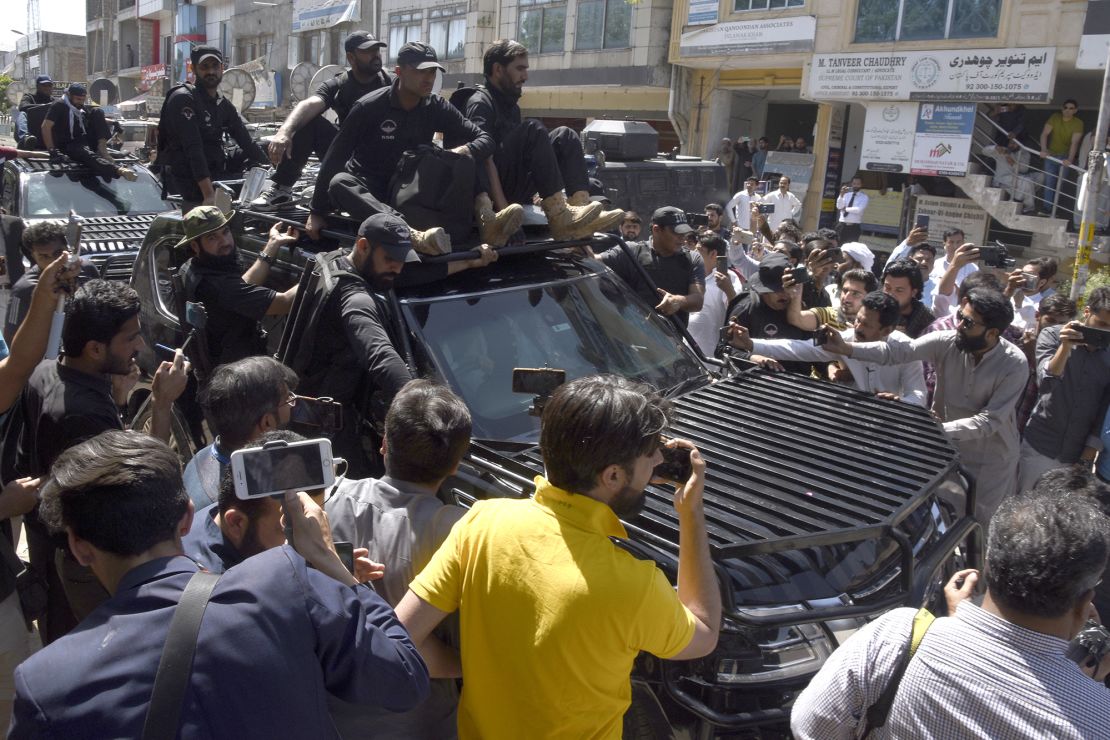 Khan has repeatedly accused the military of conspiring with Sharif to remove him from office, even calling out a senior official by name and accusing him of being behind the shooting that injured him in November.
Going on Khan's claims, his supporters have targeted their rage toward the military, fervently taking to social media to put out messages against the establishment.
"The intensity and consistency of Imran Khan's attacks on the military, especially after being ousted from office last year, are unprecedented," said Sajjad.
"It remains to be seen how this conflict will play out in the long term, but it is clear that the relationship between the military and civilian government in Pakistan has always been a fragile one, with power struggles frequently erupting into open conflict."
What happens next?
The situation on the ground remains tense with Khan in custody and no clear off-ramp to the crisis for now.
All of this, Sajjad said, puts Pakistan in a precarious place and raises concerns about "the country's stability."
"The chance of the military establishment getting (a state of) emergency imposed in the country and keeping former Prime Minister Imran Khan behind bars for a prolonged time is fairly high, because none of the political actors are strong enough to pose a serious challenge to Khan's PTI in polls," he said.
"No situation is expected that would drastically alter the ground situation in favor of the incumbent government. Meanwhile, the army cannot afford Khan's return to power."
However, he adds it is "crucial to note" that such a move would have "severe consequences" for the country's democratic institutions.
"The imposition of a state of emergency would likely result in the suspension of civil liberties, the suppression of political dissent, and the curtailing of press freedom," he said. "This, in turn, could lead to further unrest and instability, making it harder for Pakistan to attract foreign investment and maintain its economic growth."