Fort Benning, a massive US Army training base near Columbus, Georgia, was renamed Fort Moore on Thursday to honor the late Lt. Gen. Harold "Hal" Moore and his wife Julia, who both made "meaningful and lasting contributions" to the Army, officials said.
Moore served in the Army between 1945 and 1977, with assignments in Japan, Korea, Norway and Vietnam. He commanded the United States Army's First Battalion of the Seventh Calvary during the 1965 Battle of Ia Drang Valley, considered the first major battle in the Vietnam War, and his efforts were portrayed in the 2002 film "We Were Soldiers."
Julia Moore "was equally distinguished as a leader of Army family programs who changed how the military cares for the widows of fallen Soldiers," the Army said in a statement announcing the renaming earlier this year.
The Georgia post is one of nine US Army installations being renamed after the recommendation of a congressional commission set up to remove Confederate names from military bases.
Established in 1918, the base was originally named after Brig. Gen. Henry Benning, a Confederate general who strongly defended slavery and was a leader in the South's secession movement, CNN previously reported.
During Thursday's renaming ceremony at Doughboy Stadium, the base's commanding general, Maj. Gen. Curtis Buzzard, praised the couple for their leadership.
"Lt. Gen. Hal and Julie Moore were courageous leaders and visionaries whose lives exemplify duty, honor, country, and each time we pass through the gates, their legacy will inspire us," Buzzard said.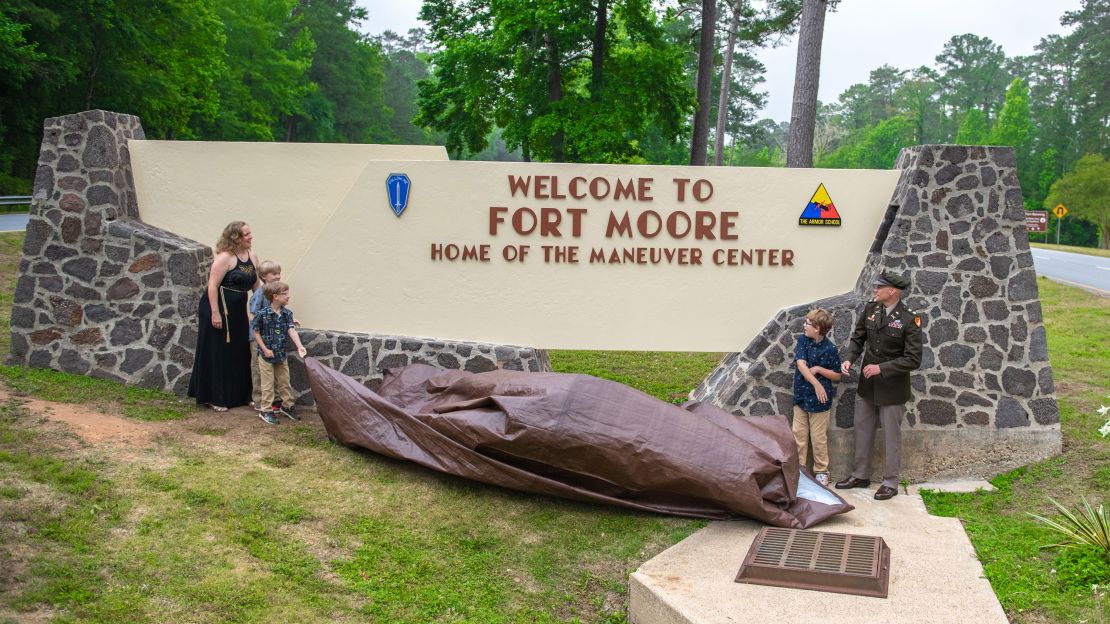 Relatives of the couple who attended the ceremony watched as soldiers replaced the Fort Benning colors with a new official flag before unveiling a new sign at the entrance of the base.
The couple's son, retired Col. David Moore, remembered how his parents loved their Army family.
"They loved the Army and their beloved troopers. So much so that my father's last wish was to be buried among his troopers here at the post cemetery. The same troopers my mother referred to as their sons and brothers and with whom she is buried as well," Moore said.
Retired Col. Ramon "Tony" Nadal, who served alongside Moore, said Moore's service "made me better."
"He made his soldiers better, he made the Army better," Nadal said during the ceremony. "The naming of this post in honor of Hal and Julie will serve as a beacon to the many young men and women who will follow them in honor, integrity, and allegiance in service to their country."
Earlier this week, Fort Hood in Killeen, Texas, was also renamed.
On Tuesday, the base was re-designated as Fort Cavazos in honor of Gen. Richard Edward Cavazos, a veteran of the Korean and Vietnam wars who was born in Texas to Mexican-American parents. In 1982, he became the first Hispanic to wear four stars on his uniform.