Russia's air force may have just suffered one of its worst days since the Ukraine war began. Unconfirmed reports say that four of its aircraft were shot down within Russian territory, in what would mark a significant coup for Ukraine.
There are conflicting accounts about how many planes and helicopters may have been brought down inside the Russian region of Bryansk, but one Russian media outlet says that at least two combat aircraft – an Su-34 and an Su-35 – and two Mi-8 helicopters crashed.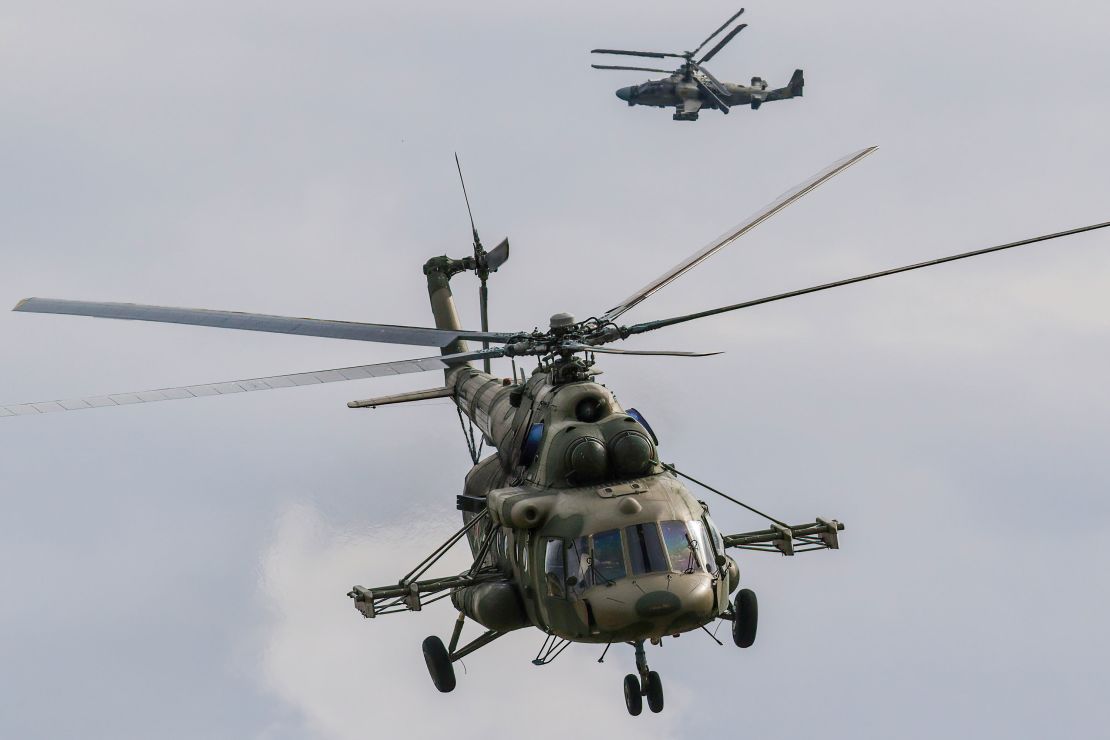 Ukraine has not confirmed its air defenses were involved in the reported downing of the Russian aircraft on Saturday, but says the aircraft "ran into some trouble."
Bryansk is on the border with Ukraine and has seen previous attacks blamed on Kyiv.
Multiple crashes within Russian territory at the same time would be unprecedented. Some analysts believe Ukrainian air defenses may have been pushed forward as the Russian air force uses more "glide munitions" that can fire at targets from distance.
The Ukrainian air force spokesman, Yuriy Ihnat, said Sunday that a Russian "strike air group attacked Ukraine from the north, from Bryansk Oblast. They do this almost every day. They carry out strikes with guided bombs."
In this instance, he said, "they ran into some trouble. They wanted to bomb our civilians, our peaceful people." He went on to call it a "black day" for Russian aviation.
Social media videos geolocated by CNN show at least one helicopter crashing near the town of Klintsy in Bryansk, which is 50 kilometers from the Ukrainian border.
Aleksandr Bogomaz, the Governor of Bryansk, confirmed that a helicopter had crashed, injuring one civilian, but gave no details on the cause.
Another video, showing an aircraft coming down and a column of black smoke, has been geolocated to a village in Bryansk some 25 kilometers from Klintsy.
The official Russian news agency TASS published video of one helicopter exploding in mid-air and confirmed that an Su-34 fighter had crashed, without indicating the cause.
'Complete idiocy'
There's been no word from the Russian Defense Ministry on the incident, but one unofficial Russian Telegram channel described it as the worst day for Russian military aviation since March last year.
The Russian newspaper Kommersant said that "a group of two Mi-8 helicopters and Su-34 and Su-35 fighters crashed in the Bryansk Oblast," and suggested more helicopters might have been hit.
It added: "The attackers are being sought on the ground and in the air."
Kommersant reported that the "fighters were to carry out a missile-bombing strike on targets in the Chernihiv Region of Ukraine, while the helicopters were to back them up, including to pick up the Su crews if they were shot down by enemy fire. All four machines did not return to the airfield. Their pilots were killed."
The Kommersant report cannot be independently verified. But other Russian sources have begun discussing the incident, with one popular Telegram channel that posts about the conflict saying: "We are talking about a carefully planned [Ukrainian] operation here."
Andrei Medvedev, a deputy on Moscow city council, said Saturday four aircraft had been lost and added: "Luhansk yesterday [a reference to missile strikes on the city], a strike on our air force today. Probing the defenses. Where it breaks. And strikes on the rear, infrastructure, and aviation."
Another Russian Telegram channel that posts daily about the conflict claimed the Ukrainians were "launching rockets from the Chernihiv region, coming almost to the very border."
Daniil Bezsonov, a Russian military blogger, posted Saturday that "The enemy most likely acted from an ambush by its air defense forces, which had moved into the border zone in advance, from which the distance would allow our air group to be hit. So the enemy most likely knew the route and time of our air group's departure."
There was also consternation among Russian bloggers that one Mi-8 helcopter shot down had advanced jamming equipment.
One Russian Telegram account said it was "complete idiocy" to send such a helicopter so close to Ukrainian defenses, saying "you had to be completely detached from reality" to send the specially-equipped Mi-8s into such a zone.
Military analysts assess that Ukraine may have pushed its air defenses forward to the border in regions such as Chernihiv to combat the Russians' growing use of bombs that can be launched from distance, almost acting as a missile.
Ihnat said last month that the Russian military was converting FAB-500 high-explosive aerial bombs into cruise missiles. They are using these bombs "from a distance that is unreachable for Ukrainian air defense," he said.
Mykola Oleshchuk, the commander of the Ukrainian Air Force, has also suggested that the nature of the threat has changed.
"The planes of the Russians do not enter the zone of damage of our air defenses, striking remotely at the front line and near-frontline cities," he said on Telegram in April.
Saturday's events in Bryansk suggest that zone may now have been expanded into Russian territory.
It also suggests – as a number of unofficial Russian sources have pointed out – that Ukraine in this case possessed detailed intelligence about the planned Russian mission. That may be as of much concern in Russia as the loss of four aircraft over Russian territory