Barcelona's ascent back to the top of Spanish football has been faster than anyone – even the most optimistic of 'Culés' – could have imagined.
With a 4-2 away victory at city rival Espanyol on Sunday, Barcelona secured the team's first La Liga title in four years after a turbulent period for the club both on and off the pitch.
Celebrations at the RCDE Stadium were cut short, however, as some Espanyol fans rushed onto the pitch to confront the Barcelona players as they were enjoying the festivities.
But the chaotic end to the night will do nothing to dampen Barcelona's joy and such has been the Blaugrana's dominance this season, Xavi's side clinched the trophy with four games still remaining and his iteration will undoubtedly go down as one of the greatest defensive teams in La Liga history.
The record for the fewest number of goals conceded by a team in a single 38-game season is 18, held jointly by Deportivo La Coruña (1993-94) and Atlético Madrid (2015-16).
With only 13 goals conceded so far this season, Xavi's Barcelona is set to obliterate that record.
After the pain of Lionel Messi's departure, financial turmoil and now the looming 'Caso Negreira' scandal, this title will no doubt taste all the sweeter.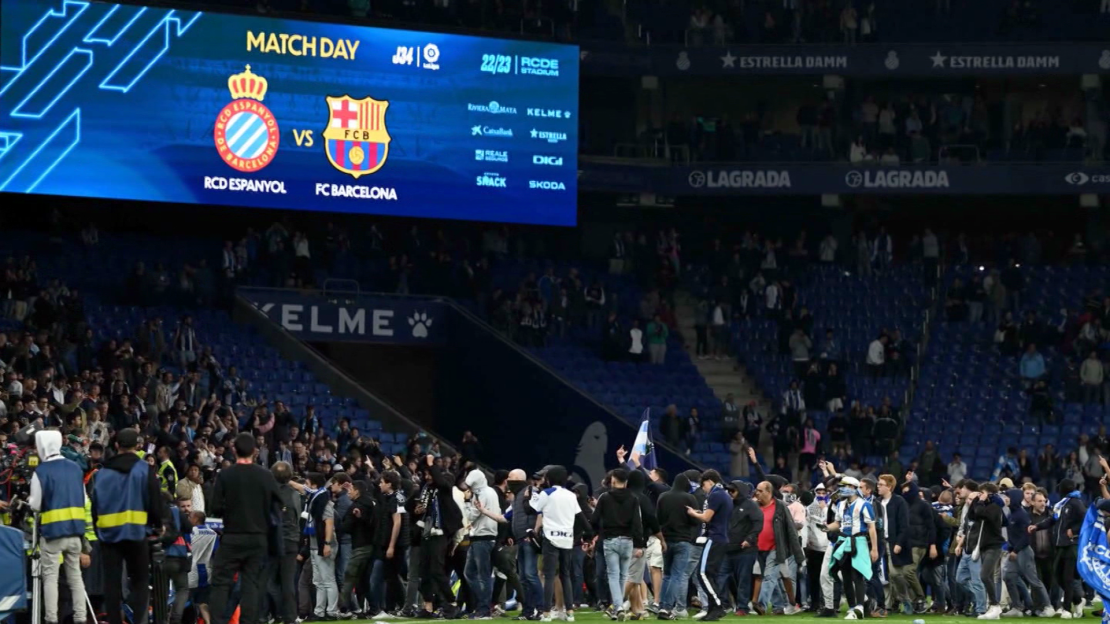 "Not only for me, but for the club and for all Barcelona fans it's very important to win La Liga," Barça striker Robert Lewandowski told CNN Sport ahead of the match against Espanyol.
"We know that we're going to do it and then we can, I hope, celebrate with the fans because it will be something amazing, something huge. It's been a few years since Barcelona has won this title, so we've done well.
"We won so many games that were very tough. I think the first round [of fixtures] was very important, we proved that we can think about winning La Liga.
"We know that it's a process, we do things step-by-step and this kind of title can help us and the team a lot."
But just how has Barça gone from European laughing stock to the king of Spain?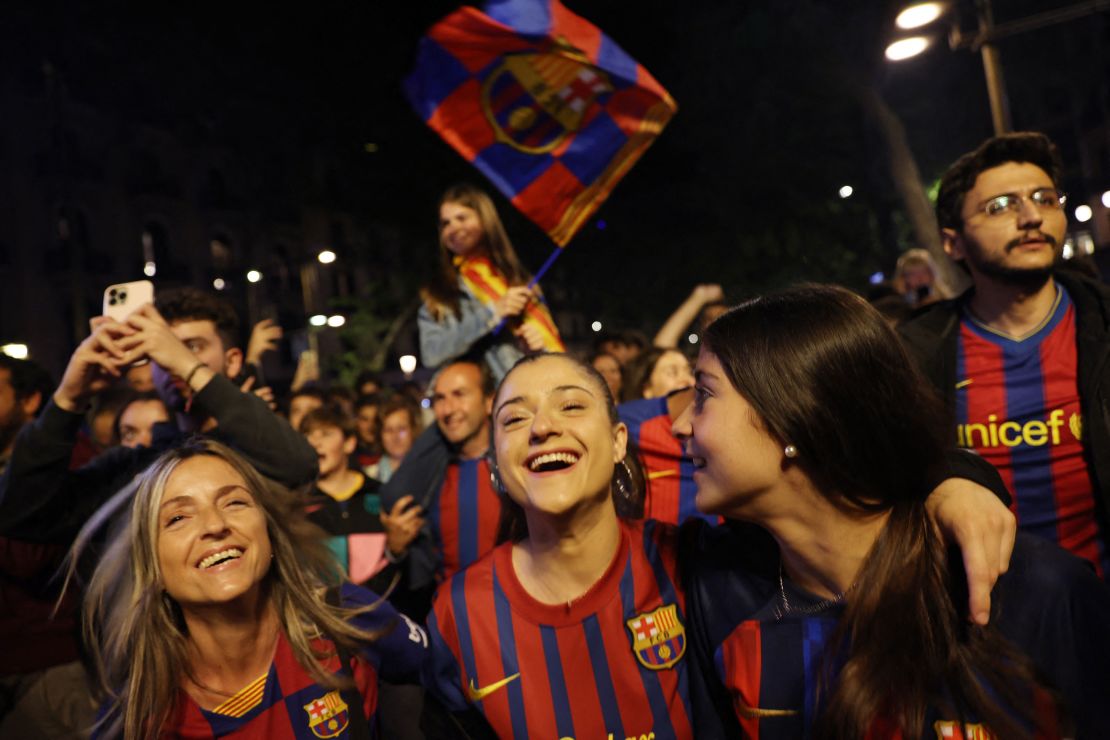 Xavi's revolution
'Defensive' isn't necessarily a word fans would associate with Barcelona, with much of the club's recent history defined by attacking play based on intricate passing patterns – and whatever magic Messi could conjure up.
However, solidity in the backline has provided the bedrock for Xavi's success since his return to the club in November 2021.
Success of any kind looked a long way off at the time, as Pep Guardiola's protégé inherited an aging squad with no identity that had fallen well behind Real Madrid and Atlético Madrid the previous season, while also later dropping into the Europa League for the first time since 2003-04.
The pressure was certainly on, too, as fans had been clamoring for Xavi's return long before he arrived in the dugout and there was a sense that he had been anointed as the club's savior.
"He's done very well because he has adapted to the current situation," Catalunya Radio journalist Ernest Macià tells CNN Sport. "Xavi's Barça was not Guardiola's Barça or Luis Enrique's Barça, so Xavi knew that he could not play the same style of football, offensive football as he would have preferred.
"Instead, he has chosen a more defensive approach to secure a solid defense and controlling the games from the midfield.
"I think that Xavi has, let's put it this way, betrayed that traditional DNA of FC Barcelona because he knew that this team was not prepared to play like Manchester City because their young talents were still too young."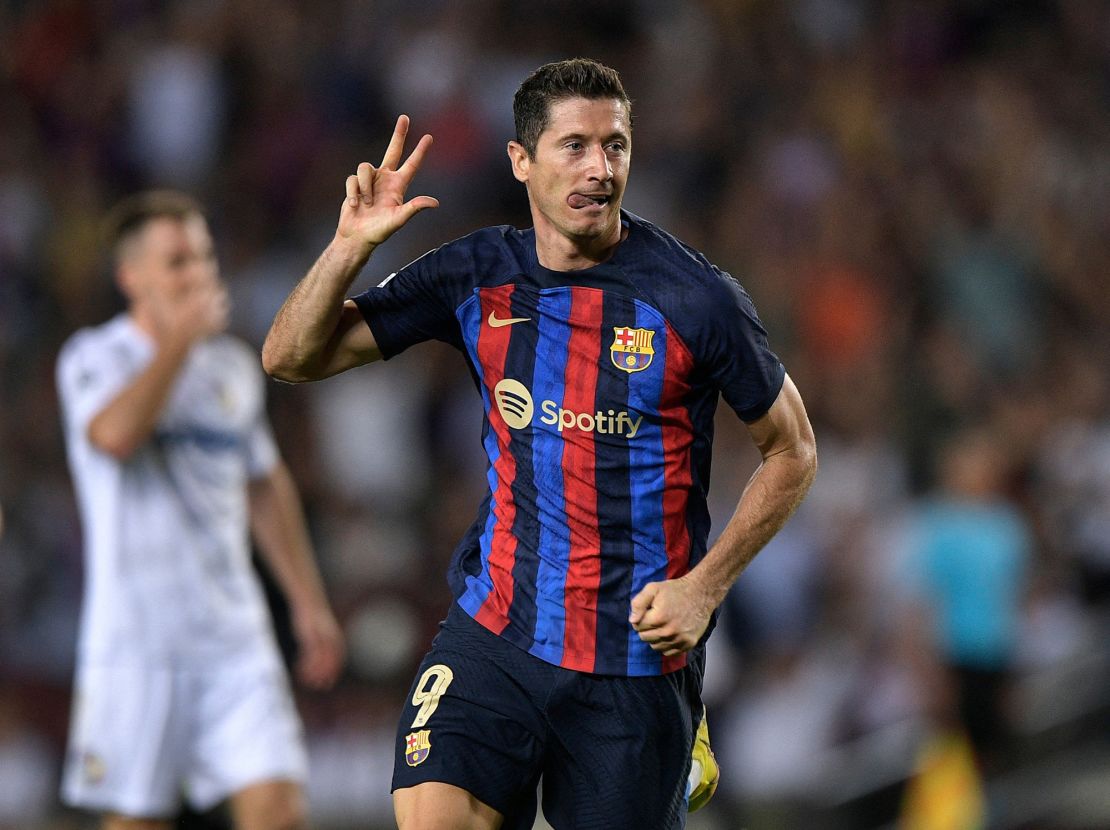 With that inexperience added to Barcelona's lack of physicality in midfield, which the club only partially addressed with its signings, Lewandowski's goals drying up in the second half of the campaign and Ansu Fati's lack of development, Macià says Xavi's ability to fall back on the team's defensive prowess has been crucial.
"So there's been a problem there, but luckily Barcelona was solid in defense, which is something that we haven't seen," he says. "So credit to Xavi because he has got results in a club where results go at the same level with beauty and nice football.
"But even if there's been a lot of criticism about the sadness of Xavi's football sometimes – not always, but sometimes – results are there and fair play to Xavi because he's done it in a very difficult environment."
Xavi also had the added challenge of reshaping a team and squad that had so far failed to adapt to life without Messi.
Before his shock move to Paris Saint-Germain in 2021 – caused solely by Barcelona's dire financial state – Messi had been the glue holding the Catalan club together.
Even while he was there, Messi's consistently brilliant match-winning performances were only enough to paper over the cracks of a team that had been slowly crumbling for some time.
Xavi's remodeling hasn't been cheap, however, with Raphinha, Jules Koundé and Lewandowski each being signed for more than $50 million. Those transfers necessitated some complex financial juggling.
But on the pitch, Xavi has got his new-look team clicking and there has perhaps been no better coach to oversee the emergence of young stars Gavi and Pedri in midfield, two players who have been heralded by some fans as the second coming of Xavi and his former midfield partner Andres Iniesta.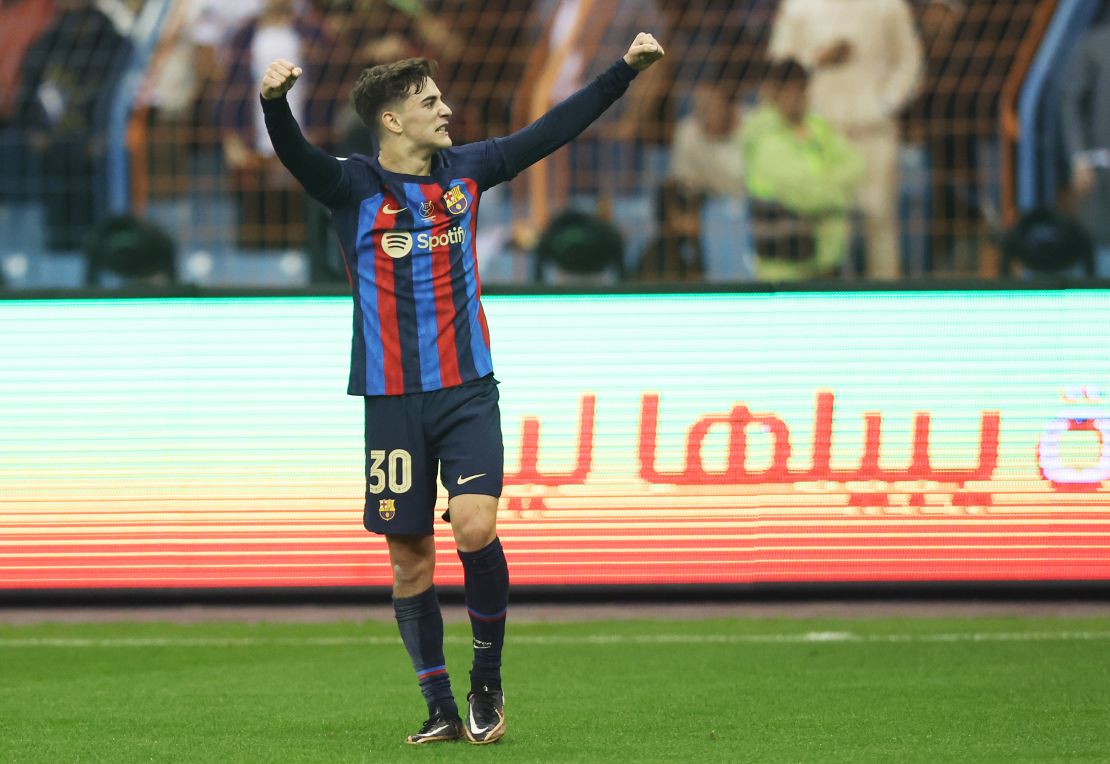 Indeed, Xavi has already admitted that he believes Barcelona's current midfield duo are better than he and Iniesta were at the same age.
In recent years, Barcelona's financial problems have been exacerbated by the club's decision to move away from promoting talent from its famed La Masia academy and instead opting to pay for big-money signings, with the club spending well over $1 billion on transfer fees since the 2013-14 season.
And while Macià believes Real Madrid's surprisingly poor domestic season opened the door for Barcelona's title challenge, the reintroduction of young talent from La Masia has been the "key" to Barça's success.
"Pedri and Gabi are the cornerstone of the current project," he explains. "This is why Barcelona keeps a certain level that allows them to compete against Madrid and the rest of the teams with regularity.
"Also some of the players that have been important in recent years, even if they were older like Sergio Busquets, have helped and then some of the top players from the previous time, Frenkie de Jong being one of these, and Lewandowski, who has helped Barcelona score goals in the first part of this season.
"I think that the convergence of these elements, but the fact that Barcelona has had young talent to resist these difficult times has also been an important factor for Barcelona winning the domestic league."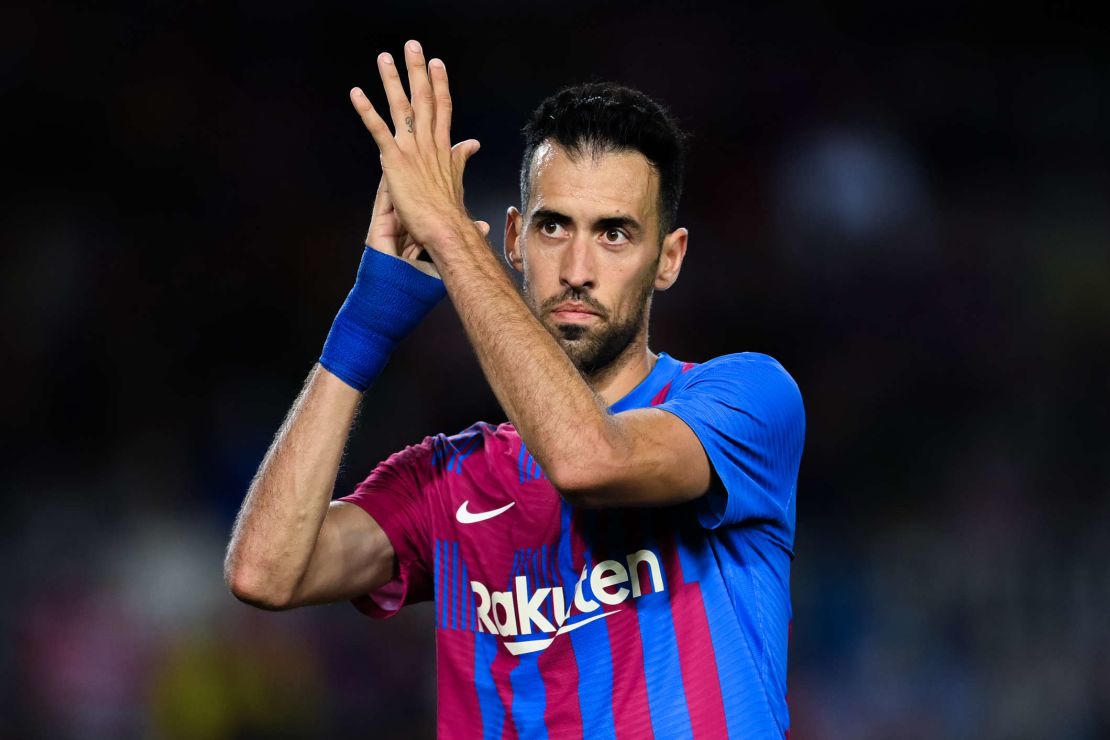 Finances and the 'Caso Negreira'
Off the pitch, Barcelona's coffers are certainly healthier than they were three years ago.
Huge deals with audio streaming service Spotify and global investment firm Sixth Street, among others, have helped the club claw its way back from the total financial disarray it found itself in following the Covid-19 pandemic.
Back in September, Barcelona said it had recorded a profit of $98 million for the 2021-22 financial year and predicted profits of $298 million for this current season.
The club also recently announced the renegotiation of the $1.6 billion financial plan to repay the debt taken on to finance the renovation of its dilapidated Camp Nou stadium, meaning Barcelona will now pay off the debt five years earlier than originally planned.
The club's ability to once again pay big fees and big contracts to players, coupled with Messi's impending departure from Paris Saint-Germain, have fans dreaming that the greatest player in the club's history could return to Barcelona to finish his career.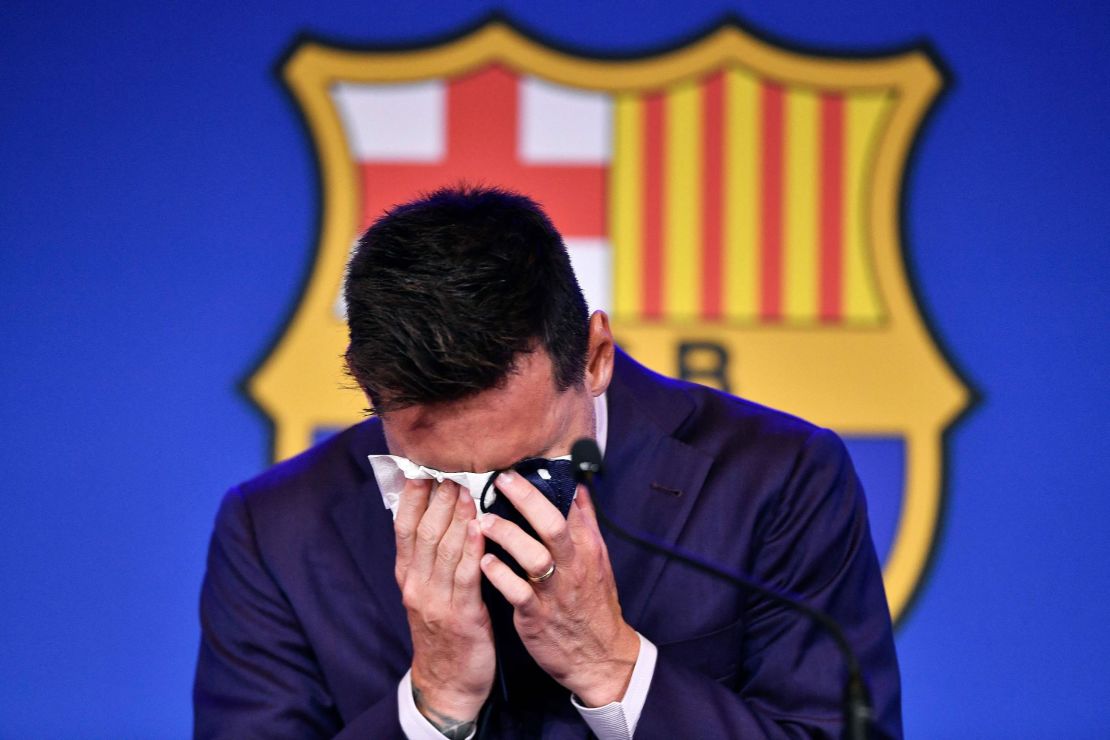 But Macià believes the Argentine's return could come at a cost.
"If Messi comes, there will be no room for many more signings," he says. "If Messi doesn't go, Barcelona will not be compelled to, for example, sell important players like De Jong or other players that can give Barcelona enough money, like Ansu Fati.
"So if Messi goes to Saudi Arabia it will be, I believe, easier. Although, of course, from a romantic perspective it would be perfect that Messi finishes his career in Barcelona and everybody will love it – and [club president] Joan Laporta is trying to do so.
"If Messi comes, yes, he will generate new incomes for the club, but it won't be easy to rebuild a new structure. Of course, you will have to sell talent and you'll have to trust young, young players.
"There are some players that are 15 or 16 that have already made their debut with Barcelona. They have shown good signs of quality, but I think it will depend on Messi."
Despite the on-field success this season, Barcelona has been grappling with the 'Caso Negreira' scandal in the second half of the campaign.
UEFA, European football's governing body, said in March that it had opened an investigation into alleged improper payments made by Barcelona to José María Enríquez Negreira, a former leading refereeing official in Spain.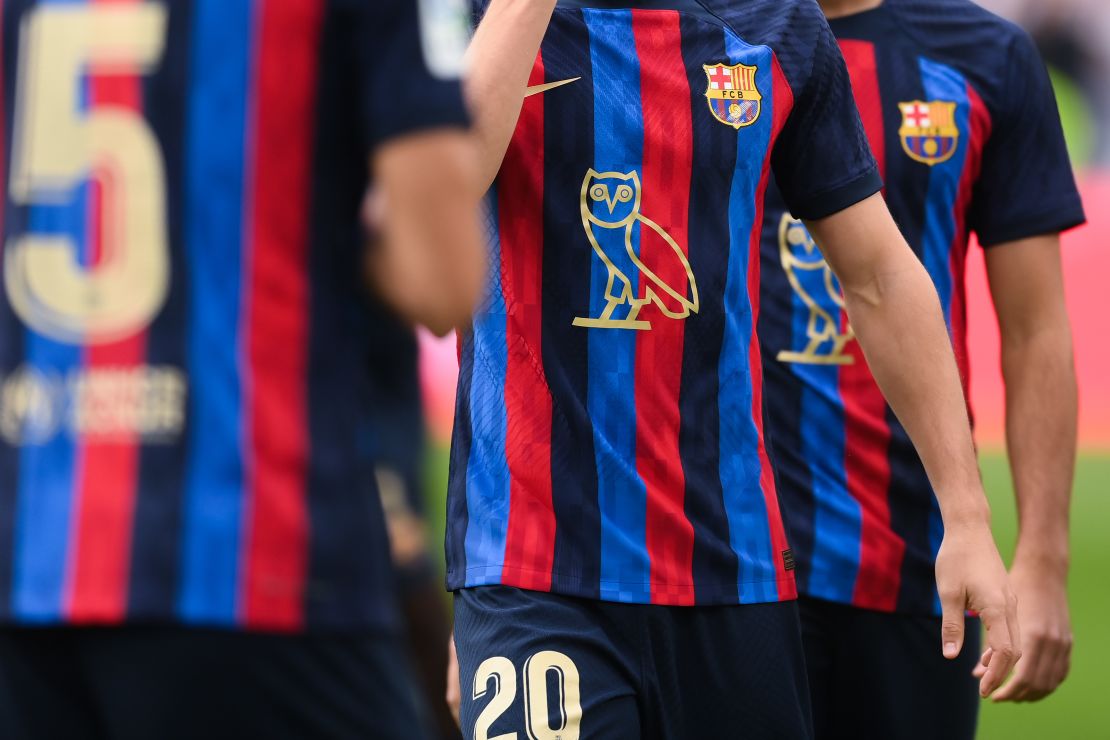 The Catalan club was charged by the Barcelona provincial prosecutor's office with "continued corruption between individuals in the sports field," in addition to other charges in relation to an alleged payment scandal which has rocked Spanish football.
In March, a Barcelona source told CNN that the club strongly denied that it had at any time bribed a referee or tried to influence refereeing decisions.
While the ongoing case clearly hasn't been a distraction on the pitch, Macià says the outcome of UEFA's investigation could be crucial to Barcelona's progress going into next season.
"It will depend on UEFA's decision to allow Barcelona to play in European competitions or not," he says.
"It's a lot of [prize] money and some players will want to come to Barcelona because they play European competitions. If they don't [ban Barcelona], then yes, I see a big change coming."
After so many problems, both on and off the pitch, Macià says this title feels particularly sweet.
"Yes, it feels like heaven."