Ecuador's President Guillermo Lasso appeared before lawmakers on Tuesday in a showdown with potentially dramatic consequences: The embattled president faces a looming impeachment vote – but could turn the tables on his political enemies through a constitutional clause known as "mutual death."
The country's opposition-led National Assembly is gearing up to vote on impeaching Lasso, who is accused of embezzlement and interfering in the negotiation of a shipping contract related to the export of oil products. Lasso has insisted he is innocent and says the allegations are politically motivated.
Lawmakers are expected to vote on Lasso's impeachment over the weekend.
But he could pre-empt the vote by dissolving the assembly, a tactic known as muerte cruzada (mutual death). This would see Lasso resign, triggering snap elections for both the presidency and the National Assembly, according to a clause in the Ecuador's constitution.
Both scenarios could escalate political turmoil in a country engulfed by criminal violence, say analysts. Ecuador has faced spiraling drug-related crime rates, prison riots, and a recent series of high-profile assassination attempts, causing many to fear leaving their homes.
Ordinary Ecuadorians worry about what comes ahead. Romulo Ricachon and Washington Zamora, who work together selling fruit and vegetables in a street market in the southern capital Quito, say they normally agree – but that Lasso's potential impeachment has divided their opinions.
While Ricachon believes Ecuador's president Lasso should complete his mandate, Zamora thinks the president's time is up and that the country's problems require a new leader.
"I think the country is broken, in a way it never happened under previous governments like it happened with this one. Honestly, we are in pieces: business doesn't move anything, you can't sell anything." Zamora told CNNE.
"They push Lasso out, and who comes next? Who will take office? It's a bit complicated, and that will mean more crime, no?" responded Ricachon. He believes crime and insecurity are the biggest challenges the country faces.
Why is Lasso so unpopular?
Lasso, a self-made millionaire, ran on a platform of liberal values before coming into power in 2021, promising more foreign direct investment and encouragement of entrepreneurship. He was lauded for a successful Covid-19 vaccination drive at the start of his term, enjoying high approval ratings at the time.
It went downhill soon after.
Last year, amid weeks-long protests over rising fuel and food prices, Lasso survived another impeachment attempt. But he has struggled to work with the National Assembly and implemented several states of emergencies to tamp the bloodletting in the country, which has seen hundreds killed in brutal prison riots between rival gangs, to very little success, say critics.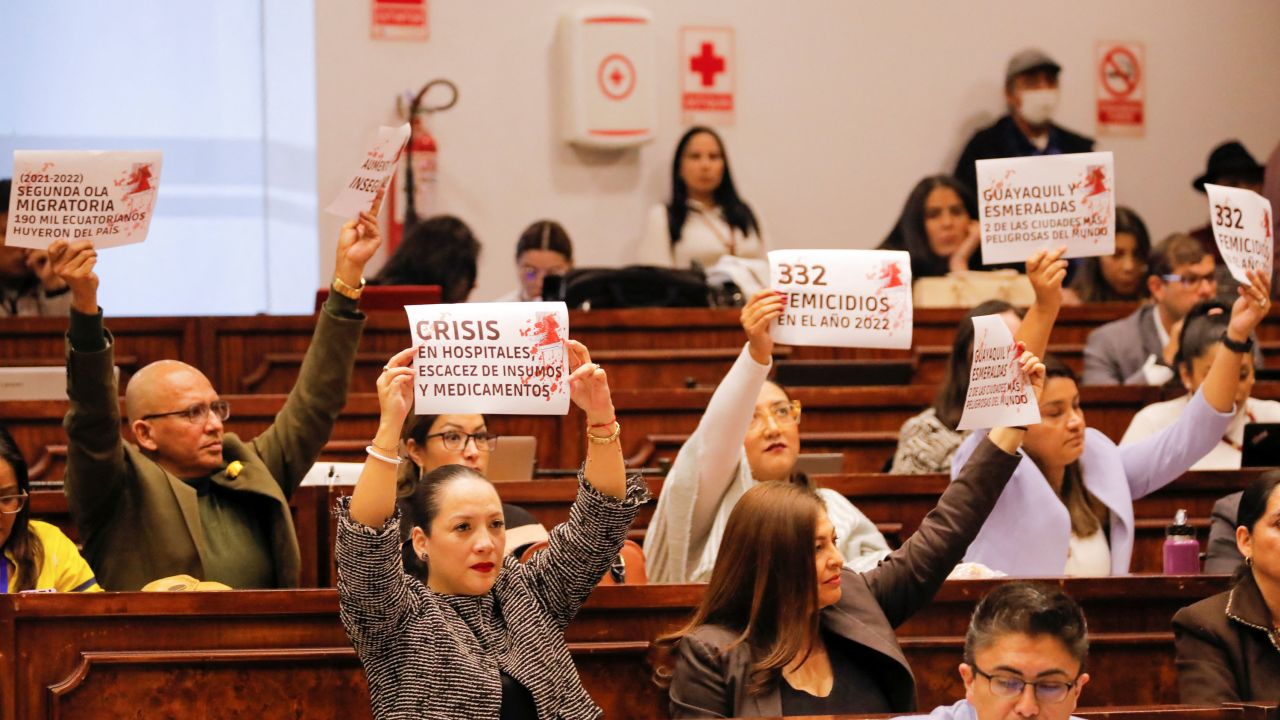 The former banker is also rapidly losing political capital. In February, opposition parties won key mayoral positions in Quito and in Guayaquil, a major city. A referendum that he backed on eight reforms, including allowing the extradition of criminals, failed in February.
Last week, lawmakers re-elected opposition lawmaker Virgilio Saquicela as the National Assembly's president, with 96 votes. Lasso's coalition currently holds 25 seats in the legislative chamber.
What does the impeachment process look like?
Once the president wraps up his defense on Tuesday and leaves the legislature, each of Ecuador's 137 National Assembly members will be accorded ten minutes to speak.
Then Saquicela, the National Assembly president, will set a date within five days for the impeachment vote. A supermajority, or 92 votes out of 137, will be needed for the motion to pass, opening impeachment proceedings.
If Lasso is impeached, his Vice President Alfredo Borrero will take the presidency until the next general elections in 2025.
Analysts warn that ordinary Ecuadorians are unlikely to see much benefit from a political handover. "Nothing suggests he (Borrero) would be better equipped than Lasso to grapple with Ecuador's surging crime rates and struggling economy," Will Freeman, a fellow at the Council on Foreign Relations, told CNN.
He "might tame conflict between the executive and legislative branches, but it would not provide a solution to the bigger forces destabilizing life in Ecuador: crime, poverty, and an outflow of migrants not seen for twenty years."
What happens if Lasso invokes muerte cruzada?
Should Lasso decide to invoke mutual death, the National Assembly will be dissolved while Lasso and his government would remain in office until a new general election takes place in around six months.
In that time, Lasso will rule by decree, a politically tempting but risky gamble as Ecuador's opposition and influential federation of Indigenous organizations have promised mass protests.
Such a move could even exacerbate Ecuador's fragile security issues.
"In the short term, the application of muerte cruzada would absolutely cause instability," Freeman said. "Lasso is too unpopular to benefit from the impression that he's overriding checks and balances to finally get something done," he added.
Still, there is a possibility that Lasso could ride out the instability and "there's a long-shot chance he could use rule by decree to build back at least some of his former popularity," Freeman said.