One after another, bright flashes pierced through Kyiv's night skies early on Tuesday morning, as Russia launched an "exceptional" aerial assault against the Ukrainian capital.
Most Kyiv residents would have had no way of knowing for sure that the sudden, terrifying loud bangs were the Ukrainian air defense systems taking down Russian missiles, rather than rockets hitting their city.
Liudmyla Kravchenko, her husband and their two children spent most of the night hiding in their corridor.
"There's no bombshelter nearby, the underground station is quite far from us … I think it's even more dangerous to try to get there during the bombardment," she told CNN.
Kravchenko said that while her family doesn't always take shelter during air raid alarms, last night was different. "It was very scary, so after we heard the first explosions we rushed to the corridor … of course in case the missile hits our house directly, none of this will save our lives - not two walls, not three, not even five," she said, pointing to the guidance that people unable to reach shelters should stay inside and try to be separated from a potential impact zone by two walls.
She said her one year old son Artem slept in her arms as they were waiting for the attack to end. Her nine-year-old daughter is now so used to air raids that she knows to "to drop everything and take cover" when her parents tell her to.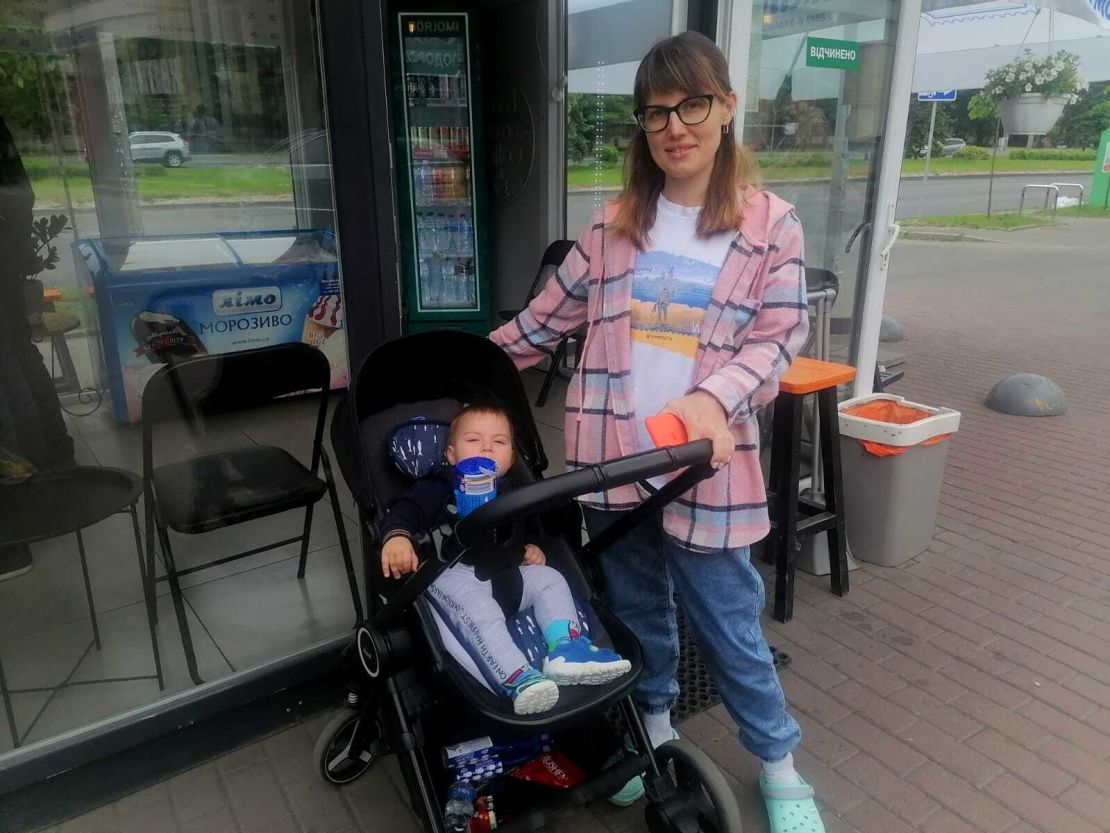 "My wife counted over 30 explosions and we saw dozens of launches by the Ukrainian air defense from our balcony. It was so fast, we didn't even have time to get to a shelter," Tymofiy Mylovanov, a presidential adviser and head of the Ukrainian School of Economics, said on Twitter.
Serhiy Popko, head of Kyiv's military administration, said in a Telegram post that the barrage of missiles on Tuesday was the eighth assault on the Ukrainian capital this month. He said the attack came from multiple directions and was "exceptional in its density, with the maximum number of attacking missiles in the shortest time possible."
Despite the intensity, most of the Russian munitions failed to hit their marks after being detected and destroyed by Ukraine's defense systems, Popko added.
The falling debris caused some – although limited – damage on the ground. At least three people were injured, according to Kyiv Mayor Vitali Klitschko. Authorities said early reports of damage were minor, with a building and several vehicles catching fire from falling debris in one area of the capital.
Klitschko said some debris fell within the grounds of the Kyiv Zoo, damaging some green spaces but not causing any injuries to the animals. The mayor added the zoo would be open as normal on Tuesday.
Air defenses hard at work
Ukrainian Armed Forces chief Gen. Valerii Zaluzhnyi said the attack, which started at about 3:30 a.m. local time, was launched from the north, south, and east.
"Six Kh-47M2 Kinzhal aeroballistic missiles were fired from six MiG-31K aircraft, nine Kalibr cruise missiles from ships in the Black Sea, and three land-based missiles (S-400, Iskander-M)," Zaluzhnyi said on Twitter, adding that Moscow also launched attack drones, all of which were destroyed.
While the Ukrainian military refused to comment on the type of weapons it used on Tuesday, two US officials and a Western official familiar with the matter told CNN that Ukrainian forces have begun using long-range Storm Shadow missiles provided by the UK to strike Russian targets.
The Russian Defense Ministry claimed later on Tuesday that it destroyed a US-made Patriot air defense system in Kyiv on Tuesday – despite the Ukrainians saying all 18 Russian missiles launched at the country in the early hours of Tuesday morning were intercepted and destroyed.
The Ukrainian military has declined to comment on the claim by the Russian Defense Ministry.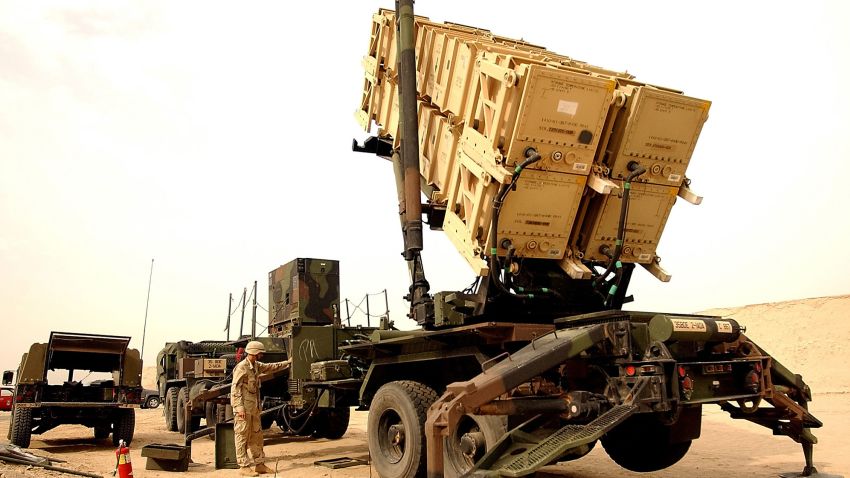 Expert says the Patriot missiles are 'not a game changer.' Hear why
But a US official later told CNN that a US-made Patriot system was likely damaged, but not destroyed, as a result of Monday's Russian missile barrage.
The US is still assessing to what degree the system was damaged, the official said, adding that will determine whether the system needs to be pulled back entirely or simply repaired on the spot by the Ukrainians.
Oleksii Reznikov, Ukraine's Minister of Defense, said on Telegram that Tuesday marked "another unbelievable success for the Ukrainian Air Forces" with all six of the Kinzhal missiles shot down.
"Thank you to our Air Force service members and our partner states, who invested in securing the skies over Ukraine and all of Europe," he said.
Kyiv resident Oleksandr Kravets, 50, said he saw the air defenses work first hand on Tuesday.
"I live on the 13th floor … I saw the missile wreckage falling. Our air defense are real heroes. I think they get better each month, the percentage of downed targets increases each time. I think it's both – the experience and the new air defense systems we got," he told CNN.
Russian officials including President Vladimir Putin have repeatedly talked up the hypersonic Kinzhal missiles for their ability to evade Ukraine' original air defense systems.
However, that has changed since Ukraine received at least two US-made Patriot missile defense systems, one from Germany and one from the US, making it possible for Ukraine to intercept more modern Russian missiles such as the Kinzhal.
Earlier in May, Ukrainian and US officials said Russia had tried to destroy a Patriot battery with a Kinzhal air-launched ballistic-missile strike, but Ukraine Patriot operators were able to intercept the Russian weapon.
The Patriot systems, coupled with Ukraine's other air defense systems, have been able to deal with most of what Russia has challenged them with in recent months – but Ukraine has been warning that its ammunition stocks are getting depleted.
Last week the Ukrainian capital was targeted by what Klitschko called Russia's "most massive" drone attack, in which 36 Iranian-made Shahed were fired on the city. All 36 were intercepted and damage from falling debris was light, the mayor said.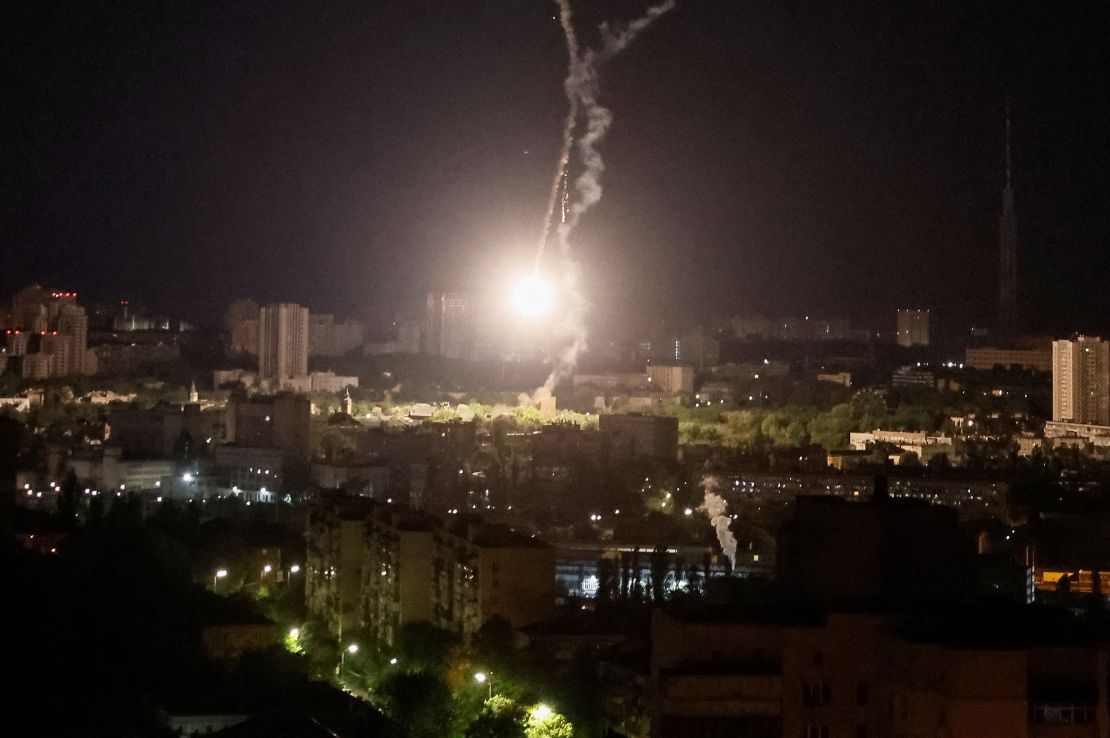 Ukrainian intelligence claims
The strikes on Kyiv came a day after Ukrainian intelligence claimed Russian forces are no longer capable of large-scale offensive action and faced a shortage of some missiles, such as the Kalibr.
However, Ukrainian Defense Intelligence spokesperson Andriy Yusov said Moscow still had enough missiles to sustain its current rate of air attacks.
He estimated Moscow has large stockpiles of S-300 missiles, which are capable of considerable destruction. The S-300 was designed as an anti-air weapon but Russia has frequently used it in a ground-to-ground mode, which makes it less accurate.
Ahead of a much anticipated Ukrainian counteroffensive, Yusov said Russia "is on the defensive" along "the entire front line" and lacked the resources "to repeat large-scale offensive actions."
"They have been preparing for defense all this time, and this is a serious factor that the Ukrainian command certainly takes into account when preparing for the de-occupation of Ukrainian territories," he said.
In recent days, Ukraine's military says it has gained an advantage in some areas near the embattled eastern city of Bakhmut, but officials have been reluctant to provide specific dates for when the counteroffensive will begin.
Speaking to reporters after meeting with British Prime Minister Rishi Sunak in England Monday, Ukrainian President Volodymyr Zelensky said Kyiv is "preparing very important counteroffensive steps."
"We really need some more time," he said, but added: "Not too much."
CNN's Jim Sciutto and Natasha