Editor's Note: David A. Andelman, a contributor to CNN, twice winner of the Deadline Club Award, is a chevalier of the French Legion of Honor, author of "A Red Line in the Sand: Diplomacy, Strategy, and the History of Wars That Might Still Happen" and blogs at Andelman Unleashed. He formerly was a foreign correspondent for The New York Times and CBS News. The views expressed in this commentary are his own. View more opinion at CNN.
Almost 15 months in, there is an intensifying drumbeat of suggestions that negotiations will be essential to any denouement in Russia's war on Ukraine — and what's more, that China could play a key role in bringing an end to the conflict.
Indeed, China this week dispatched its envoy and former ambassador to Russia, Li Hui, to Ukraine, as well as Poland, France, Germany and Russia in an effort to move toward Beijing-mediated "peace talks."
But Oksana Markarova, Ukraine's indomitable ambassador to the United States, has been largely impervious to any such suggestion of negotiations without one clear end point: liberation of all Ukraine.
In her view, and that of Ukrainian President Volodymyr Zelensky — whom she knows well and represents in the US — the good will and support on which the future of her nation depends must be unwavering.
It will require Ukraine's allies to continue, indeed accelerate, efforts that have few precedents in modern history.
Zelensky this past weekend embarked on his own latest efforts — a whirlwind campaign across Europe, pressing leaders of Italy, Germany, France and on Monday, the UK, for military aid ahead of a much-anticipated spring offensive. For Zelensky, the pressure is on to deliver.
His goal appeared quite simple, if for the moment distant: balancing outside pressure for post-offensive negotiations, and the expectations of his own citizens for full Russian withdrawal to pre-2014 lines.
His representative in the US, 46-year-old Ambassador Markarova, is of Ukrainian and Armenian parents. She was previously minister of finance, and her appointment signalled Zelensky's efforts to highlight the importance he attaches to the position of ambassador to the US.
Educated in public finance, Markarova played a key role in the restructuring of $15 billion in Ukraine's foreign debt with the IMF and private bond holders.
Last week, I talked with Makarova about the trajectory of the war, the anticipated offensive by Ukrainian forces, and especially about the end game and the role China could, or should, play.
Our conversation has been edited for clarity.
David A. Andelman: It looks right now as though Ukraine is about to launch its spring offensive.  What would you see as a positive outcome for this?
Ambassador Oksana Markarova: The goal for us is to liberate our country. And by that, we mean within internationally recognized borders.
We all know that the war started not on the 24th of February [2022] — the war started in 2014 when Russia illegally occupied Crimea and parts of Donetsk and Luhansk. We spent eight years literally trying to use every diplomatic solution to restore our territorial integrity.
Russia used that [time] to prepare to attack, and they did attack. We were able already to liberate half of what Russia occupied since the 24th. So, the goal is very clear. Now we have to liberate all Ukraine.
We don't know how many offensives it will take. Everyone talks about a spring offensive. People like to put names onto something.
But for us it's just a daily, very difficult routine for our brave defenders. They are trying not to allow the Russians to advance. And they're trying to liberate as much of our territory as possible, as fast as possible, with the goal to liberate it all.
Andelman: In terms of the coming offensive, what would it take to move toward an end game? What do we need from this offensive?
Markarova: I'm not a specialist in military art, and I will not even pretend to be one. We really trust our military commanders. We trust our president. They have proven since February 24 [2022], that they are able to take decisions at the right moment when decisions should be taken.
So, in last year's Kyiv offensive, they were able to liberate Kyiv when the Russian forces were already at the entrance to the capital.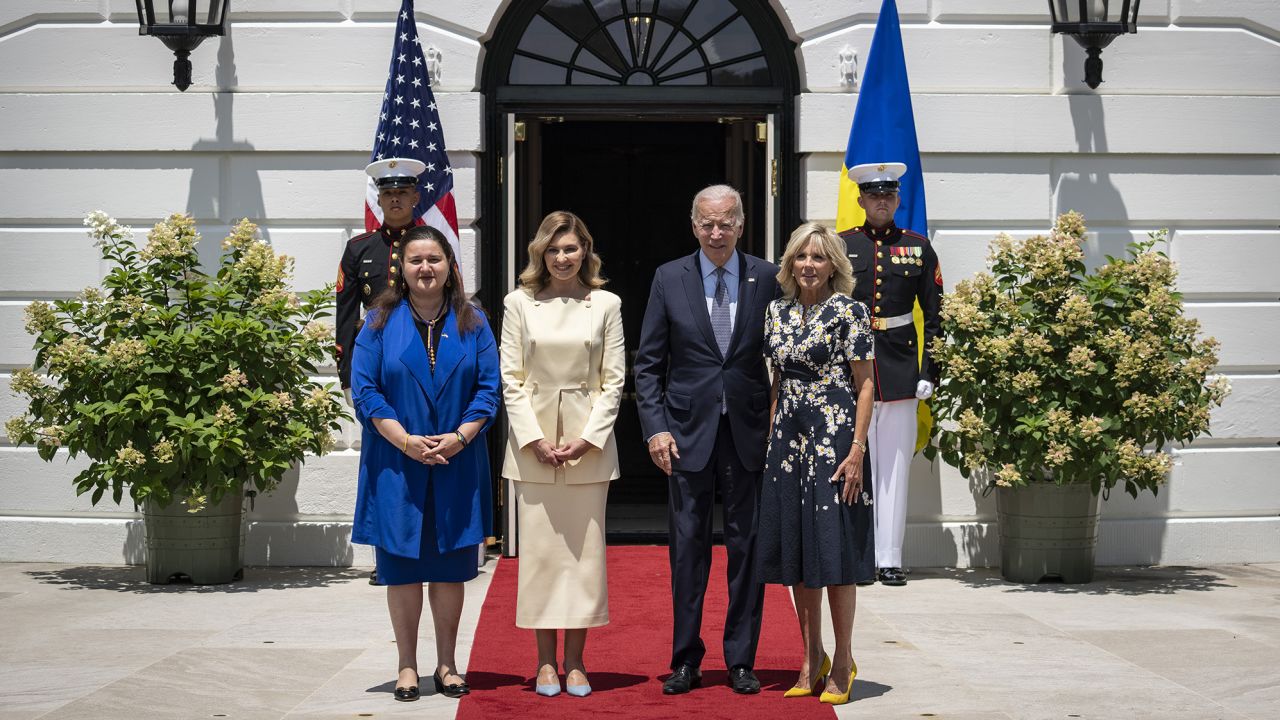 Then we saw a very difficult and skilled offensive that was conducted in Kharkiv — literally within six days all the Kharkiv oblast was liberated.
We have seen how difficult it was because the Russians had the time unfortunately to prepare and create layers of defense. So, now I know that we are preparing for all scenarios. I know our brave defenders are training, literally 24/7.
We are trying to get equipment because this is also an ingredient. We trust that our military commanders, who work on it day and night, will do it when they see the best window.
At the same time, I don't want it to sound like nothing is happening because the front lines are very active. Very heavy fighting still goes on in Bakhmut and elsewhere along the whole large front, in addition to missiles attacks everywhere in Ukraine.
This is still the reality in which we have lived for 442 days.
Andelman:  Some years ago, before he became Chairman of the Joint Chiefs of Staff, I asked Gen. Mark A. Milley what it would take to win the war in Afghanistan. He said, "Tell me what you see as victory, and I will tell you what I need to achieve that."
What do you see as victory and what would you need to achieve it? And do you think you are on the same page as your American supporters?
Markarova: Ukraine has been very clear from day one that this horrible invasion is full-fledged war. From the start, our president has been very vocal, saying that we need to liberate Ukraine within its internationally recognized borders.
He has discussed this with all of his counterparts during telephone conversations, during meetings — he was very clear about it.
We heard it also from our strategic partners here, and even at the recent phone call of our president with President Xi. I have seen very detailed readouts.
There will be no concessions and we need to liberate all of Ukraine, including Crimea. Our goal has been very clear from the start, and we have communicated it to all our friends and allies.
Andelman: Do you think that agreement is shared by everyone?
Markarova: We never heard anything different. If you look at the UN resolutions, the civilized world never recognized the annexation of Crimea and never recognized the brutal occupation of Donetsk and Luhansk before February 24 [2022].
We always had an enormous number of countries supporting the resolutions, condemning the sham referendums, the aggression, mandating Russia to leave.
Andelman: Do you think a mediator has become necessary to move toward this peace process in any sense?
Markarova: Well, if the mediator can make [Russian President Vladimir] Putin stop his war, then yes. But in a sense, a mediator is needed when there are two sides of the story and the two sides have some disagreements, which they are ready to resolve, and they need a third party to help them do that.
In our situation, there are no two sides of the story. There is one aggressor that attacked us. It's black and white — one autocratic authoritarian, nuclear power, member of the Security Council of United Nations.
That's by the way, a big mistake — to attack a peaceful neighbor that never presented any threat. Of course, unless you think being a democratic, European nation is a threat.
The goal for the whole world should be to restore international order. You don't need a mediator for Russia to adhere to a binding [UN] resolution and get out of Ukraine.
Andelman: So why did President Zelensky recently have a long conversation with Xi Jinping? What is the value of keeping such a line open?
Markarova:  A very important question. First of all, President Zelensky will talk to everyone who is not involved on the side of Russia in this war directly, like other countries like Iran and Belarus.
President Zelensky was very clear about his messages. First, he informed the Chinese leader about what's going on. During these 15 months, we have seen the Russian leader is definitely not providing good information.
So, our president has been very clear about the fact that it's Russia that attacked us. There are no two sides here. He informed [President Xi] also about all the atrocities against the children who have been stolen by Russians.
Second, our president has also been very clear that nobody wants peace more than Ukraine, but again, peace must be based on the fact that Russia will leave the country.
Third, he informed President Xi about his peace formula that has been on the table since last October. And then he stressed the importance that all states should refrain from helping Russia, especially with supplying them weapons.
From that standpoint, I believe it was very useful and very productive having this conversation.
That's why our president is engaging with the global South, why he's engaging with African leaders. We will do everything possible to deliver the truth.
Andelman:  And presumably as long as you can keep talking, and Xi believes he can play the role of mediator, he's unlikely to begin supplying weapons to Russia?
Markarova: China has always been publicly saying how important the UN Charter and territorial integrity is for them. This is a very clear case of a breach of territorial integrity by Russia. So again, I really view the word "mediator" differently. I think a mediator is someone who the two willing parties use in order to do it in a more smooth and professional way. Here, we really count on all countries, including China, to call on the Russian Federation to stop the violation.
Andelman: Donald Trump on CNN last week refused to say if Putin is a war criminal, even refused to say if he wants Ukraine to win the war that Russia began. He said, "I don't think in terms of winning or losing."
Are you concerned this could grow into a menacing threat, particularly if he's elected president next year?
Markarova: I believe the American people from both parties or independents see it for what it is — a very unfair, unjust, unprovoked war when a bully attacks a peaceful person. When an autocratic country attacks peaceful Ukraine.
Andelman: What happens if Trump becomes president next year?
Markarova:  You should ask that of American citizens. You know, for us, we appreciate the support we have now, and that support is very strongly bipartisan.
Because of the values on which this country America is built, there could be different opinions, but values remain the same — and we are fighting for the values on which America is based.
So, it's very important for both of our countries to win this war. It's important for us, it's existential for us, whether we will exist as Ukrainians.
But for all democracies this is a critical point in time. The question is not only whether Ukraine can defend itself. The question is, can democracies defend themselves.
Andelman: You know President Zelensky very well personally. I'd be interested to know how you think the war might have changed him.
Markarova:  He has long had qualities that the whole world is admiring. Now, I think everyone has seen them because of the way he's acted, and how he leads the country through these very difficult times, emerging as this wartime leader.
He surprised so many people with these qualities, with his bravery, with his human dignity and his love for Ukraine.
On the other hand, when he first visited Bucha after it was liberated, I have seen his face look a lifetime older than he looked before. He's very strong. He's very brave. But as a person who loves his family, cares about people, human values, you cannot go through this and not be affected by it.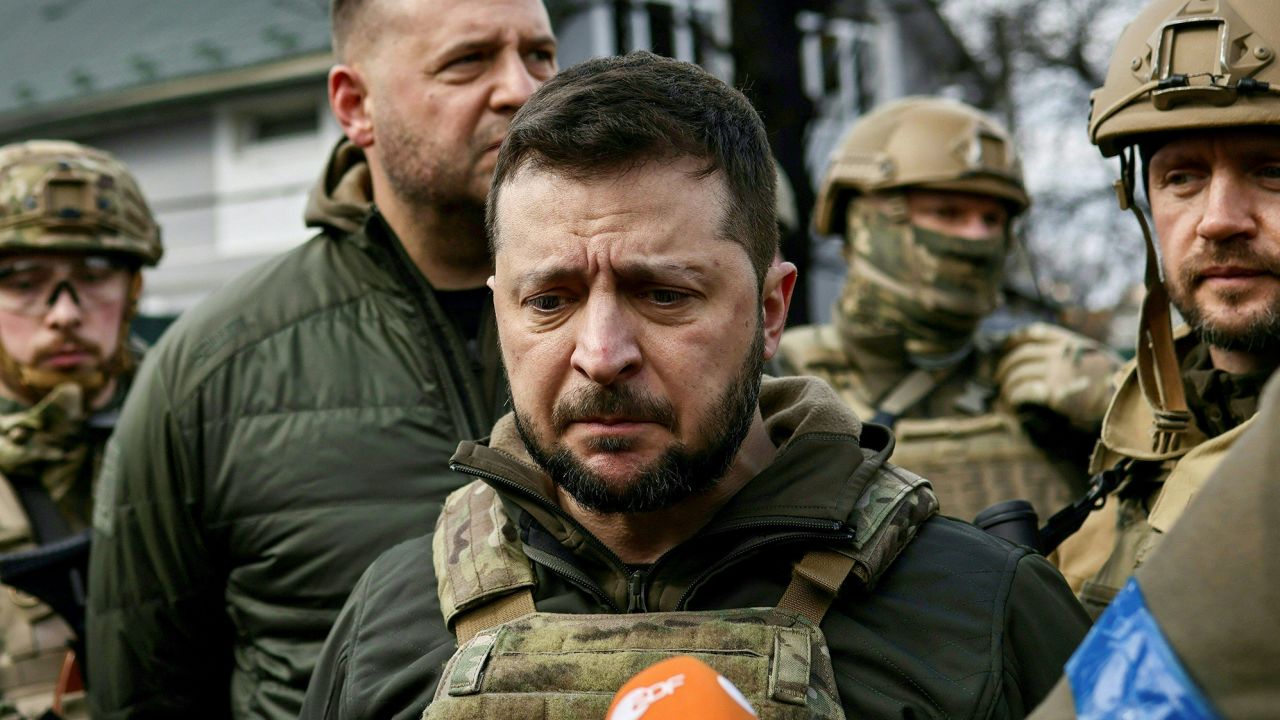 It has been very difficult for all of us. But you know, he didn't lose his sense of humor even through very difficult moments. He is cheering up everyone around him, continues to joke.
He also literally works all the time. I mean, you see, even what he puts out publicly. And that's just a very small portion, to be honest — the number of meetings, the number of zooms he has.
And then his visits. Our president travels all the time, especially when he travels to the front lines or when we saw his first travel outside Ukraine since the war began. He went first to Bakhmut and then all the way from Bakhmut to Washington.
He's very focused, very intense, and yet 15 months into it, he's on top of it. There is a lot of creativity, too, in the way he speaks to the world. On February 24, when he first took out his phone in response to lies from Moscow that he had fled, that Ukraine was collapsing, he took out his phone and he said, "I'm here, everyone is here. We're not going to surrender. We're going to fight for our country."
And since then, he's been doing that on a daily basis. It was very important for the people of Ukraine, but I think it was also very important for people outside to hear directly from him.
Andelman:  And you yourself, Madam Ambassador, your husband, I believe, is back in Ukraine now?
Markarova:  Actually, as we speak he's flying here. He's traveling back and forth. He went back home when the full-fledged war started. He was on the first available flight to Warsaw, and then a long journey to Ukraine because it's a difficult trip.
Now, he travels places which sometimes worry me. But he's not in the armed forces.
Andelman: Well, perhaps we should end as we began. Can you see any kind of a glimmer of light at the end of the tunnel now?
Markarova: Our glimmer at the end of the tunnel is for us to win, to have justice. Let's not forget that Putin and [Russian Commissioner for Children's Rights Maria Lvova] Belova are indicted war criminals, and there is an arrest warrant for them.
So, for us to win means to liberate our territory fully, to get our people back, to think about and start the reconstruction, regardless of how much time it will take.
I am thinking how can we actually get to a just peace faster, which would mean helping Ukraine more, providing more support to Ukraine, toughening the sanctions — rather than entertaining the idea of how to save Russia's face.
We just recently commemorated the end of World War II, and those were six very painful years after which the whole of Europe said, "Never again." The whole world said, "Never again," yet we are in this moment again right now, we are still in the 1939 moment.
This is the time to come together to fight. If Russia would like to get out and negotiate reparations, of course we will negotiate reparations.
But I have to say that we hear these talks about potential negotiations from some experts, but we never hear it from our partners. We never hear it in all the meetings that I have on the Hill, all the meetings that I have with the administration.
We only focus on what we can do in order not only to help Ukraine, but resolve some of the problems — things like food security and how to get to lasting peace.