It's not often a player who has yet to feature in the NBA has the sport's established stars unanimously gushing.
"He's like a [NBA] 2K created player, every point guard that wants to be seven foot. Cheat code type vibes," said four-time NBA champion Steph Curry, while Kevin Durant added: "The league's really in trouble when he comes in."
But if you've seen anything of the seven-foot-four-inch French teenager Victor Wembanyama, you might understand why the 19-year-old has garnered the attention of the basketball world with his performances in the French professional league and is the widely presumed No. 1 overall pick in this year's NBA Draft.
He found out his likely destination in Tuesday's draft lottery, which saw the San Antonio Spurs win the right to select first in the 2023 draft where they will likely select Wembanyama.
For over a year, teams have made efforts to increase their chances to be able to acquire Wembanyama. Stars have been traded away, contributing players have been released; all in an effort to have a worse regular season in order to increase their odds at the first pick.
With NBA champions, MVPs and All-Stars – LeBron James, Giannis Antetokounmpo, Curry and Durant to name a few – all expressing their excitement at Wembanyama's arrival in the US, analysts are likening his arrival in the league to that of James in 2003.
There have been few players whose journey to the pinnacle of basketball have been as highly followed; in figures released by the NBA, Wembanyama is No. 8 on its list of the top-10 most-viewed players on social media this season – despite not even being in the league yet.
'Wembymania' is in full flow, something author Lindsay Sarah Krasnoff has seen firsthand.
Krasnoff, author of the upcoming book 'Basketball Empire: France and the Making of a Global NBA and WNBA,' told CNN Sport that she and her students recently attended a Metropolitans 92 game – Wembanyama's team – which was full to the rafters, something she had to reassure them wasn't a regular occurrence.
"He wowed my American students who are used to seeing NBA games. They were really enthralled with it. And I keep having to explain to them that having a sold-out, 15,000-people crowd for a regular French professional basketball game is not normal at all," she said.
"It is normal for when the NBA comes to town. But that's once a year. This was not normal at all. I've been to Mets 92 games in past years. I was there the year that Boris Diaw came back and played and I was up in their stadium and it was maybe half full, maybe, being very generous. The crowd kind of watched the game, they were into it, but not that into it. I mean, just a vast, vast change."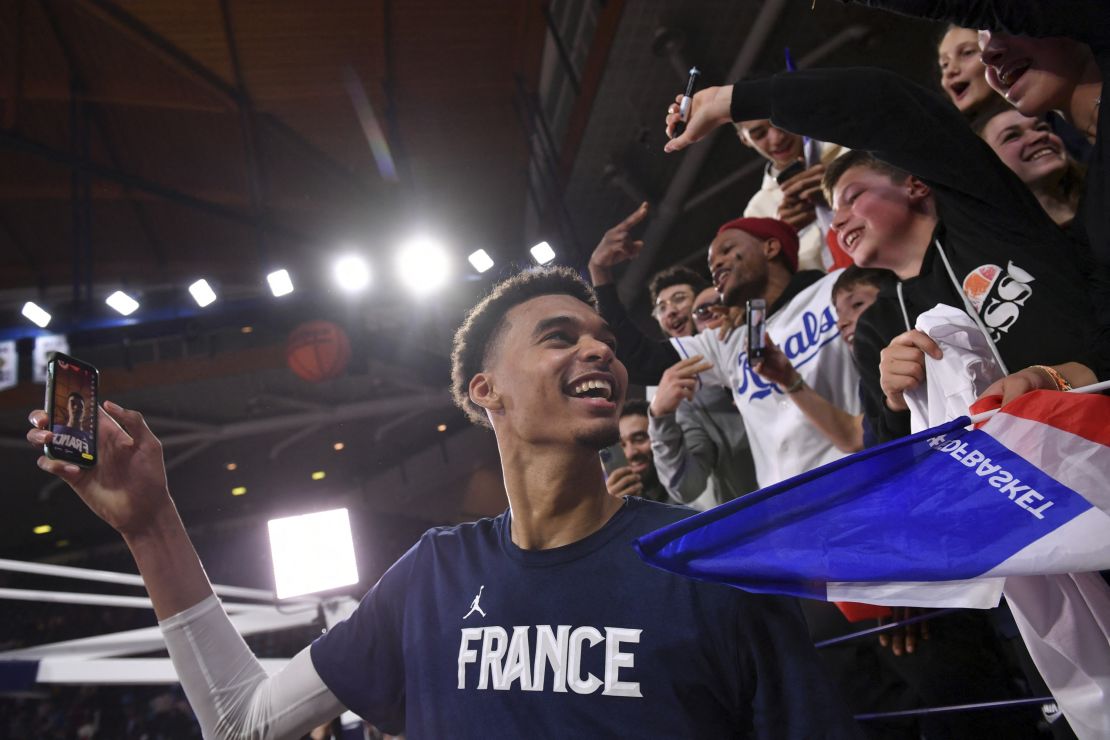 Becoming the best
A career in sports was always likely for Wembanyama.
His father was a high jumper, his mother was a former basketball player who is now a coach and his two siblings – older sister Eve and younger brother Oscar – are basketball players.
Even his grandfather, Michel De Fautereau, played for Paris University Club in the 1960s in the topflight in France.
When he was young, Wembanyama tried many sports, including judo and football, as well as basketball.
But his first step in the career he'd eventually come to blossom in happened by chance.
The coach of basketball club Nanterre 92, Michaël Allard, happened to be watching an Under-11 match in which Wembanyama was playing.
Allard's attention was drawn to an assistant coach on the bench – or so he thought. The assistant coach was in fact an 11-year-old Wembanyama and when he realized his mistake, he called the technical director of the Under-11 program at the French club to inform them of this prospect he'd discovered.
Wembanyama was immediately recruited by Nanterre where he moved up the youth ranks and learned the game as he dove head-first into the sport.
On top of that, Wembanyama's physical growth has only added to the intrigue surrounding him. He has grown to seven feet, four inches tall, potentially making him one of the tallest players in the NBA, with an eight-foot wingspan.
However, it is his combination of size and skill with the ball which has made him such an intriguing talent.
Most players his size develop into a prototypical NBA center: good at shot-blocking, rebounding machines, known for the defense and threat close to the basket – just take Wembanyama's compatriot, Rudy Gobert, for example.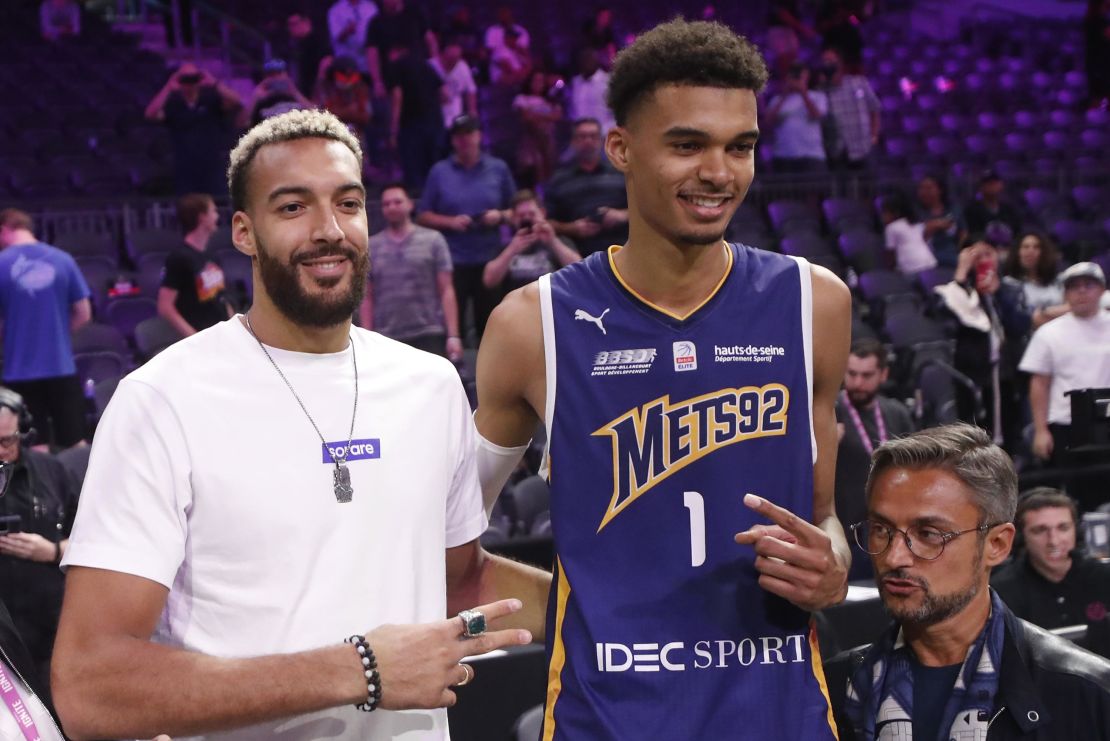 But Wembanyama is different. He has become elite at handling the ball, dribbling, passing, jump shooting and from three-point range. Throw all of that together with being over seven feet tall and there is no wonder he's being touted as the most exciting player to enter the league in 20 years.
In fact, James described Wembanyama as an "alien" and a "generational talent," while two-time MVP Antetokounmpo said the NBA has "never seen someone like that before."
Clips on social media of Wembanyama performing remarkable feats of athleticism or skill with the ball have gone viral this season, from crazy blocks or dunks to impressive, weaving in-and-out dribbling followed by a difficult long-range three-pointer.
And the French basketball system where he has been nurtured has helped develop his unique talent, says Krasnoff.
"I think kind of generally speaking, the French system is designed to detect and start to provide the means for talented young players to train while also pursuing their academic studies at the same time," Krasnoff told CNN.
"So unlike the US system where sport is integrated into the school system, in France, as in many other parts of the world, that's not the case. But the professional clubs, for example, do have this program where they take young promising players into their youth academy system where they are able to train in dedicated way with trainers, with medical support."
In this focused environment, away from the distractions and bright lights that often come with college basketball in the US, Wembanyama has been able to grow into the multi-faceted player many are predicting will dominate in the NBA when he arrives.
He led the league in scoring, rebounding and blocks in his final season in French basketball, as well as shouldering the burden of being almost a one-man marketing campaign for the league.
Krasnoff recalls attending games around the country which were sold out – when they typically wouldn't have been – just to catch a sight of Wembanyama.
Wembanyama's arrival in the NBA could have a transformative effect on one franchise. But more than that, Krasnoff says the hope is it has a revolutionary effect on basketball culture in France; a country with a long history with the game, despite it being "a closeted sport."
"Certainly, (his drafting) will probably continue to drive the NBA's popularity in France. That was always kind of a given," she said. "And it certainly has driven US interest in French basketball, at least as far as Wembanyama is concerned.
"Five years ago, when I would tell people I'm working on French basketball and why are there so many French guys in the NBA, people look at me as if I was an alien with five heads. Over the past six months, that's totally changed.
"The French press calls him a unicorn. It's fair and I think everyone recognizes that this is not normally how it's going to be, but hopefully, it will drive greater awareness and attention, particularly ahead of Paris 2024, where basketball is acknowledged to be, in addition to track and field and swimming, perhaps one of the premier Olympic sports disciplines."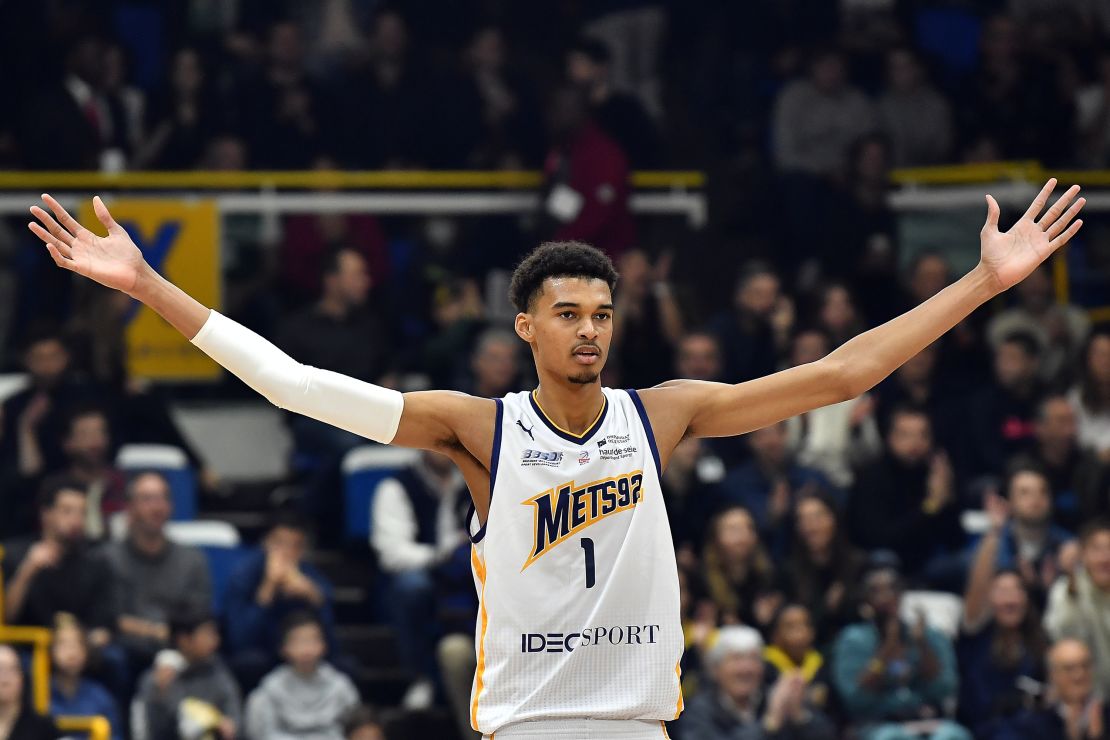 Wembanyama's only appearance on US soil only added to the fascination surrounding his abilities, as he played in two exhibition games last season against development team G League Ignite and scored 36 and 37 points respectively.
There are concerns that Wembanyama's slender frame may lead to injuries down the line – as many players around his height have struggled before with injuries to their lower limbs.
Most notably, Yao Ming – after an illustrious career with the Houston Rockets – was forced to retire at the age of 31 with foot and ankle injuries. And more recently, Chet Holmgren – drafted last year by the Oklahoma City Thunder – missed his entire rookie season with a foot injury. But these injury concerns are not likely to dissuade any team from picking the Frenchman with the No. 1 pick.
Tickets to watch Wembanyama at his likely destination in San Antonio will be hot commodities if he is drafted by the five-time NBA champions as predicted.
Through the power of 'Wembymania' and the excitement around him, the upcoming season proves to be one of the most fascinating years in the NBA's history.