Hundreds of people have died in the Sudanese region of West Darfur, as fighting between the two rival military factions battling control in the country escalated as well as drawing in local militia groups.
The most recent uptick of violence in the city of El-Geneina took place between Friday and Monday, the second time in three weeks that the capital of Sudan's West Darfur province saw intense violence.
Speaking to CNN on Tuesday, El-Geneina resident Alzahawi Idriss said that attacks came to a halt after "three consecutive days of intense fighting" left tens of thousands homeless.
"Power outages have been continuous and it is very difficult to access water. The health system is out of service completely," Alzahawi said, adding that "the internet only works during the day, and is cut off at night."
The Sudanese Doctors Union said Tuesday that in only two days, May 12 and 13, 280 deaths and 169 injuries were recorded in El-Geneina.
El-Geneina suffered militia attacks on residential areas and street battles between community-aligned forces, causing hundreds of civilian deaths and many more injuries, UNHCR Principal Situation Coordinator in Darfur, Toby Howard said Tuesday, adding that to date more than 150,000 people have been displaced.
"Critical basic services, markets, houses and IDP sites have been targeted, looted and destroyed," Howard added.
The Norweigian Refugee Council said Monday that civilians in El-Geneina endured "incessant shelling, devastating their homes" for three days.
An estimated 100,000 internally displaced people remain "at the mercy of relentless violence, with settlements once again being reduced to ashes," the NRC said.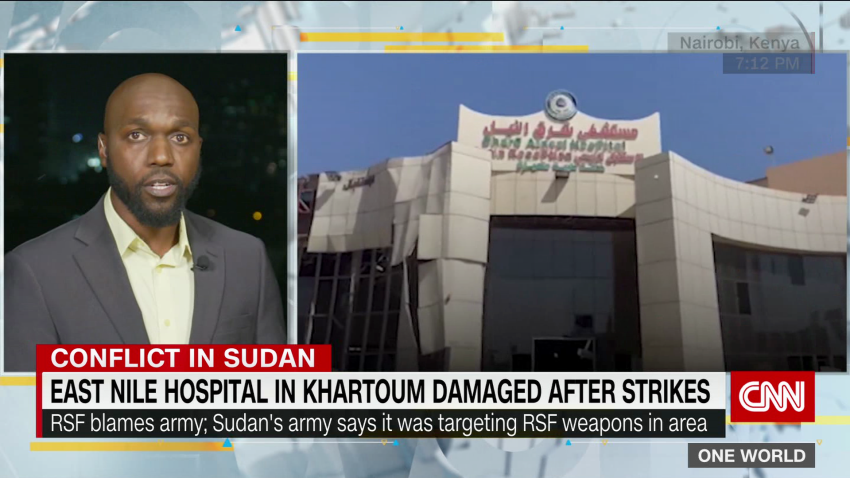 Hospital damaged in Khartoum after strikes
William Carter, NRC's country director for Sudan called the levels of violence unfolding in West Darfur "nothing short of inhumane".
"One of our staff members was injured, and each day brings news of people burying their loved ones who fell victim to the senseless fighting," Carter added.
The Darfur Network for Human Rights (DNHR), a non-governmental organization focusing on the Darfur region, also reported intense shelling in El-Geneina over the weekend, and said that one of their field workers was killed during an attack by the Rapid Support Forces (RSF), on Sunday.
Hundreds have had to flee homes and mosques that were burned by shell attacks launched by the RSF and Arab militias, DNHR said Sunday.
This recent escalation of violence comes after a significant bout of fighting in late April, during which at least 150 lives were lost. The residents of El-Geneina have for weeks been trapped and stranded within the city, cut off from basic needs like water and vital health services. Moreover, electricity and internet cuts have significantly impeded communication.
The fighting in West Darfur has forced tens of thousands of people to flee across the border to Chad, the United Nations Refugee Agency (UNHCR), said a total of 60,000 refugees have moved across since the conflict broke out.
Fighting between the Sudanese Armed Forces and the Rapid Reaction Force in Sudan's Darfur region has widened, drawing in Arab militias and largely non-Arab African armed groups who have been in recurrent conflict since the start of the unresolved Darfur conflict in 2003.