Beijing's newly appointed special envoy for the Ukraine war has met with President Volodymyr Zelensky, China confirmed Thursday as its attempts to fashion itself as a potential peacemaker in the grinding conflict, despite close ties with Russia.
Li Hui a seasoned former diplomat who served as ambassador to Russia from 2009 to 2019, is the highest ranking Chinese official to travel to Ukraine since the start of Moscow's devastating war.
His two-day visit to Ukraine on Tuesday and Wednesday kicked off a wider tour of Europe where China's close relationship with Russian President Vladimir Putin has sparked growing alarm.
Western leaders have hoped Chinese leader Xi Jinping might use his close rapport with Putin to end the war raging in Europe — an outcome that analysts say may be unlikely at this stage, given Beijing's interests in maintaining the relationship.
China had previously remained tight-lipped on details about the visit of Li, Beijing's Special Representative on Eurasian Affairs, which it had billed as part of a five-country tour to promote communication toward "a political settlement of the Ukraine crisis."
In its statement Thursday morning, China's Foreign Ministry confirmed Li had met Zelensky and other senior Ukrainian officials.
Li reiterated that China is willing to serve as a peace broker for resolving the Ukrainian crisis, on the basis of its previously stated positions on the war.
"There is no panacea in resolving the crisis. All parties need to start from themselves, accumulate mutual trust, and create conditions for ending the war and engaging in peace talks," Li said, according to the readout.
Kyiv's readout made no mention of the meeting with Zelensky.
Instead it said Li met foreign minister Dmytro Kuleba and discussed "topical issues of cooperation between Ukraine and China," as well as "ways to stop Russian aggression."
Last week, China's Foreign Ministry announced Li would visit Ukraine, Poland, France, Germany and Russia starting May 15 – just days before the Group of Seven (G7) leaders are expected to affirm their solidarity against Moscow in a summit in Hiroshima, Japan.
Genuine peace effort?
China has attempted to cast itself as a peace broker and deflect criticism that it has not acted to help end Russia's war in Ukraine, more than one year after Moscow invaded its western neighbor.
The Ukrainian statement on Li's visit appeared to allude to daylight between Beijing and Kyiv's positions on ending the conflict.
Kuleba talked about restoring peace "based on respect for Ukraine's sovereignty and territorial integrity" and emphasized "that Ukraine does not accept any proposals that would involve the loss of its territories or the freezing of the conflict."
He also stressed the importance of China's participation in the implementation of Zelensky's "peace formula," according to the statement.
China – which released its own vaguely worded paper on a "political settlement" to the conflict earlier this year – has been criticized for not calling on Russia to withdraw its troops from Ukrainian territory, as Kyiv and more than 100 governments around the world have done.
Li's arrival this week in Kyiv coincided with an exceptionally dense aerial assault by Russian forces on the capital, though Ukraine said most of the Russian munitions failed to hit their marks after being destroyed by its defense systems.
Zelensky this week wrapped up his own tour of European countries, where he welcomed promises of fresh military aid from countries including Germany, France and the United Kingdom.
Diplomatic mission
Chinese leader Xi Jinping and Zelensky spoke late last month for the first time since the start of the war, and according to Beijing, Xi pledged to facilitate peace talks, including by dispatching an envoy.
While Xi's call with Zelensky was their first, the Chinese leader has spoken with Russian President Vladimir Putin five times during the conflict – including twice in person.
Since the early days of the war Beijing's diplomatic and economic support of Russia has accelerated alarm about China's foreign policy across European capitals.
Those ties with Moscow were under close scrutiny over the past week as European officials discussed a recalibration of the bloc's China strategy.
EU Foreign Affairs chief Josep Borrell on Friday said the bloc's relations with China "will not develop normally if China does not push Russia to withdraw from Ukraine."
China's selection of Li to head its diplomatic efforts toward resolving the conflict have also raised eyebrows among some Western observers.
Li's resume includes significant contributions to the China-Russia relationship during a key era of deepening cooperation under Xi and Putin.
In 2019, Putin presented Li with the Order of Friendship, making him only the second Chinese national to receive a state decoration from the Kremlin, according to Chinese state media. Xi was the first, receiving the Order of St. Andrew two years earlier.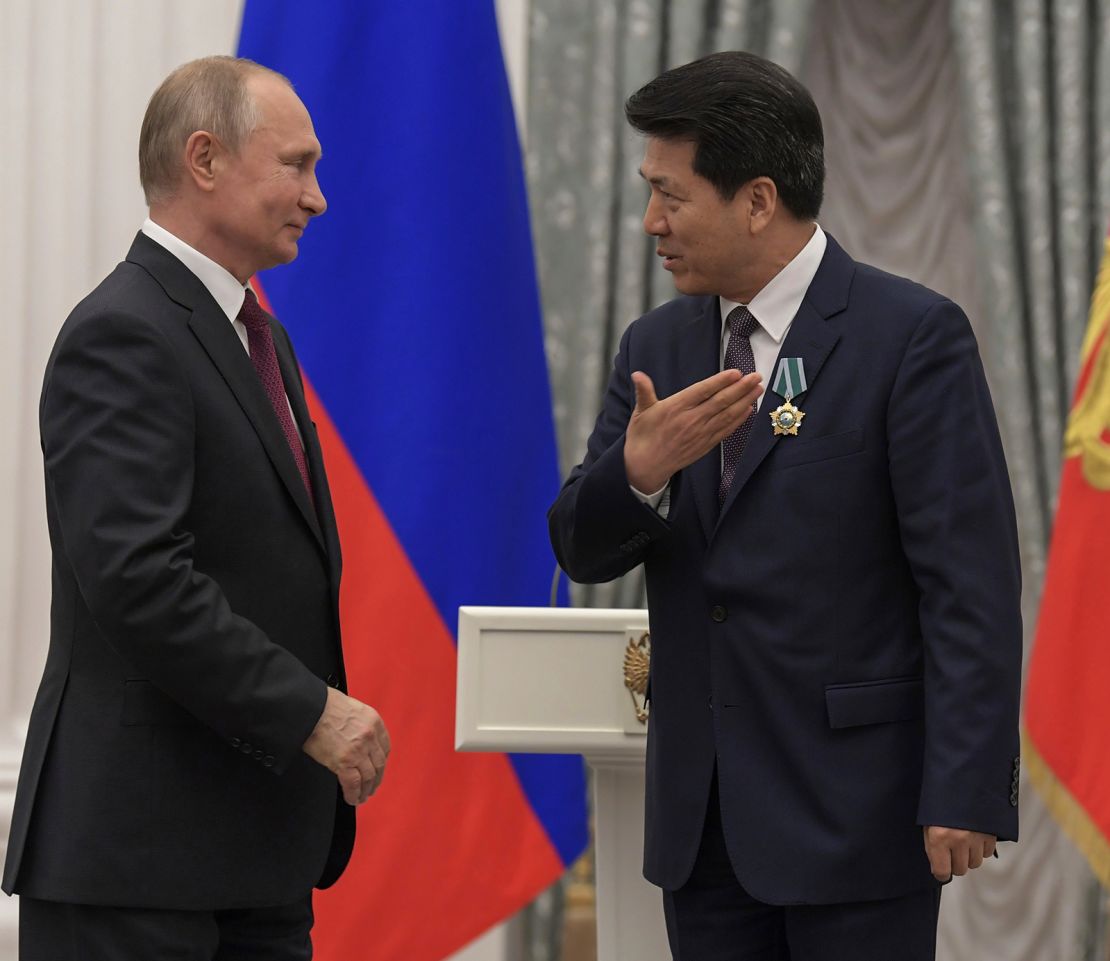 'Political settlement'
While there was a tentative welcome of Xi's call to Zelensky in parts of the West, there is also deep-rooted skepticism there over any push for a peace for China, given its close ties with Russia.
Beijing's call for a ceasefire in its "political settlement" drew criticism from Western officials who said it would only help Russia consolidate its territorial gains in Ukraine, as it did not include a call for Russia to withdraw.
After his call with Xi last month, Zelensky said the exchange was "meaningful," but underscored that "there can be no peace at the expense of territorial compromises" – a theme which also appeared to be stressed in the Kuleba and Li meeting.
On Monday ahead of Li's arrival in Ukraine, European Commission chief Ursula von der Leyen called for Ukraine's peace plan to be the basis of efforts to resolve the conflict.
"We should never forget that Ukraine is the country that was brutally invaded. It is therefore the one that should set out the core principles for a just peace," she said in Brussels.
Analysts say Beijing views its rapport with Russia – a key partner amid rising tensions with the West – as foundational for its foreign policy, and this will limit how far China will go to call for concessions from Russia, even as it attempts to play peacemaker.
Beijing has sought to deflect such criticisms by repeatedly accused the US and its allies of fueling the conflict through weapons support to Ukraine.
An editorial in the state-run English-language China Daily on Sunday said that Li would visit Poland, France and Germany during his tour as they are "key stakeholders" in Europe when it comes to any peace agreement.
The US, the editorial said, was excluded from Li's itinerary as it was "questionable" whether Washington was open to efforts to advance peace.
CNN's Mengchen Zhang in Beijing, Victoria Butenko and Julia Kesaieva in Kyiv, Wayne Chang and Josh Pennington contributed to this report.