Blonde mullet gleaming in the Indiana summer sun, one man strides purposefully down a pristine fairway, feverishly pumping his fists and waving his arms.
On all sides, deafening cheers somehow crank up another few decibels. Thousands of fans – crammed shoulder to shoulder – rise as one in response to the rallying call of their imminent champion.
His name is John Daly, and he is about to win the 1991 PGA Championship. Many in the crowd at Crooked Stick would not have known the 25-year-old's name four days prior, and understandably so.
After all, Daly was never meant to be there.
A champion is born
With little more than 12 hours until tee off in Indiana, Daly was some 500 miles away at his home in Germantown, Tennessee.
Listed as ninth alternate for the major, the rookie had effectively needed a miracle to have made it in. Though a string of withdrawals had thrown surprise opportunities the way of those above him in the queue, the TV screen looked set to be the closest Daly would get to Crooked Stick that week.
Then the phone rang.
The caller was Nick Price, a well-known player on the PGA Tour with three wins under his belt. The Zimbabwean was ringing the rookie to tell him that his wife was about to have a baby and, as a result, he was pulling out from the tournament.
Daly threw his clubs in the car and drove through the night, pitching up in Carmel in the early hours of Thursday morning. Only then was it confirmed that he had a place in the field.
Even had he been on the original roster, few would have tipped him to contend, let alone win.
Eight months into his first season on the PGA Tour, four years after turning pro, Daly had missed the cut in both of his last two outings. A tied-third finish at the Chattanooga Classic in the event prior to those disappointments – his best performance to date on the Tour – signaled potential, but even that marked just his second top-10 display in 24 starts across 1991.
Then there was the field. Greg Norman, Nick Faldo, and Seve Ballesteros headlined a star-studded ensemble of major champions seeking to grow their already towering legacies.
Not enough of a challenge? Daly had never hit a ball at Crooked Hill, with any hopes of acclimatizing to the notoriously difficult course through practice rounds dashed by way of his last-minute call-up. Fortunately, Price offered his experienced caddie, Jeff "Squeaky" Medlin, to help guide the rookie.
But throw in 10 hours of driving and sleep deprivation, and making it to the weekend looked like becoming a major victory in itself.
'Grip it and rip it'
But the name 'John Daly' was not an unknown to everyone tuning in that week.
Some 8,000 miles away in Cape Town, 11-year-old budding golfer Trevor Immelman had been following Daly across various appearances on his native South Africa's Sunshine Tour.
The loss of Price – born in Durban – was a blow for golf fans in the country, but in Daly they found a familiar face to root for.
"South Africans had a good feel for how talented he was and how far he hit the ball," Immelman, who would play his first PGA Championship alongside Daly in 2003, told CNN.
Daly's raw power was similarly not news to fellow PGA Tour pro Bobby Clampett, who himself had taken a winding, coincidental path to Crooked Stick that week.
Clampett, who had finished third at the US Open in 1982, was set to watch the PGA Championship from home after failing to qualify for the major. Yet with construction being done on his house in August, that was not an option.
As luck would have it, his agent had been informed of an opening for a CBS broadcasting position at the tournament.
Clampett took the plunge and – under the watchful eye of legendary golf TV producer Frank Chirkinian – began the maiden leg of what would become a decades-long career at CBS.
His first assignment: follow the rookie with the blonde mullet blasting his way around Crooked Stick.
"He was already known as a bit of a legend because he hit it so far," Clampett told CNN.
"John's the ultimate feel player. He sometimes doesn't make the wisest decisions of strategy on the golf course – he just goes with feeling, how he feels."
After two rounds, Daly was feeling great. Two shots off the lead following the opening round, Daly shot 67 on Friday to soar into the weekend with a one-shot lead over Bruce Lietzke.
His devastating driving – or as Daly termed it, his "grip it and rip it" style – twinned with his underdog reputation and recognizable style made the 25-year-old Southerner an instant crowd-favorite.
"You see this guy that was playing golf like we had never seen before from a standpoint of playing so free and hitting it so far and really changing the dynamics of how this golf course was supposed to be played," Immelman recalled.
"He was just buffering it way out there and changing the game right in front of our eyes."
Kick off
A third round 69 saw Daly leave Crooked Stick on Saturday evening with a three-stroke cushion over American duo Kenny Knox and Craig Stadler.
For most people, the beckoning of surely the biggest day of their career would call for some relaxation and an early night. Yet as was already clear, Daly was not most people.
Rather than winding down, that evening the rookie was winding up to fire a field goal for the Indianapolis Colts during a pre-season game at the Hoosier Dome. Sat up in the stands was long-time CBS sportscaster Jim Nantz.
"I was just there for one purpose, to see this kick, and John Daly came out and kicked the football and got away uninjured," Nantz said on "The Press Box" podcast in May 2022.
"He was a straight-on kicker by the way. Not a side-winder. Knocked it through and we headed to Sunday to cover one of the great Cinderella stories sports has ever known."
A talented high-school kicker who dreamed of the NFL, Daly impressed so much that he was invited back to kick again the following week, according to a report in the Los Angeles Times.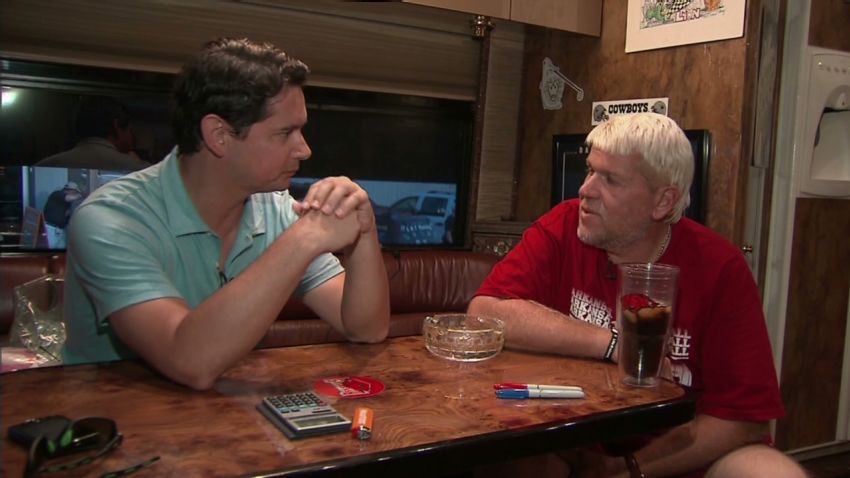 Daly sells wares, plots Masters return
First though, Daly had a major to win, a prospect that had the blessing of many of his peers. Various messages of support were left on the rookie's locker ahead of the final round, with one from Jack Nicklaus – "Go get em'" – since framed in Daly's house.
Five holes from the end at the par-four 14th, Clampett – as he had all weekend – had a front row seat. It was an encapsulation of the entire week: where most golfers were reaching the green in three strokes, Daly – riding a five-shot lead – had almost made it there in one.
"We're walking down the fairway together, he's very loose, and he turns to me and goes, 'Bobby, what do I do now?'" Clampett remembered.
"And I said, 'John, just play for the crowd and enjoy every shot.' And that's what he did. That's when he started wooping his hand, egging the crowd on, and that just endeared him more to them because now he's engaging them and they're engaging him – the energy was fantastic."
Daly repeated the act at the last hole before tapping home to seal the Wanamaker Trophy and his first PGA Tour title, carding 12-under to finish three shots ahead of Lietzke.
The victory rewarded him with a $230,000 winner's check, though Daly quietly donated $30,000 of the prize money to the family of Tom Weaver, who had been killed by lightning during the first round of the tournament. The family used the money to create a college fund for Weaver's two daughters, according to ESPN in 2021.
Full circle
The win rocketed Daly to sporting stardom, and jumpstarted a distinguished – albeit occasionally erratic – career trajectory that has continued into 2023.
Daly would add a second major title in dramatic fashion at The Open Championship four years later, beating Costantino Rocca in a four-hole playoff, but for many his maiden major remains his defining triumph and one of golf's greatest stories.
The fairytale even continued into the next edition of the tournament. Almost a year to the day from watching his replacement lift the title, Price powered to a three-shot PGA Championship victory of his own in Missouri to seal the first of his three major crowns.
For Clampett, only one ranks above Daly's triumph in terms of unexpectedness, when Ben Curtis defied belief and his world No. 396 ranking to lift The Open Championship in 2003.
Daly will not be at Oak Hill to compete in his 30th PGA Championship this week, after it was announced on Monday that he had withdrawn through injury. His late replacement is Germany's Stephan Jaeger.
Yet to win on the PGA Tour, there will be little expectation on the world No. 117 to change that fact on his PGA Championship debut on Thursday.
Then again, it has happened before.