New York Yankees pitcher Domingo Germán was ejected from his team's game against the Toronto Blue Jays on Tuesday night after officials deemed him to have an "extremely sticky" substance on his right hand.
At the bottom of the fourth inning of the Yankees' eventual 6-3 victory, Germán was approached by first-base umpire DJ Reyburn to inspect his hand.
"His hand was clearly shiny on the palm and his fingertips, and it was extremely sticky," crew chief James Hoye told reporters after the game. "So [Reyburn] called me over and said: 'Hey, take a look at this.' And the instant I looked at his hand, it was extremely shiny and extremely sticky. It's the stickiest hand I've ever felt, and same with DJ.
"And so at that point, we brought over John Libka, the second-base umpire, and [third-base umpire] Clint Vondrak, to verify all four of us had the same opinion. We all had the same opinion: shiny, extremely sticky and it's the worst hand we've ever felt during a game."
Germán denied the accusations, insisting that he had only used rosin from the bag near the mound.
"It was definitely just the rosin bag," Germán said through an interpreter. "It was sweat and the rosin bag. I don't need any extra help to grab the baseball."
Rosin is the only sticky substance allowed in the MLB. It is made from the sap of fir trees and pitchers use its powder form in a white bag to help maintain grip on the ball and limit the amount of sweat on their hand.
According to the MLB website, TV coverage appeared to show a dark substance on Germán's pants near his right hip, although Germán claimed it was chewing tobacco.
Germán now faces an automatic 10-game suspension.
"I've got to apologize to my teammates and my team," Germán said. "I'm putting them in a tough position right now. Understanding how much the bullpen has been used, and what my plan was for tonight to pitch, and putting them in a tough situation where I'm not pitching out there anymore."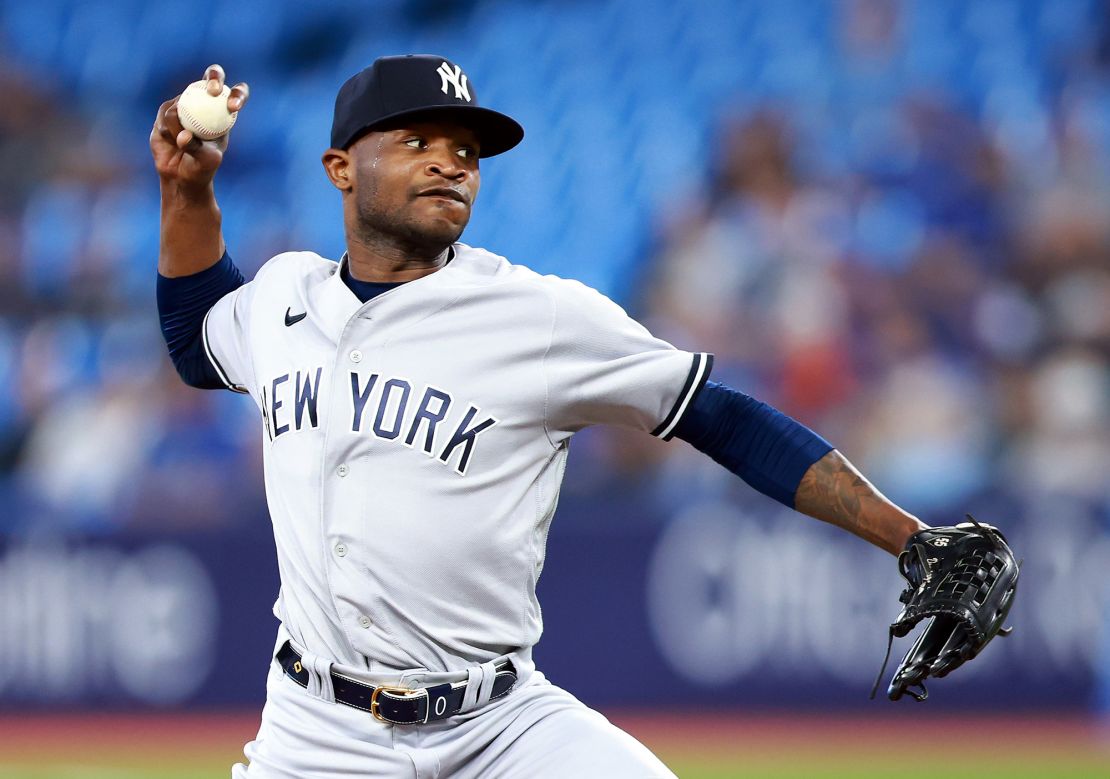 It's the second time this season Germán has run into issues with this ruling, after being told by Hoye in a game against the Minnesota Twins on April 15 to wash off any excess rosin after he was deemed to have too much on his pitching hand.
"I don't want this to happen again," Germán said. "I [followed] the instructions; I'm not using it enough. Now, I use it too much, and there was a problem because it was too much on my hand. So, summer is coming; we're going to be sweating a lot out there. You need the grip, right? But you also want clear direction from [the umpires] to see what's appropriate and what's too much."
MLB implemented new guidelines in recent years cracking down on the implantation of foreign substances to baseballs.
It gave umpires more power to perform regular checks on the hands of pitchers, including having the discretion to inspect any part of a player's uniform.
Germán isn't the only person to have been penalized under these new guidelines.
Last month, New York Mets pitcher Max Scherzer was ejected against the Los Angeles Dodgers before the bottom of the fourth inning after umpires inspected his hands and gloves for use of an illegal substance, ruling that the ace's hand was too sticky.
Scherzer, however, was insistent after April's game that he had also just used rosin.
"I swear on my kids' lives, I'm not using anything else," the veteran explained. "This is sweat and rosin. Sweat and rosin. … I'd have to be an absolute idiot to use anything else. I literally go out there with sweat and rosin, I get ejected."