Nikola Jokić made even more history and recorded yet another triple-double to inspire the Denver Nuggets to a 132-126 victory against the Los Angeles Lakers in Game 1 of the Western Conference Finals Tuesday.
The two-time MVP finished with 34 points, 21 rebounds and 14 assists – his fourth career playoff 30-point, 15-rebound and 10-assist triple double, the most in NBA history according to ESPN Stats and Info – to give his team the early advantage in the best-of-seven series.
It was the third straight triple-double that Jokić had recorded this postseason – and the first time an NBA player had ever racked up a 30-point triple double on 70% shooting in consecutive playoff games – and yet another reminder of how dominant he can be.
"He makes it really simple and makes it look miraculous at the same time. It's ridiculous," Nuggets star Aaron Gordon told reporters, speaking of Jokić.
The Nuggets were 18 points clear at halftime and stretched their advantage to a 21-point lead in the third quarter in front of their home fans at Ball Arena.
It wasn't just Jokić having a good game, though, with his teammate Jamal Murray scoring 31 points himself.
However, despite taking a commanding lead, the Nuggets ended up having to hold off a strong Lakers comeback which was inspired by Anthony Davis and LeBron James.
Davis finished the game with 40 points and 10 rebounds and James recorded 26 points, 12 rebounds and nine assists, while their teammate Austin Reaves also chipped in with 23 points.
In what was perhaps the best encapsulation of the night though, Jokić sank a 29-foot three-pointer at the buzzer marking the end of the third quarter, stretching the lead back to 14 and showing the Lakers that their task in putting the clamps on the Serbian will prove difficult.
"Sometimes, luck is on our side. It's a crazy shot, of course. It's not something that I work on. I'm glad it went in," Jokić told reporters.
Nuggets head coach Michael Malone also praised Jokić for another brilliant performance which was characterized by aggression from the outset.
"We always talk about an aggressive Nikola Jokić is a very effective Nikola Jokić. A hell of a job by him," Malone told reporters after the game.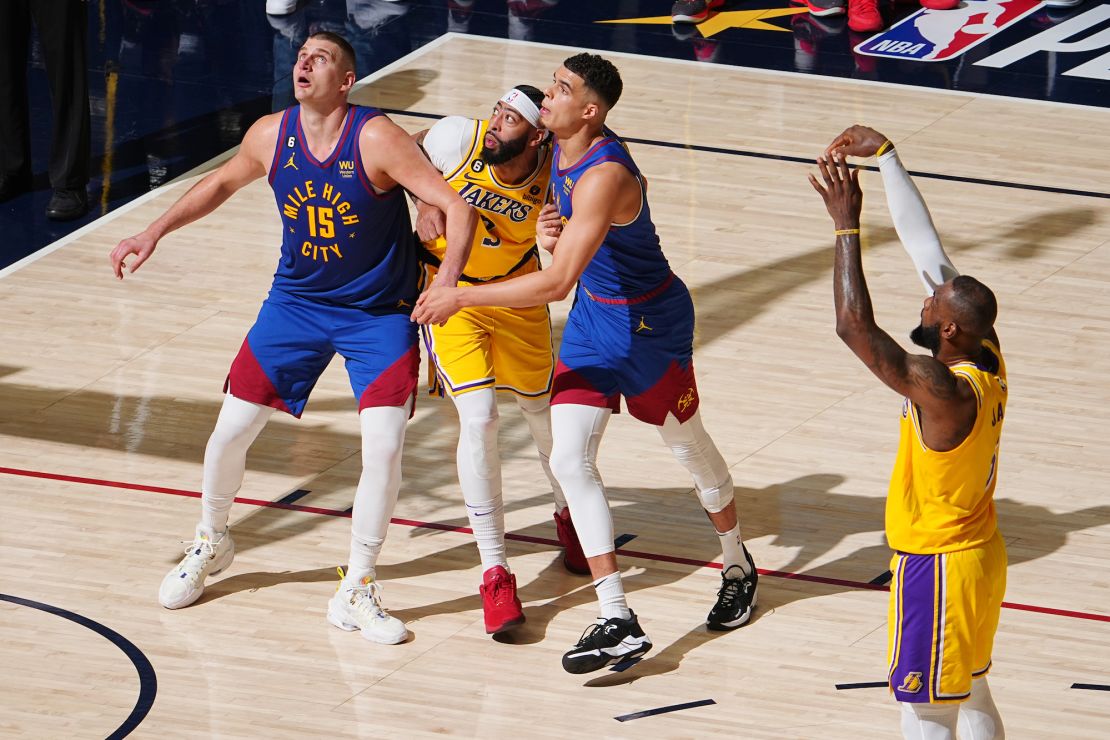 While the comeback response will give the Lakers confidence for the next go, it ultimately wasn't enough on the night.
Superstar James said Los Angeles would learn from its mistakes and try to put it right in Game 2 on Thursday.
"It took us a half to get into the game. That's pretty much the ball game right there," James told reporters. "We got to understand that we got to start from the tip-off. They punched us in the mouth at the start.
"We have to come back with desperation, going into Game 2. We have to play better."
Davis, who himself produced a brilliant performance, found himself up against Jokić for much of the game and witnessed firsthand just how unstoppable he can be at times.
"I mean, he's a two-time MVP, very skilled, obviously as his numbers show. Made many tough shots," Davies told reporters.
"We just have to make it tough for him, switching up match-ups and schemes on him.
"But he's been playing well through the entire season and especially in these playoffs. You tip your hat to him."