In New York City, hundreds of migrants are staying in current or former school gymnasiums.
In Chicago, dozens of migrants have been sleeping in a police station.
And in Florida, where the Republican governor has sent migrants to Democratic-led cities across the country, the state has hired three companies to relocate migrants from the state.
While the surge of new migrants after last week's expiration of Title 42 was not as large as many expected, the scramble to place asylum seekers who trekked thousands of miles to flee violence or crushing poverty has yielded widespread tensions within and between states.
And more parts of the US could suddenly find themselves with unexpected migrants.
'No asylum on school grounds'
About 300 migrants have been placed in current and former school gyms in New York City, a source familiar with the planning process told CNN.
As of Monday, 220 migrants were in the gym of a former school on Staten Island and fewer than 30 were placed at a gym at PS 17 in Williamsburg, the source said. The gyms are not physically connected to the schools, the source added.
Roughly 60 asylum seekers who were temporarily placed inside the gym of PS 188 on Coney Island are expected to be moved out of the building and taken to another facility in Midtown Manhattan, two sources told CNN.
The move is part of a plan by New York City officials not to use public school gyms as temporary housing facilities for migrants, according to one of the sources.
And it comes after some parents expressed dismay after learning the city had earlier planned to temporarily house migrants in some school gyms.
Outside PS 17 in Brooklyn, a group of parents and students protested Wednesday morning over migrants being housed in the school's gym.
About 100 people marched around the block chanting, "We want our gym back!" and "Let us play!"
Parents and children alike carried signs reading, "No asylum on school grounds," and "Safety first."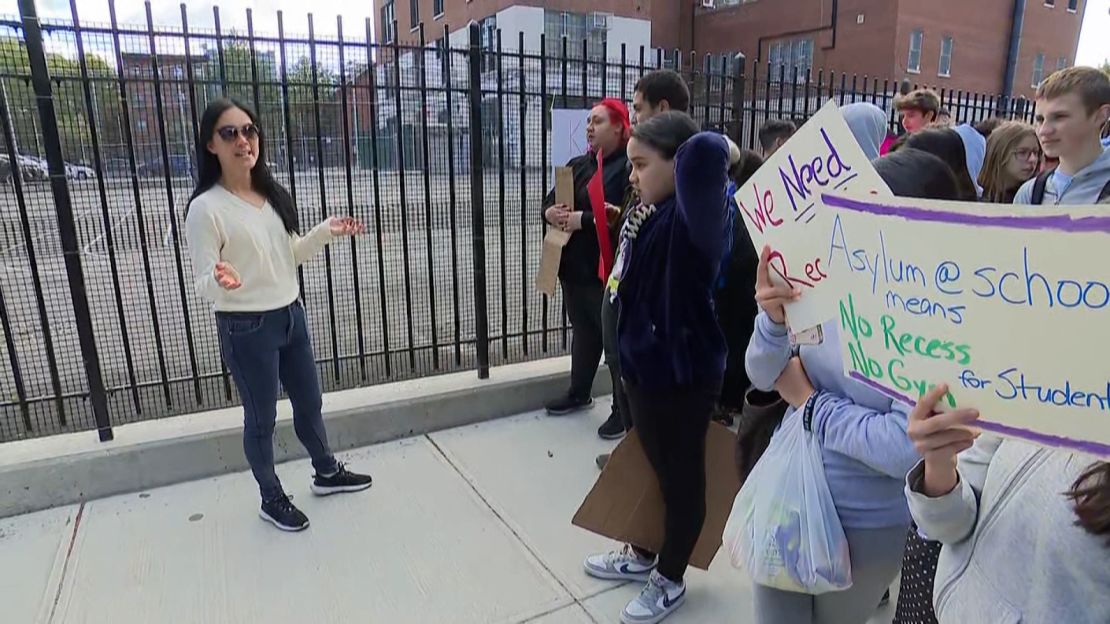 One protest organizer stressed the need to support migrants – though she didn't think housing them on school grounds was appropriate.
"What we're gonna do is we're going to support them. All of you kids are going to help us write notes, and we'll make care packages, for all the people coming through here," the organizer announced to the crowd.
"We care. But they shouldn't be on school grounds, and not in a place that only has three bathrooms for 100 people, right?"
New York officials spar over where to place migrants
Elsewhere in the state, a New York state supreme court judge has granted a temporary restraining order blocking New York City Mayor Eric Adams from sending asylum seekers to nearby Orange County to try to ease the influx of migrants arriving in the nation's most populous city.
The order, requested last week by Orange County Executive Steven Neuhaus, allows for the 186 asylum seekers already staying at the Crossroads Hotel and Ramada by Wyndham in the town of Newburgh to stay in the county, according to the filing.
But new migrants won't be allowed to stay at the hotels if any of the current occupants leave, the order states.
The pushback comes as New York City scrambles to house a crush of migrants – some of them bused to New York by Republican governors and local officials from Southern states.
Since last spring, New York City has processed more than 65,000 migrants and around 35,000 remain in the city's care, city officials have said. The city has opened more than 140 emergency shelters and eight large-scale humanitarian relief centers to manage the crisis, Adams said. And a wave of new asylum seekers arrived last week with the expiration of Title 42 – the Trump-era policy enacted early in the Covid-19 pandemic that allowed authorities to quickly expel migrants at US land borders.
Adams' office said it's disappointed in the judge's ruling.
"New York City has cared for more than 65,000 migrants – sheltering, feeding, and caring for them, and we have done so largely without incident," Press Secretary Fabien Levy told CNN Tuesday night.
"We need the federal government to step up, but until they do, we need other elected officials around the state and country to do their part. New York City is out of space and we're only asking Orange County to manage approximately one-fourth of 1% of the asylum seekers who have come to New York City, with New York paying for shelter, food, and services," Levy said.
But Neuhaus said, "New York City should not be establishing a homeless shelter outside of its borders in Orange County."
"The city is a self-proclaimed sanctuary city; Orange County is not," Neuhaus said in a statement on Tuesday. "We should not have to bear the burden of the immigration crisis that the Federal government and Mayor Adams created."
There is also a federal lawsuit filed last week by the New York Civil Liberties Union against Orange and Rockland counties for blocking the arrival of migrants from New York City.
The lawsuit, originally filed on behalf of five migrants, was expanded this week to a class action suit to represent "all migrants and asylum seekers" who are part of the city's program that transports them to Rockland and Orange counties and provides meals and other services, according to court documents.
The NYCLU also filed a request for a preliminary injunction blocking executive orders from the counties that could prevent migrants from staying in the counties' hotels. The court will hold a hearing on the preliminary injunction request on May 25, according to court documents.
In an interview with CNN affiliate Spectrum News NY1 on Wednesday, New York Gov. Kathy Hochul again asked for federal government assistance to help handle the arrivals.
"We are the destination for the majority of the migrants, we need help, we need money, and you can complain all you want about what happened at the border and how that ended up there," she said. "I've got to deal in the reality of managing a crisis, so does Mayor Adams, so give us the resources, give us the work authorization. Help us out."
Migrants have lived out of a Chicago police station
Hundreds of migrants have also been staying in Chicago city buildings after they were "inhumanely" bused to Chicago, then-Mayor Lori Lightfoot said earlier this month, according to CNN affiliate WBBM.
During her final days in office, Lightfoot issued an emergency declaration in hopes of getting federal and state money to help the city respond to the crisis.
More than 70 migrant families were staying in the Chicago Police Department's 12th district station.
"I've been here for two weeks," Johon Torres, a migrant from Venezuela, told WBBM. Torres was joined by his three daughters and niece.
The families in limbo have received donated supplies from refugee organizations, good Samaritans and even some police officers.
But the situation is not tenable, said Sgt. James Calvino of the Chicago Police Sergeants' Association.
"It's ballooned exponentially – way out of control," Calvino told WBBM.
Florida hires private companies to handle migrants
Florida Gov. Ron DeSantis' administration has chosen three companies to execute the next phase of its migrant relocation program, according to documents obtained by CNN.
The Florida Division of Emergency Management selected Vertol Systems Company, ARS Global Emergency Management and GardaWorld Federal Services to "manage and implement a program to relocate individuals" who have been processed and released by the US government, according to a FDEM document.
The contract sets up the framework to once again send migrants to Democratic-led cities, as seen in 2022 when Vertol Systems Company Inc., provided two planes to relocate migrants from San Antonio, Texas, to Martha's Vineyard, Massachusetts, under DeSantis' direction.
The state requires vendors to be "solely responsible" from beginning to end of the transporting of participants, including social services that should be provided to them at the destination cities.
The newly selected vendors are tasked with providing ground and air transportation services to assist with what the DeSantis administration is calling the "voluntary relocation of Inspected Unauthorized Aliens," who have agreed to be relocated from "Florida, or another state, to a location within the United States."
The FDEM did not indicate the number of migrants expected to be transferred and says it will be determined "based on circumstances on the ground." One vendor noted its capability of moving 40-50 passengers per week, or about 2,200 a year.
A document showing questions and answers between unnamed vendors and the FDEM, posted on the state's contract procurement website, sheds light on how the state wants the companies to carry out the program.
One vendor mentioned California, New York, and Georgia as potential destinations for flights originating from Florida.
The state wants vendors to start transportation of migrants "within 72 hours of notification by the Division," and must fulfill their contract until June 30, 2025, unless terminated earlier.
In response to a question about handling the transportation of minors, FDEM said it does not "anticipate relocating juveniles without a parent or guardian."
FDEM said it anticipates this contract to be "turnkey," saying "vendors will locate and identify, vet and verify individuals for program eligibility and transport."
The document states $10 million has been allocated to FDEM for the 2022-23 fiscal year for this program, which expires June 30.
CNN has reached out to Vertol Systems, ARS Global Emergency Management and GardaWorld Federal Services for comment.
CNN's Athena Jones, Linh Tran, Polo Sandoval and Nicki Brown contributed to this report.