Myanmar's military junta is holding up humanitarian access to some cyclone-hit communities in western Rakhine state after Cyclone Mocha devastated the lives and livelihoods of millions of people in the poorest parts of the country.
United Nations agencies said Thursday they were still negotiating access to parts of the state four days after Mocha slammed into Myanmar's coast on Sunday as one of the strongest storms ever to hit the country.
Hundreds of people are feared to have died and thousands more are in urgent need of shelter, clean water, food and health care as a clearer picture of the devastation is beginning to emerge.
While rescue groups have warned of "a large scale loss of life," the exact number of casualties is hard to know due to flooding, blocked roads, and downed communications.
Widespread destruction of homes and infrastructure has been reported throughout Rakhine, home to hundreds of thousands of displaced people.
Storm damage has hampered efforts to access rural and hard-to-reach areas while pre-existing travel restrictions imposed by the junta have delayed the delivery of vital aid to communities in urgent need.
"Humanitarian actors have made clear that the need to secure travel authorization is impeding their response to the cyclone," said Tom Andrews, UN Special Rapporteur for Human Rights in Myanmar.
"It seems that many agencies haven't even been able to conduct needs assessments, let alone deliver aid, because SAC (junta) officials have not granted travel authorization. This is extremely worrying."
The UN's humanitarian office (OCHA) said it was still waiting for access to be granted by the junta to reach communities in Rakhine state in order to "start coordinated field missions to gauge the full scope of the humanitarian situation."
"The bureaucratic access constraints are affecting all partners, including the UN and NGOs," said Pierre Peron, UN OCHA's regional public information officer. "To deliver, we will need access to affected people, relaxation of travel authorization requirements and expedited customs clearances for commodities."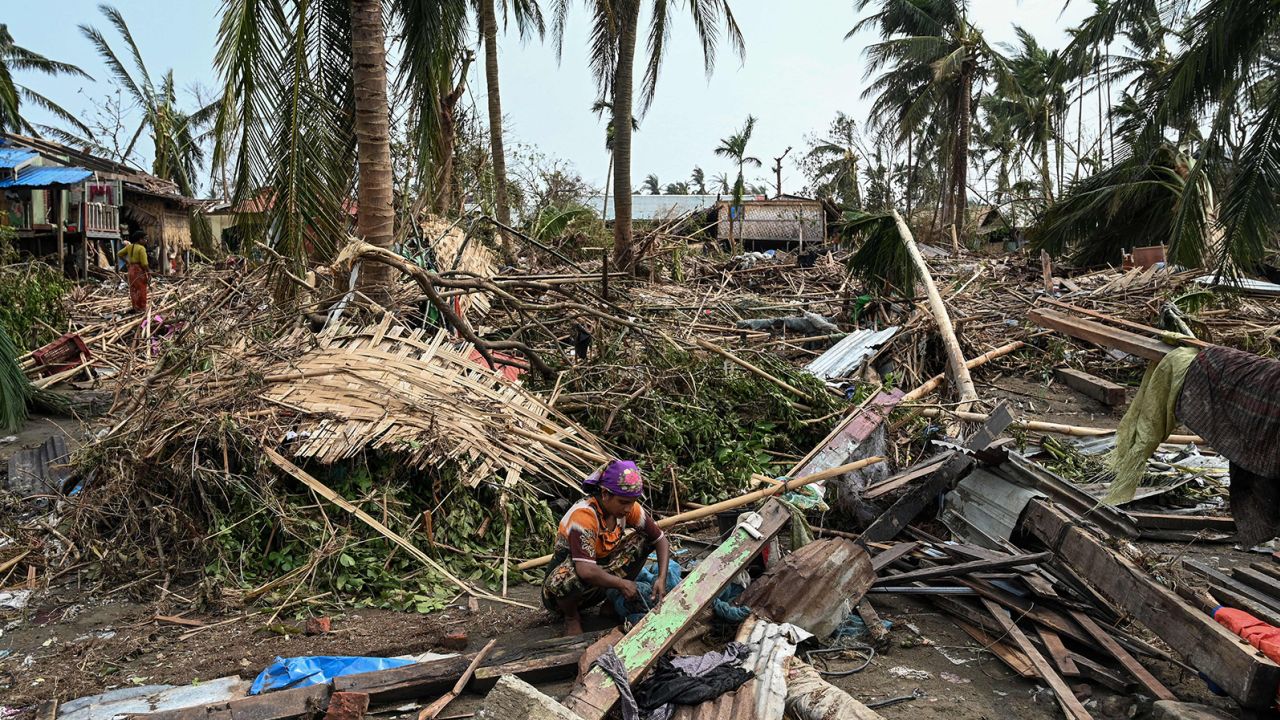 About 5.4 million people in Rakhine and the northeast are estimated to have been in the path of the cyclone, which crashed into the state as an equivalent category 5 hurricane, with winds of over 200 kilometers per hour (195 mph). Of those, more than 3 million people are most vulnerable, according to UN OCHA in its latest update.
The priority is to assess the damage in Kyauktaw, Maungdaw, Pauktaw, Ponnagyun, Rathedaung and Sittwe townships, it said.
"The road between Yangon and Sittwe has now reopened, potentially providing a transport route for much-needed supplies, if approved. It is also hoped the Sittwe airport will reopen on Thursday," UN OCHA said.
Another roadblock to relief efforts is a severe lack of funding, with a $764 million humanitarian response plan less than 10% funded.
"Colleagues simply will not be able to respond to these additional needs from the cyclone and continue our existing response across the country without more financial support from donors," said UN OCHA's Peron.
Medecins Sans Frontieres told CNN it had a number of travel authorizations already in place for staff for the month of May, "which has allowed us to be fully operational so far and focus on life-saving activities in areas most affected."
"Travel within Rakhine state is restricted with the exception of Sittwe, the state capital. Permission is always necessary. All aid agencies are required to apply for travel authorizations to implement activities one month prior to travel," said Paul Brockmann, MSF's operations manager for Myanmar.
Brockmann said the scale of the medical humanitarian needs created by the cyclone are "enormous" and fast approvals of import permits and travel authorizations is "of life-saving importance, considering that 17 townships have been declared disaster zones by the authorities."
"The needs are widespread and beyond the capacity of any one organization to respond to," he said.
History of restricting aid
Concerns are high because Rakhine is a largely impoverished and isolated state, which in recent years has been the site of widespread political violence.
Hundreds of thousands of people have been displaced in the state due to the protracted conflict, many of them members of the stateless Rohingya minority group, long persecuted in Myanmar.
Rohingya in Rakhine are mostly confined to camps akin to open air prisons, where authorities place strict controls on their movement, as well as access to schooling and health care.
Access for certain aid groups and journalists to these areas is heavily restricted.
Aung Saw Hein, a resident of a displacement camp in the Rakhine capital Sittwe, told CNN the storm has "made us refugees again."
"We have been refugees for almost 11 years now… We are not able to access health care, not able to take a rest… we are not able to support our family members with basic needs like food," he said. "And now this storm completely destroyed our life and brought us on the road again."
Myanmar authorities have a long history of impeding access to aid for vulnerable communities.
In the wake of a brutal and bloody military campaign that forced 740,000 people to flee to neighboring Bangladesh from 2017, aid activities in the north of the state were suspended and authorities denied humanitarian actors access to communities in need, mostly the Rohingya population, according to aid groups.
Following the 2021 military coup, the junta and its security forces imposed new travel restrictions on humanitarian workers, blocked access roads and aid convoys, and destroyed non-military supplies, Human Rights Watch reported at the time.
Rohingya adviser to Myanmar's shadow National Unity Government Aung Kyaw Moe tweeted the junta is "blocking aid agencies in Rakhine" and "must not play the same game" as a previous junta administration did in 2008, when after Cyclone Nargis it prevented international disaster relief teams and supplies from reaching those in need. An estimated 140,000 people died.
"This is their basic MO," said UN Special Rapporteur Andrews.
"In Rakhine state, in addition to access challenges, the restrictions on freedom of movement imposed on the Rohingya have further impaired their ability to access aid and services, including medical treatment."
In a statement, the IFRC said "access in Rakhine and the northwest remains heavily restricted" but the Myanmar Red Cross has a "presence in every affected township through its branches and volunteers."
A spokesperson for Partners Relief & Development, which has been working in the camps since the initial violence in mid 2012, said they have had few restrictions on their activity during that time and have a "strong local network carrying out our relief efforts."
However, "access has been much more difficult in the past three years and the current government restrictions are now making it more complicated to reach the affected areas," the spokesperson said.
"Our hope is that unimpeded access is provided and that the local authorities will not only facilitate access for aid but also contribute assistance and treat the Rohingya with care and dignity."
CNN has reached out to Myanmar's military junta for comment on the restrictions to access and aid in Rakhine following the cyclone.
Junta leader Min Aung Hlaing has been quoted by state media Global New Light of Myanmar as saying "relief teams must be sent to the storm-affected areas to carry out rescue and relief tasks as well as rehabilitation."
State media showed Min Aung Hlaing visiting cyclone-affected areas in Bagan, a UNESCO World Heritage Site famed for its ancient temples. It also carried reports of the junta's deputy prime minister Adm. Tin Aung San visiting towns and villages around Sittwe to oversee the delivery of water tanks, food supplies, and cash assistance.
CNN's Teele Rebane and Rhea Mogul contributed reporting