When Manchester City started putting Real Madrid to the sword in the Champions League semifinal second leg on Wednesday, there was a palpable outpouring of emotion inside the Etihad Stadium that could be felt through television screens across the world.
City fans were whipped into a frenzy, players pumped their chests in celebration and manager Pep Guardiola, usually more composed than most, looked overcome with relief.
For years, this City team has dominated English football – winning four Premier League titles in the last five seasons – but it has failed to really stamp its authority in Europe.
And while Inter Milan still stands in the way of a maiden Champions League trophy, the 4-0 victory on Wednesday felt like a moment that City finally introduced itself as the greatest team on the planet.
Billed as the most anticipated club game of the year, City could have been forgiven for some nerves in the early stages, but it started the game at full throttle.
It was one of the most one-sided first halves imaginable, with City dominating every aspect of play – the host had 80% possession in the opening 15 minutes, limiting the visitor to just 13 passes.
Madrid's star-studded side looked bewildered as City executed a high-press to perfection, hustling midfield maestros Luka Modrić and Toni Kroos into uncharacteristic mistakes.
City's quality was just on another level, carving Madrid apart whenever it so pleased with Kevin De Bruyne pulling the strings and setting the intensity levels.
"I think that first half performance is one of the best I've ever seen," former Manchester City defender Nedum Onuoha told Sky Sports.
"When you think about who it's against. The timing of it, in the Champions League semifinal, that felt like one of the biggest games ever at that stadium.
"It's a shame it hasn't led to a trophy because it feels so big."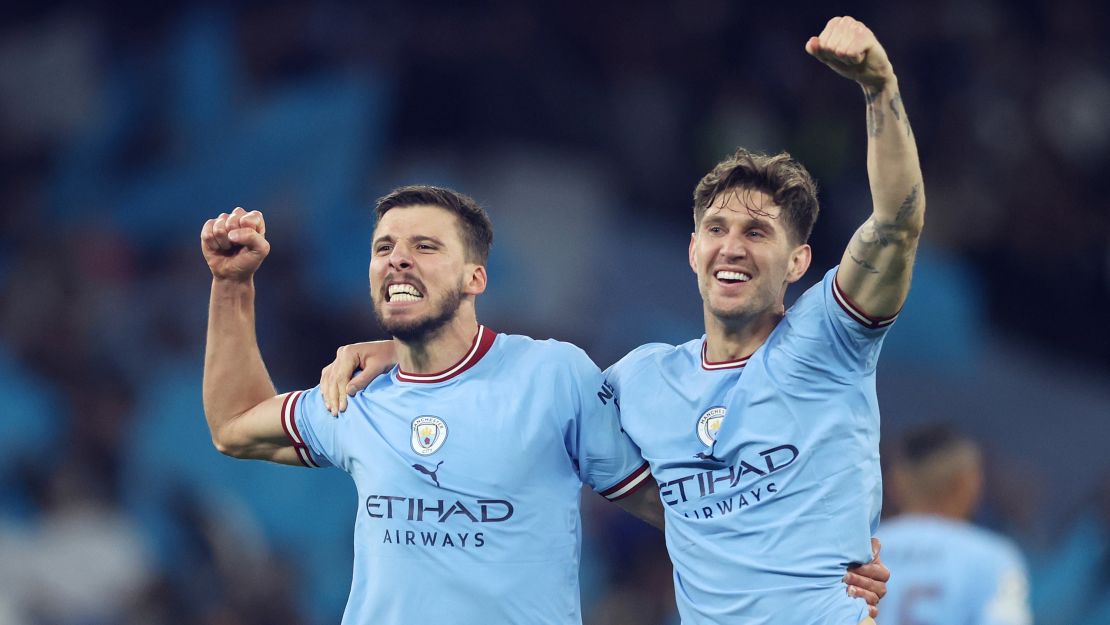 If it wasn't for the impressive Thibaut Courtois in goal, who produced two brilliant saves from Erling Haaland, Madrid could have been even more embarrassed by the break.
In truth, it would have felt relieved to be just two goals down – courtesy of the quite brilliant Bernardo Silva.
Madrid improved in the second half but was still inferior in almost every department as City capped off a memorable night with two more goals from Manuel Akanj and Julián Álvarez.
It would have been an impressive performance against anyone, let alone against the Spanish giant which has won five Champions League trophies in the last nine years.
"It's unbelievable," City winger Jack Grealish said, after tormenting Los Blancos' defense across both legs of the semifinal.
"I don't think a lot of teams would do that to Real Madrid. I don't know what it is, but it feels unstoppable."
Despite all its superiority, City must still navigate Inter in the final and will be careful not to get carried away.
In many respects, despite all his success since arriving in Manchester in 2016, there seems to be a growing agreement that Guardiola's legacy at the club hinges on winning the Champions League.
He hasn't lifted the trophy since 2011 with Lionel Messi and Barcelona, and his City sides have found an array of ways to crash out of the competition in recent seasons.
Last year, Madrid produced a stunning comeback, scoring two goals in the 90th and 91st minute before beating City in extra-time in the return leg of the semifinals on its way to winning the trophy for a record 14th time – and it was a moment that has clearly stuck with Guardiola's squad.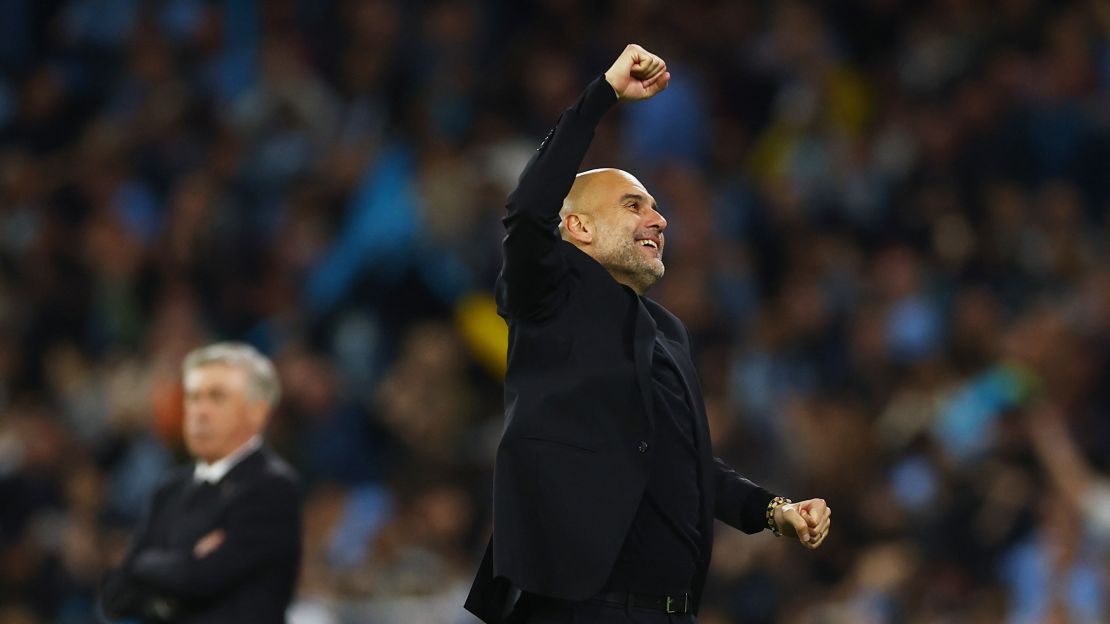 "I had the feeling these last days we had a mix of calm and tension to play these types of games," Guardiola told reporters after the match.
"After 10 or 15 minutes, I had the feeling that all the pain that we had during last season was there today. It was so tough and hard here last season.
"You have to swallow poison and swallow everything, be kind and football and sport always gives you another chance.
"Football and life always gives you an opportunity and the important thing is to never give up and try again."
City now finds itself just three games away from sporting immortality – with a Treble very much on the cards.
A win against Chelsea will see it crowned Premier League champion on Sunday. It will then face fierce rival Manchester United in the FA Cup final on June 3, before all eyes turn to the Champions League Final in Istanbul, Turkey, on June 10.
Only one English team, Manchester United, has ever achieved the historic feat, but you'd be brave to bet against Manchester City in its current form.
While many will have reservations about City's success, owing to its controversial UAE ownership and allegations of financial breaches, its performances on the pitch are undeniable and the team may be about to enter a new era of European dominance.