One golf fan has found an unusual way to bypass having to pay for beers at the PGA Championship this week – take a Joel Dahmen tee shot to the leg.
Dahmen was at the first tee of his final practice round Wednesday when his wayward drive struck spectator Caleb McGuire, the spectator said in a tweet.
Pictures showed a sizeable bruise on the fan's calf, but his pain was eased when the American golfer subsequently asked about the cost of a beer at the major, hosted at Oak Hill Country Club in Rochester, New York.
When told each beer cost $17, Dahmen handed over $100 for some refreshments, McGuire said, with the tweet showing the duo posing for pictures with the bill.
Dahmen's act of generosity comes a year after two-time PGA Championship winner Justin Thomas expressed his disbelief at the reported $18 cost of beer at the 2022 edition of the major in Tulsa.
"Sorry about that! Hope you enjoyed the beers," Dahmen tweeted in response.
"It was a pleasure just to meet you!" McGuire replied. "We couldn't stop talking about it for the rest of the day. Go ahead and win this week!"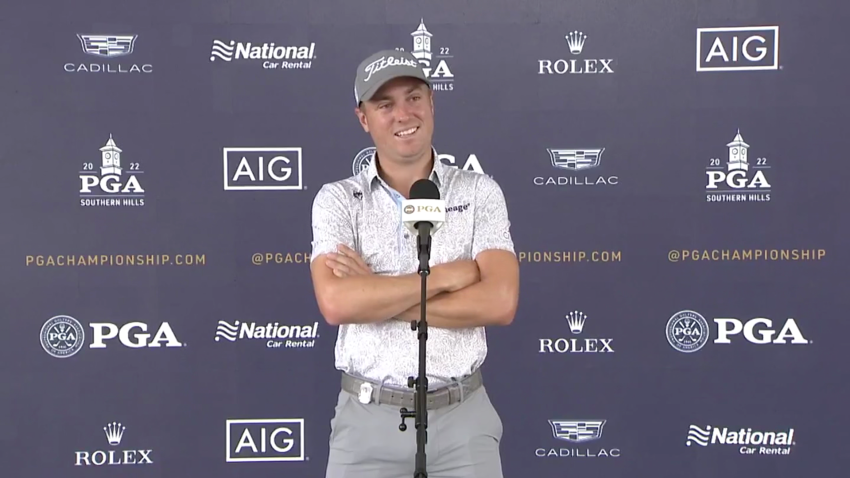 Reporter asks Justin Thomas about high concession stand prices
Dahmen shot to fame following his starring role as the self-proclaimed, self-depreciating, "goofball" of the PGA Tour in "Full Swing", Netflix's fly-on-the-wall docuseries released earlier this year.
In an episode titled "Imposter Syndrome," the show offered a candid insight into the 35-year-old's wrestles with self-belief.
"I'm a middle of the road PGA Tour player," Dahmen explained.
"The top players … they're just built differently. They're mentally just different. They hit it further and they chip and putt better. I'm not a threat when I walk into these things, really.
"I am not going to be a hall of famer. When I retire from golf, no one's going to remember who I am. I understand that, I'm fine with it. I'm not playing for legacy. Some people are like, 'That's why you'll never be great Joel, coz you don't believe it.'"
However, the episode ended on a high note with Dahmen finishing inside the top 10 at the US Open in June last year, a career-best major performance.
The world No. 108 enjoyed a strong end to 2022 but has endured a tough start to the current season, missing the cut in four of his last seven PGA Tour appearances.