The Los Angeles Dodgers are getting some high heat after uninviting a prominent local LGBTQ charity group from their upcoming Pride Night at Dodger Stadium on June 16.
The MLB team originally intended to honor the Los Angeles Sisters of Perpetual Indulgence, a drag group that leads charity and activism efforts in the Los Angeles area. They planned to present the group with the team's Community Hero Award for their work and invited them to feature in their LGBTQ-affirming Pride Night event.
However, the decision immediately invited conservative backlash, specifically targeted at The Sisters of Perpetual Indulgence's use of Catholic imagery and religious garb in their aesthetics.
Bill Donahue, the president of the Catholic League, an organization that says it protects religious and civil rights, released a statement calling the Dodgers' decision "anti-Catholic hate speech." Florida GOP Sen. Marco Rubio wrote a letter to MLB Commissioner Robert Manfred questioning if the decision was "'inclusive and welcoming' to Christians."
"The 'sisters' are men who dress in lewd imitation of Roman Catholic nuns," his letter read. "The group's motto 'go and sin some more,' is a perversion of Jesus' command to 'go, and sin no more."
The Sisters of Perpetual Indulgence have been members of the LGBTQ activism scene for decades, and are well-known for ministering to people during the AIDS epidemic in the 1980s and 1990s. They've also raised money for breast cancer survivors and used their platform to promote safe sex.
The nun habits and crosses they don are recognized by LGBTQ communities as commentary on the fact the Roman Catholic Church considers homosexuality a sin and does not affirm or ordain openly LGBTQ people. Donahue, the Catholic League president, has himself repeatedly called homosexuality unnatural and characterized people who died during the AIDS crisis as dying of "self-inflicted wounds."
Additionally, Roman Catholic religious attire is not representative of all Christians, and many Christian practices affirm LGBTQ believers.
The team changes course, inviting more criticism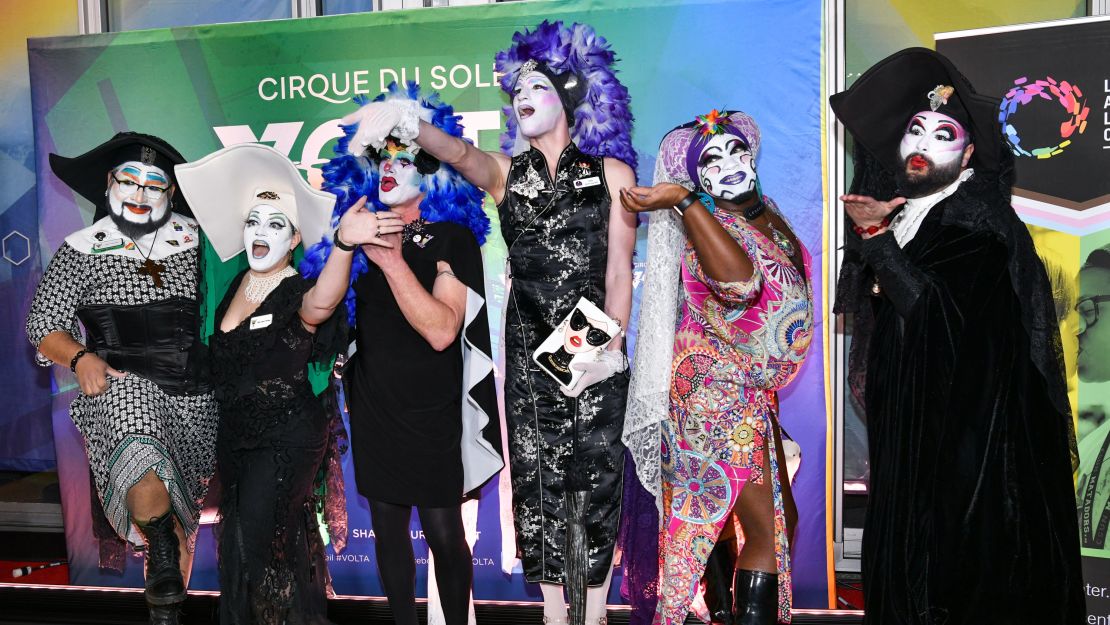 In the aftermath of this uproar, the Dodgers released a statement on Wednesday saying they had reconsidered their invitation to the Sisters of Perpetual Indulgence.
"Given the strong feelings of people who have been offended by the sisters' inclusion in our evening, and in an effort not to distract from the great benefits that we have seen over the years of Pride Night, we are deciding to remove them from this year's group of honorees."
This about-face kicked off another round of backlash. Fans looking forward to the Pride Night event said they were disappointed the team had capitulated to anti-LGBTQ critics. The Sisters of Perpetual Indulgence released their own statement saying they were sad to see the team "succumbing to pressure from persons outside of the State of California and outside of our community."
"We are disappointed they have chosen to un-ally themselves with us in our ongoing service to the public, many of whom enjoy the Dodgers's heroic efforts in sports," the statement says.
The group also clarified its members' identities and religious themes: "We are queer nuns serving our people just as nuns of other cultures serve theirs. We are not solely male; our membership includes all genders, religions, and romantic affiliations."
Other LGBTQ-affiliated organizations also expressed disappointment in the Dodgers' decision and urged them to reconsider.
"The anti-LGBTQ+ extremists who advocated for the removal of the Sisters from Pride Night are the very same people who are trying to erase the rights of trans kids and their families, criminalize drag performance and roll back equality for LGBTQ+ people across the country," Equality California said in a statement.
Rubio, however, praised the change of heart.
"For once, common sense prevailed in California," he wrote on Twitter.
CNN has reached out to the Los Angeles Dodgers for further comment.
Pride Nights are very common events among professional sports leagues, and usually feature a regular game enhanced with special merchandise, performances, activities or appearances celebrating LGBTQ fans and activists. Many teams from the MLB, NFL, NBA, NHL and MLS have a long history of hosting such events, though not without controversy. Last year, some MLB players on the Tampa Bay Rays refused to wear Pride-themed jerseys for the team's Pride Night in St. Petersburg, Florida.
However, Pride Nights are not mandated by the MLB. The Texas Rangers are the only MLB team to have never held an official Pride-themed event.