Three Black former employees of the homebuilding company PulteGroup are suing the company for allegedly violating their civil rights, citing several incidents that include a White executive bringing a noose to a meeting with employees.
The suit was filed in Michigan's Ingham County Circuit Court earlier this month by attorneys representing Idus Hartsfield, Richard Turnbow and Roderick Hunter, who live in Georgia. In their suit, the former employees accuse the construction company of racial discrimination, fostering a hostile work environment and retaliating against Black employees.
Hartsfield, 41, who worked as a customer care manager in the warranty department of the company's Georgia Division, noticed a noose was on a table during a staff meeting on November 17, 2019, the lawsuit says.
In the suit, Hartsfield alleges an executive "openly waved" a noose in front of employees, including at least two who were Black, while warning them "not to hang themselves."
"It was a frigid reminder, like getting dumped in a bucket of ice, like (seeing that) things are not progressing like you may have thought," Hartsfield told CNN.
In a statement to CNN, the PulteGroup described the allegations as "reprehensible," adding that diversity and inclusion are critical to the company.
"The allegations are reprehensible and will not be tolerated. PulteGroup strives to maintain, promote and advance a work culture where all people are valued, respected and heard. Diversity is embraced and integrated throughout our organization and the communities in which we do business. This is critical to our mission and vision," the company said in a statement.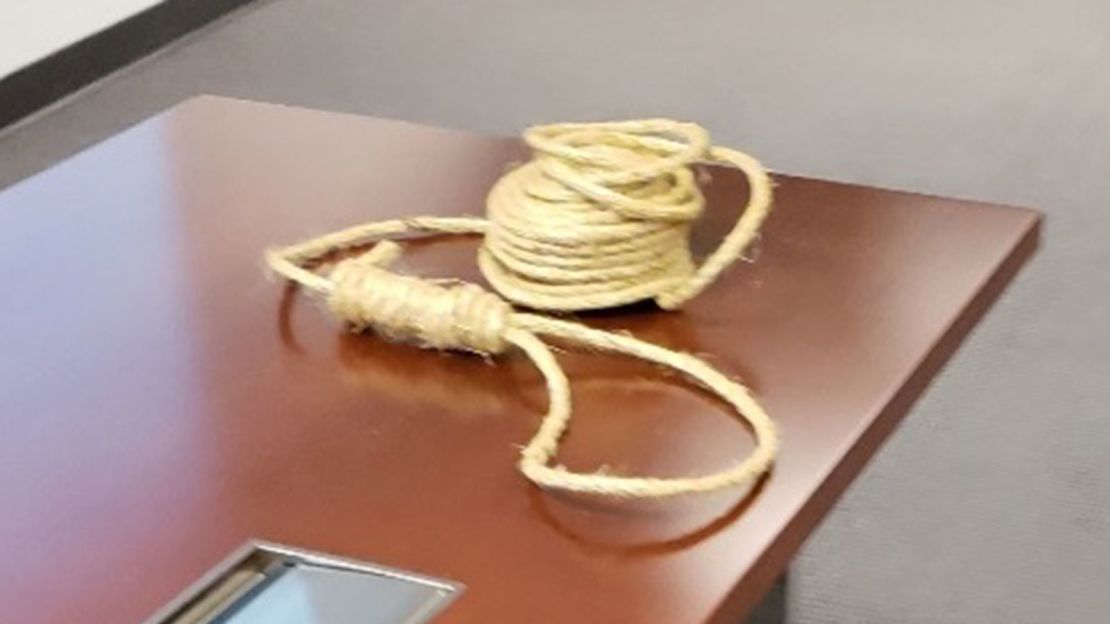 Hartsfield reported the incident to human resources, the lawsuit says, but the company failed to take action to address the conduct or reprimand the executive. In the months after Hartsfield filed the report, he was repeatedly "written up for non-issues" until he was terminated in May 2020, the lawsuit says. Hartsfield had never been written up in his four previous years at the company and claims his firing was retaliation for reporting the inappropriate and racially discriminatory conduct, the lawsuit says.
Hartsfield said he was afraid to report the incident to human resources, worried he would be targeted, but "then it started eating away at me."
"I did start having like anxiety and it was a good period of time to filter through the different emotions that I had," Hartsfield said. "I couldn't sleep thinking about it and that's what ultimately compelled me to go to HR."
The lawsuit argues PulteGroup created a hostile and "racially discriminatory" work environment for the three former employees.
"PulteGroup's inaction created an environment requiring Plaintiffs to continually subject themselves to a hostile and racially discriminatory work environment that was created, fostered, and endorsed by PulteGroup's management and supervisory personnel as a condition for their continued employment," the lawsuit says.
The other plaintiffs were not employed by the company at the time of the incident, according to the lawsuit, but described interactions in 2021 and 2022 with the same executive in Georgia. Turnbow, an assistant customer service representative, alleges he was punished for not arriving at least 15 minutes prior to a meeting in June 2022 by being barred from the meeting and told to instead collect trash around the office, the lawsuit says. Turnbow resigned in October, nine months after he was hired.
Hunter joined the company as a field manager in May 2021 after the same executive expressed reservations about hiring him during an interview, the lawsuit says. Months later, Hunter was terminated by the same executive who said his work was not up to par, the suit says.
The lawsuit argues Hunter was "set up for failure from the very start" as the executive "did not want an older Black male working as his field manager."
The three men are seeking more than $25,000 in compensation on each allegation, costs, attorney fees and punitive as well as exemplary damages, according to the lawsuit.
More than anything, Hartsfield said he is looking for accountability and a cultural change in an industry that is heavily White-dominated.
"I would like to see change and for people (of color) to feel safe to come with their complaints and not feel like they're being targeted," he said.