Brisbane, Australia
CNN
—
Homicide detectives in Australia are investigating why a police officer felt so threatened by a 95-year-old woman clutching a walking aid and steak knife that he needed to Taser her inside her nursing home.
Clare Nowland, a great-grandmother with dementia, is in critical condition in hospital after being tasered early Wednesday by a senior constable who had been called out to the home by care staff to reports of a resident with a knife.
Peter Cotter, NSW Police Force Assistant Commissioner, attempted to explain the officer's actions at a news briefing on Friday, after watching video of the incident captured by two police body cameras.
"At the time she was tasered she was approaching police. It is fair to say at a slow pace. She had a walking frame. But she had a knife. I can't take it any further as to what was going through anyone's mind when he used the Taser," Cotter said.
The community has been outraged by the events that took place at Yallambee Lodge in Cooma, a small town about 100 kilometers (62 miles) south of the national capital Canberra.
Andrew Thaler, a local community advocate, said Nowland's family – which includes eight children and dozens of grandchildren and great-grandchildren – are taking turns to keep vigil by her bedside.
"I don't think there's going to be a recovery. Tasers take out bulls and fully grown men. She's a slip of a woman," said Thaler, who is assisting the family, who have requested privacy as they deal with the events of the past few days.
Nowland has dementia and had lived at the home for five years, Thaler said.
"She had good days and she had bad days, which is standard," he added, describing her as physically frail.
"This woman couldn't stand without a walking aid. She's not that strong. She's around 43 kilos (95 pounds) and 5-foot-2 (1.58 meters).
"This is an outrage."
How it unfolded
Police say they were called to the address around 4:15 a.m. on Wednesday to reports of a resident with a knife. Two officers found Nowland in her room, with a knife in her hand, Cotter said during the briefing on Friday.
"It is fair to say that she was armed with that knife. The knife in question was a steak knife with a serrated edge that she had obtained from the kitchen area of the nursing home a couple of hours earlier," he said.
Police and paramedics negotiated with Nowland for a number of minutes, urging her to drop the knife, Cotter said, but "for whatever reasons, Clare did not do that."
"Clare approached the doorway where the police were at that stage, and the officer, the one officer, discharged the Taser," he said.
Nowland fell to the ground and hit her head.
"The injury that she suffered as a result of hitting her head on the floor has rendered her bedridden at the moment," said Cotter. "She remains in and out of consciousness."
Video and audio of the incident was captured by two police body cameras, which Cotter said was "confronting."
"I have seen it and I understand what I've seen," said Cotter, who said the footage would not be released because "it is not in the public interest."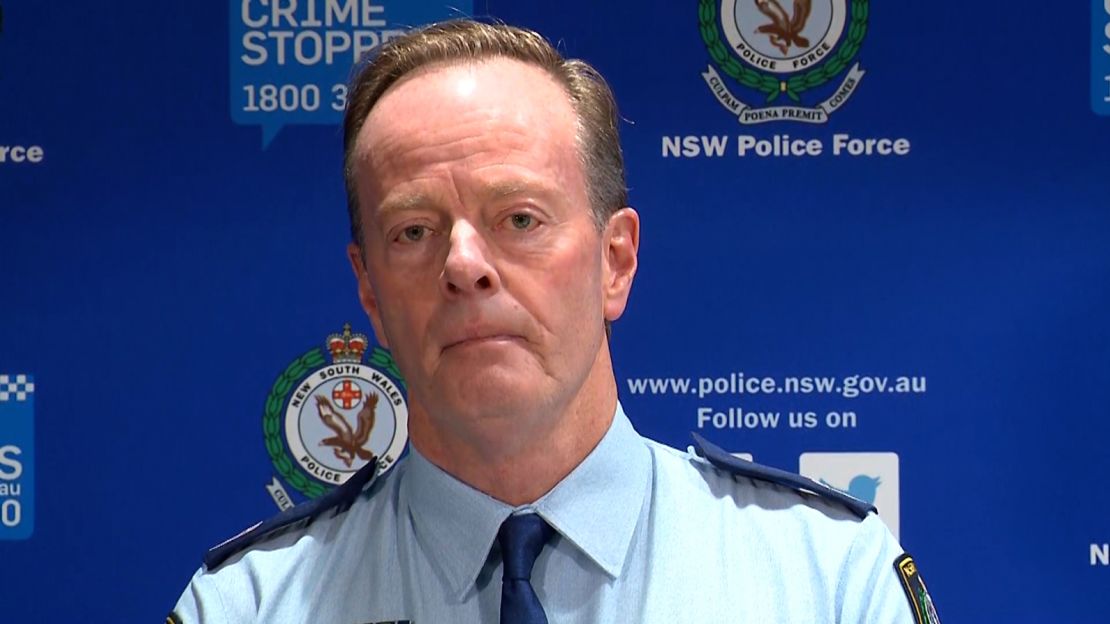 Questions being asked
Nowland is a well-known member of the community and had attracted local media attention when she went skydiving to celebrate her 80th birthday. She did it again at 85, according to Thaler.
The officer who discharged his Taser has not been identified beyond being a senior constable with 12 years of experience, who has now been taken off duty. Homicide detectives are involved because of the seriousness of incident, Cotter said.
He would not speculate whether the officer who fired the Taser would be charged.
"If a threshold is met, where it changes from being a departmental issue into a criminal issue we are certainly mature enough and transparent enough as an organization to do what has to be done," he said.
Cotter said Tasers are generally used as a defensive tool when someone's life is threatened.
"We say it is there as a piece of equipment to defend yourself when you think your life is in danger, or someone else's life is in danger, where you have a genuine fear and threat of being physically overpowered, if there is a violent confrontation occurring, but of course those facts have to be real," he said.
NSW Police Commissioner Karen Webb issued a statement Thursday saying her thoughts were with Nowland's family.
"I understand and share the community concerns and assure you that we are treating this matter with the utmost seriousness," she said.
Snowy Monaro Regional Council, which operates Yallambee Lodge, said the council was "supporting our staff, residents, and families during this difficult time" and declined to comment further due to the investigation.
The council's website describes the lodge as a 40-bed aged care facility with private rooms and en-suites, staffed by registered nurses, enrolled nurses and carers.
Thaler said the community want to know why police thought it was necessary to Taser a frail, elderly woman who was known to have dementia and couldn't possibly have posed a threat.
"There's simply no excuse for it. But it's happened. We want to know why and how," he said.